Uncategorized
Flashback Five – The Best Movies of Mel Gibson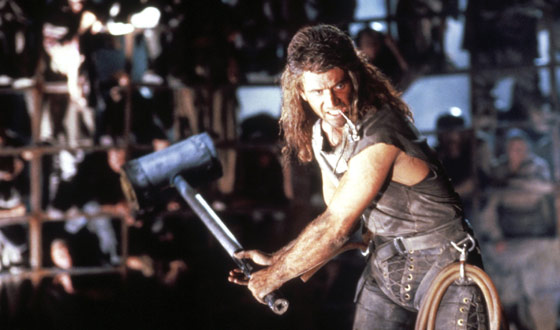 Onscreen and off, Mel Gibson always pushes the envelope. Whether he's battling biker gangs in a postapocalyptic outback in the Mad Max trilogy, a British tyrant in Braveheart, or his own personal demons in Lethal Weapon, Gibson brings an intensity to his characters that few can, or should try to, match. Currently the same intensity that makes his characters so charismatic you can barely turn away has burned him in real life, getting him into quite a bit of (deserved) hot water. But for now, turn back the clock and turn your attention away from the paparazzi flashbulbs to see Mel at his best. Here's his five best flicks.
1. Lethal Weapon (1987)
Unhinged. Unwired. Unpredictable. That's Mel Gibson as suicidal loose-cannon sergeant Martin Riggs. The casting is almost preternaturally perfect. And the opening scene, where Gibson
uses reverse psychology to scare a suicidal jumper straight, is a true classic. He's also kind of sympathetic. Opposite long-suffering straight man Danny Glover, Gibson cements the classic "I've got nothing to lose; I'm too old for this shit" dynamic that made this action comedy the epitome of the genre.
2. Mad Max 2: The Road Warrior (1981)
A rarity among sequels, Road Warrior is even better than the original. Reprising his role as Mad Max Rockatansky, Gibson lives in a postapocalyptic world in which it's every man for himself. Soon enough, Max is on a suicide mission, driving an oil tanker through a desert wasteland of petrol-hungry lunatics. An automotive action film par excellence, the film's frenetic action sequences put The Fast and the Furious — and copycats like Waterworld and The Book of Eli — to shame. Nobody does the loner surviving a dangerous wasteland like Gibson.
3. Gallipoli (1981)
One of the most important films in Australian cinema, Gallipoli also has one of Gibson's most nuanced performances. This evocative coming-of-age story follows two young runners who enlist to fight in World War I. As Frank Dunne, Gibson proves himself a fine actor — edgy but sensitive. As a war film, Gallipoli is heartbreaking, showing the sacrifices of Australians who fought in the Great War, and is equally tragic in its depiction of the loss of two young men's innocence.
4. Maverick (1990)
You can always count on a laugh or two with Gibson, even if the movie begins with his head in a noose. As gambler Bret Maverick, Gibson is the joker in the deck — turning on all his charm in a delightful Western comedy. What's more, he's in good company. Accompanying him are Jodie Foster, James Garner (who played Maverick in the original TV series), and even Danny Glover. With Lethal Weapon director Richard Donner at the helm, the whole film has the low-key air of a really fun family reunion. Maverick is a bit of escapist fun that's all too rare in Hollywood movies.
5. Braveheart (1995)
Freedom. Martyrdom. Violence. Viewers may not have known it at the time, but Braveheart largely mapped the themes that would occupy Gibson for the rest of his career, for better or worse. Apocalypto, The Passion of the Christ, The Patriot — they're all in embryonic form in this blood-drenched tale of Scottish patriot William Wallace. But Braveheart is by far the best of the bunch, winning Gibson Oscars for Best Picture and Best Director and setting the gold standard for modern epics.
Honorable Mentions
1. Mad Max (1979): Mel's manic road rage begins here in a low-budget flick. The movie has chase sequences that are still to die for, and the ending will leave you breathless.
2. The Year of Living Dangerously (1982): Reuniting with Gallipoli director Peter Weir, Gibson puts in a subdued, great performance as a war correspondent in Indonesia at the outset of the Vietnam War.
3. Hamlet (1990): Gibson rocks Shakespeare — who knew? — as the titular Prince of Denmark in the best screen adaptation of Hamlet out there.
4. Chicken Run (2000): If you want the Mel Gibson experience without having to see Mel Gibson, this fun Claymation movie is so irreverent you won't notice that Gibson voices the movie's heroic rooster.
5. The Man Without a Face (1993): Gibson's role as a misunderstood outcast seems awfully prescient. It was also the actor's directorial debut and the least sanctimonious of his efforts behind the camera.

Catch Mel Gibson in the Maximum Max marathon, starting Sat., Sep. 25, at 6PM | 7C.
Read More