Uncategorized
Flashback Five – The Best Movies of Jodie Foster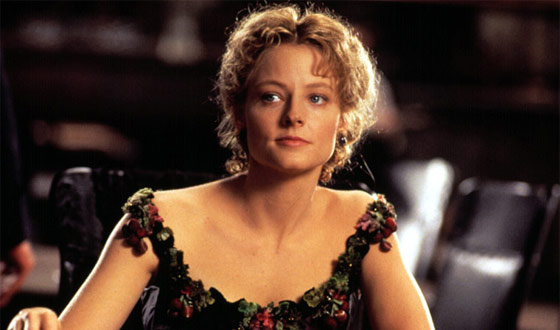 Jodie Foster's characters are always ferocious and ferociously complicated. Whether she's a pubescent prostitute or a trigger-happy public-radio host, Foster delivers performances that are impossible to pigeonhole. Although she accepts roles at a slower pace than some of her contemporaries, the results speak for themselves: two Oscar wins, two other nominations, and a whole slew of top-notch movies. Foster clearly has a knack for selecting quality projects, so picking favorites isn't a problem. Narrowing them down to five is another story. Here's one take.
1. The Silence of the Lambs (1991)
You think the women of Mad Men face harassment? Foster's FBI agent, Clarice Starling, is underestimated in a traditionally male profession, but who cares about a glass ceiling when you face occupational hazards like a woman-skinning serial killer named Buffalo Bill (Ted Levine) and the cannibalistic consultant Hannibal Lecter (Anthony Hopkins)? Lecter, Starling's ally in banter and nemesis in matters of life and death, gets the glory, but Foster has no more reason to be underestimated than her character: vulnerable but determined, Starling is as memorable a movie cop as there is. And guess what? She nabs the killer she's after.
2. The Accused (1988)
One of the first films to seriously deal with rape, The Accused is a maddening indictment of the strange phenomenon in which the victim is blamed. The film's power is in large part owing to Foster's performance, and it's no surprise that she was rewarded with an Oscar win for Best Actress. As the lawyers for those she accuses of rape point to her checkered past to explain the crime — that she was, in some way, asking for it — Foster stands tall and doesn't back down. Her victim is a pioneer among ordinary movie women with extraordinary courage, and The Accused is a pioneer in tackling a serious social issue head-on.
3. Taxi Driver (1976)
As Iris, a child prostitute trapped in the wasteland of seventies New York City, Foster is unforgettable. Dressed in strawberry short shorts, cherry-red platform sandals, and a big floppy hat, her image is an icon of lost innocence. But rather than playing into the clichés of victimhood, Foster's performance assumes Iris sees her predicament not as a tragedy but as a fact of life. Hungry for affection, Iris's dance with her slimy pimp (Harvey Keitel) is a masterpiece of psychological manipulation, a classic scene in a classic movie.
4. Panic Room (2002)
Foster's fighter instincts rise to the forefront in this kick-ass nail-biter from David Fincher. Originally slated to star Nicole Kidman, who bowed out owing to an injury, the film was a bonus for Foster's many fans, as she shows off her tough-gal persona. When thieves invade her house, she goes from single mom to action hero in six seconds flat and turns herself into a domestic MacGyver, turning the prison of her home panic room into a weapon. A puzzle box of a thriller, Panic Room is suspenseful at each and every claustrophobic turn.
5. The Brave One (2007)
Foster delivers one of her finest performances as an NPR host who goes all NRA after her fiancé gets killed in Central Park. (The assailants nab her dog too.) Foster springs into Paul Kersey mode, spilling the blood of evildoers across the streets of New York. But while the vigilantes of Dirty Harry and Death Wish make killing criminals seem as easy as making pie, The Brave One is far more complicated. Foster's form of vigilante justice is a double-edged sword, a pathological compulsion that may destroy her.
Honorable Mentions
1. Inside Man (2006): Foster's part, as a corporate fixer, is pretty damn boring and depends almost entirely on her vivacity as an actress. And she nails it.
2. Contact (1997): Foster brings this sci-fi yarn's interplanetary daydreaming down to earth. There's no shape-shifting machines fighting each other, but the ending will blow your mind.
3. Maverick (1994): She doesn't often do comedy, but in Maverick Foster shows serious comedic chops as a southern belle with more than a few tricks up her corset.
4. Nell (1994): Transforming herself into a wild woman raised in the woods without an awareness of civilization, Foster humanizes a character who is barely human.
5. Freaky Friday (1976): Freaky Friday is the Hamlet of child-acting roles — two precocious twins trying to get their parents back together — and Foster is far better in this version than Lindsay Lohan was in hers.

Watch Foster this Sat., Sep. 4, in Maverick, at 8PM | 7C, and Inside Man, at 11PM | 10C.
Read More