Interviews
Q&A – Cara Buono (Dr. Faye Miller)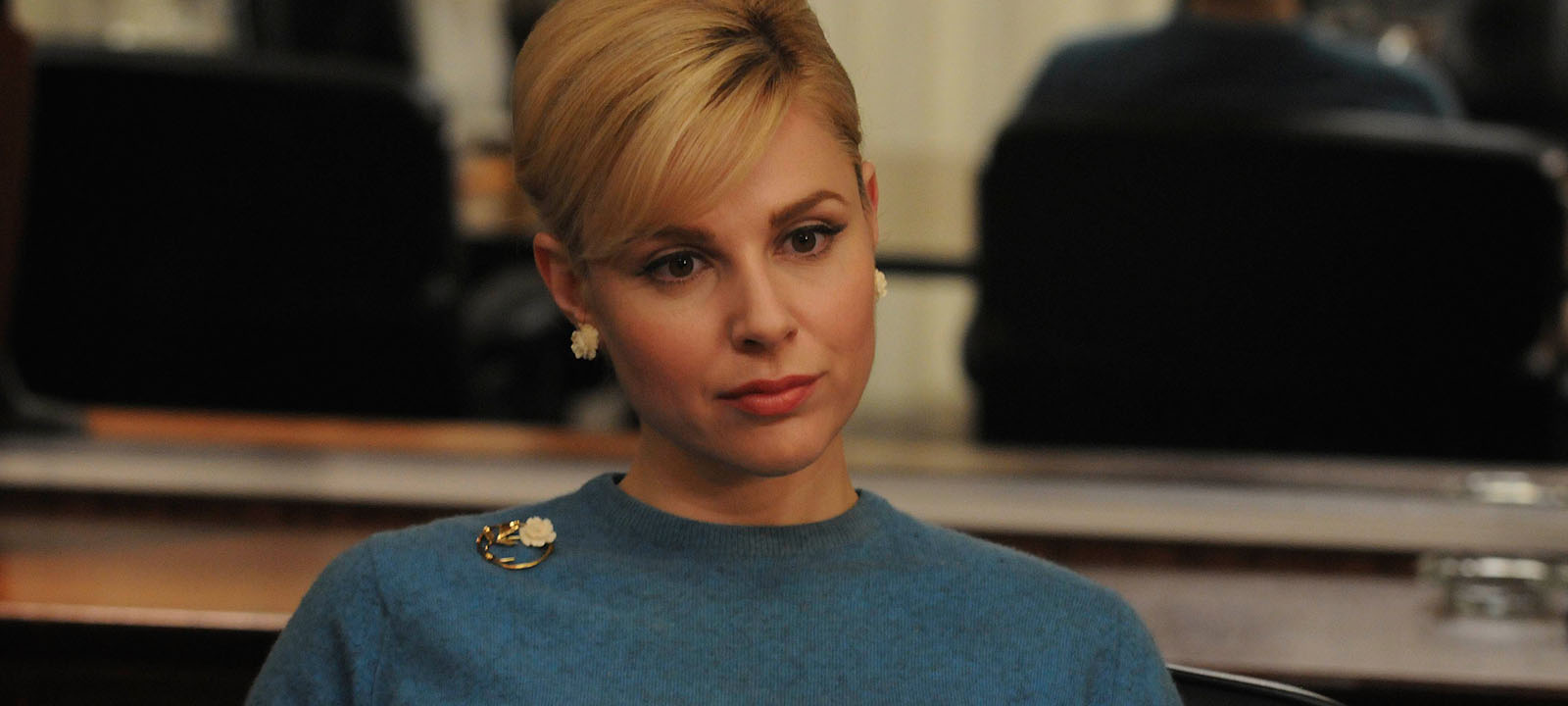 Cara Buono, who plays Dr. Faye Miller on Mad Men, spoke with AMCtv.com about knowing Don Draper's secret, cursing and screaming on set and where she hides her real wedding ring when she has to wear Faye's fake one.
Q: Don revealed his true identity to Faye! Did you have any idea the scripts were leading up to that?
A: I basically never knew anything that was coming down the pike. It's always been fun and interesting to hypothesize about it all, but I can never predict it. From a story perspective, I just thought Anna dies, so now Faye's the only one who knows his secret. Betty knows, but she's rejected him. Pete Campbell knows, but that's sort of a different category. Now Faye knows his true identity and she accepts him and loves him. I thought it was a natural progression in their relationship. Because it is a real relationship, he trusts her.
Q: How surprised were you when you found out Faye was going to be one of Don's love interests?
A: I was very surprised. I just thought that they would be two workplace contemporaries who would have a repartee on that level. And I think because she sized him up so quickly at the beginning, saying "you'll be married in a year and you're a certain type," [I thought] that she would know what he's all about and would never go there.
Q: Before the Don-Faye connection happened, did your friends keep asking if something was going to happen between you two?
A: That probably was the number one question I got: "Do you and Don get together?" Or: "I feel like you guys are gonna get married, I feel like you'd be a great wife for him because you seem like you're his equal on every level. Even your pay level is probably closer to him than any of his secretaries or any woman he's ever been with."
Q: Your character doesn't display her emotions very much, but she has that scene where she's breaking up with her boyfriend over the phone. Was it fun to finally yell?
A: That scene was so much fun because I got to curse and scream at this imaginary boyfriend, and she does it so well. I just think, boy is she articulate, she says what she wants, she tells him off, and she's just really clear. You wouldn't really think of [those words] in the moment if you were having a fight with someone, but she says it. And "go shit in the ocean" is the English translation of this expression which is very common in Yiddish.
Q: Since you knew the show before joining the cast, which actor ended up being least like his or her character?
A: Vincent Kartheiser is nothing like Pete Campbell. He does such an amazing job portraying Pete Campbell that I think the audience thinks he's really like that. And he's nothing like that. It's such an amazing performance.
Q: Dr. Miller keeps her work life very separate from her personal life. How easy is that to do when you're an actor?
A: I got married last July and it's funny, Faye wears a fake wedding ring and I don't ever like to not have my wedding band on me. So I actually pin it to myself. When I put on Faye's fake wedding ring I take my real ones off and pin them inside of my undergarment, so I'm never without them.
Q: Faye doesn't cook. What about you?
A: I am the opposite of Faye. I love to cook. I love to cook for myself and my husband and big groups. I find it very relaxing, and I love socializing around a dinner table. Although, it's funny because Faye always says she wants to get something to eat, so I think she likes to eat. I just think she doesn't like to cook. So in that way Faye and I are very similar: We both love to eat.
Q: What was the audition process like for the show? How did you prepare for it?
A: I live in New York, and I got a call that there was a role on Mad Men. I got on the plane [to Los Angeles] on a Tuesday and the audition was on the same day. There wasn't so much preparation because everything is so secretive on the show. I was just told her name and that she's a psychologist and that was about it. … and then the next day I got a call that I got the job… I never knew it was going to be more than a few episodes. I just said I'll be in L.A. for two or three weeks and then I'll come back home. I ended up being here the whole season.
Read More