Hey, Affleck – Real Double Threats Like Tina Turner and Beyoncé Sing the Theme Song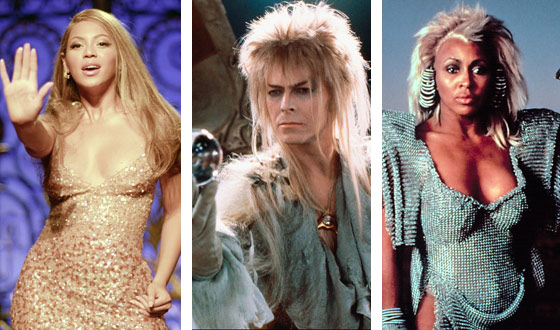 You hear all about actor-director double threats like Ben Affleck, the director and star of The Town, or Clint Eastwood, a legend as much for his roles in Dirty Harry and Pale Rider as for directing Mystic River and Million Dollar Baby. But there are other ways to pull double duty on a movie. For instance, an actor can play a starring role and also sing the theme song. Tina Turner is the master of the craft, putting in a legendary turn as Aunty Entity in Mad Max Beyond Thunderdome and recording the flick's catchy and appropriately messaged theme, "We Don't Need Another Hero (Thunderdome)." But she's not the only one; here's a look at some of our favorites.
Elvis Presley, "Jailhouse Rock," Jailhouse Rock
In one of the most iconic moments in the career of the legendary rocker, Presley famously shakes his hips with fellow prisoners as they dance to the title song in Jailhouse Rock. Unfairly imprisoned for a crime he didn't commit, Presley's character gains a new lease on life through song, and the real-life musician only added to his legend as a superstar and sex symbol, helping to launch rock and roll in the process.
Tina Turner, "We Don't Need Another Hero (Thunderdome)," Mad Max Beyond Thunderdome
Actually the third movie in the Mad Max series, Beyond Thunderdome can boast that it's the most financially successful film in the series (as well as being beloved by both audiences and critics). Credit Tina Turner, who co-stars as Aunty Entity, ruler of Bartertown, in an excellently sympathetic villain performance. Her catchy end-title ballad is an incredible synthesis of eighties kitsch and movie-hero theme. The song reached No. 2 on the pop charts and remains No. 1 in many a heart.
David Bowie, "Underground," Labyrinth
One of the rare rock stars also respected for his acting chops, Bowie didn't have to veer too far from his stage persona to play Jareth, the flamboyant king of the goblins in Jim Henson's final masterpiece. Bowie sings a number of songs throughout the movie, but it's the weird, purposefully off-putting title track, "Underground," that sets things off on the right — or at least uneasy — foot. There's a reason Bowie is still cool after all these years: he can star in and sing the theme song in a dark puppet movie and still come off looking awesome.
Britney Spears, "I'm Not a Girl, Not Yet a Woman," Crossroads
Part of the reason musical crossovers get a bad rap, Spears's semi-autobiographical film was an embarrassment of teen road-movie clichés and put the final nail in the coffin of Dan Aykroyd's career. (He played her father.) Crossroads features Spears as an "amazing" singer who just needs to find her voice and confidence. Hence the track, which also depicted Spears's current place in the pop-culture landscape. Both the movie and the song failed to make much of an impact beyond precipitating Spears's downfall from superstar to laughingstock.
Mandy Moore, "Cry," A Walk to Remember
Before there was a Nicholas Sparks tearjerker in theaters almost every week (or at least it seems that way), there was this four-hankie affair. The movie took pop songstress Moore and cast her as a dying young girl who gets to experience true love before she passes away. "Cry" wasn't only a pop hit; it was a song that firmly established Moore as an actual talent, not just a bubblegum-pop trifle. Take that, Britney Spears!
Beyoncé Knowles, "Check on It," The Pink Panther
In recent years, the double-threat theme song has gone out of vogue: pop stars have been almost uniformly lambasted for their awful performances and kept out of movies. One exception is Beyoncé, who co-stars with Steve Martin in the reboot of the classic Peter Sellers franchise. She also provides a characteristically booty-shaking closing anthem, which reached No. 1 on the charts, just like the movie.
Read More