Video – Julia Roberts's Growing Family a Factor in Her Joining Eat Pray Love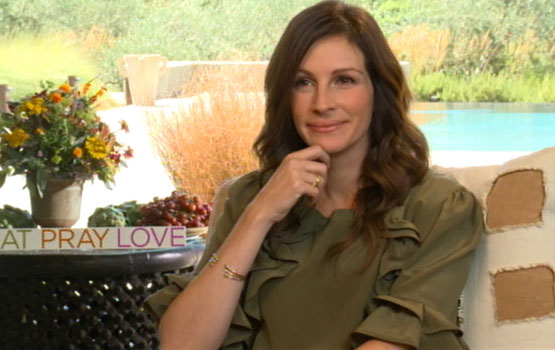 The last decade was a good one, professionally, for actress Julia Roberts. During that time, she co-starred in a number of successful films, including Ocean's Eleven, Charlie Wilson's War, and Valentine's Day. But, surprisingly, none of her projects in the past ten years has rested on her shoulders. She's chosen films that have been team efforts, instead of starring in vehicles like 2000's Erin Brockovich, for which she won an Oscar.
Eat Pray Love reverses that pattern, marking Roberts's return to a headlining role in a character-driven drama. The film, co-written and directed by Glee creator Ryan Murphy, is based on the global best-selling travel memoir by writer Elizabeth Gilbert. In the film, Roberts portrays Gilbert, whose marriage has ended, leaving her with a growing sense of ennui that she attempts to remedy with a yearlong trip around the world. It's an epic story revolving around one woman's transformation — and Roberts is in every scene, which is a big change from her recent ensemble projects.
Read More