Top Ten Summer-Fling Movies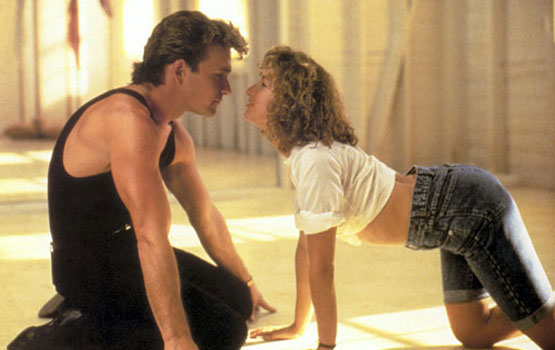 As summer comes to an end, you can be forgiven for feeling a little nostalgic. The warm days when school's out and vacationers travel to far-flung locales are ideal for romantic liaisons. And, yes, Hollywood has cashed in on that by offering its share of hot-weather flings. Some fade with the arrival of autumn, while others endure into that "happily ever after" waiting at the end of the credits, but the best of them make for indelible cinema. Here are ten of the most notable.
10. Mamma Mia!
From the remote Greek island where she lives, bride-to-be Sophie (Amanda Seyfried) sends invites to three men, any one of whom may be her father. The amorous cast members circle each other playfully amid the sun, sea, and sand, belting out Abba tunes and confessing their love for each other in the most exuberant terms. It's ephemeral as cotton candy, but it tastes so sweet that you don't mind how quickly it will fade.
9. Dirty Dancing
Originally dismissed as a derivative crowd-pleaser, this pic has stood the test of time, thanks to the chemistry between the late Patrick Swayze and Jennifer Grey. He plays the working-class dance instructor at a Catskills resort, while she's the college-bound teen entranced by his charms. Despite the titular dance moves, the movie has a sense of innocence that matches the setting perfectly.
8. Grease
Cashing in on the seventies' fixation with idealized fifties America, Grease
constitutes perhaps the archetypical summer fling. Tough-but-good-hearted Danny (John Travolta) swoons for Australian
vacationer Sandy (Olivia Newton-John), who will be heading home at
summer's end. The magic of plot contrivance brings her back as an
exchange student — but their early exuberance and her fears about never
seeing him again epitomize the fleeting joys of passing romance.
7. The Graduate
Few
flings are more aimless than the one involving Ben Braddock (Dustin Hoffman),
who's seduced by his parents' friend Mrs. Robinson (Ann Bancroft) and
seemingly participates because he has nothing better to do. His affair
takes a lurching left turn when he falls for Robinson's daughter and
seemingly casual emotions go horribly awry. In the midst of the fairy-tale loves perpetrated by most movies, it comes as a bracing dose of
messy reality.
6. The Seven Year Itch
It's famous for Marilyn Monroe's iconic pose above the subway grate, and
censorship eliminated some of the racier elements of the play on which
it was based. But Billy Wilder's tale of a nominally content husband
(Tommy Ewell) tempted by the girl upstairs remains surprisingly
arousing, with the sultry heat of midsummer New York adding to Monroe's
beyond-legendary sex appeal.
5. Say Anything…
Has any suitor this side of Cyrano been more heartfelt than Lloyd Dobler
(John Cusack)? A resolute middle achiever, he makes up for his
insecurities by pursuing a girl viewed as hopelessly out of his league
in the summer after graduation. But, lo and behold, she falls for him,
and while the rest of the world waits for the other shoe to drop he
plows forward in the resolute belief that nothing matters except her.
4. Before Sunrise
A lot can happen in one night. Just ask Jesse (Ethan Hawke) and Celine
(Julie Delpy), a pair of students who run into each other during one
magical evening in Vienna. Richard Linklater develops their relationship
with grace tempered by plausible chemistry and the sad realization
that nothing this good can last. It worked so well that it led to a
sequel that proved every bit the first film's equal.
3. Much Ado About Nothing
Kenneth Branagh uses the hills of Italy to bring Shakespeare's story to
life, filled with food, wine, and a couple (Branagh and then-wife Emma
Thompson) who loathe each other so much that it can only be love. The
film's visual splendor proves Shakespeare's cinematic potential, while
the characters' rapport has served as the template for countless
romantic comedies that followed.
2. Roman Holiday
Audrey Hepburn's Princess Ann takes a day off and tosses aside her royal duties for a jaunt through Rome. She's joined
by Gregory Peck's cynical journalist, who is too captivated by the
woman herself to exploit the opportunity that has dropped into his lap.
Sometimes what you don't do means a thousand times more than what you
do, as the film's bittersweet finale proves.
1. West Side Story
The perfect love is born, thrives briefly, and dies a swift and brutal
death, all during a few scorching months on the streets of New York. The
film takes its cues from Romeo and Juliet, but its couple (Richard
Beymer and Natalie Wood) is far less fickle than Shakespeare's famous teenyboppers. We know they're
doomed, even as we root with all our hearts and souls for them to find
happiness.
Read More