Top Ten Movie Priests Gone Wild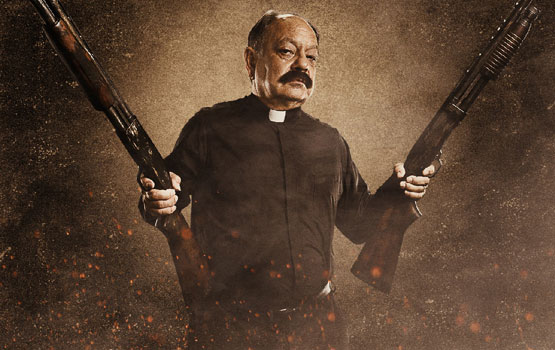 Priests are, of course, mostly holy. It's their job. But sometimes they cross over into holy-terror territory — especially at the movies. Hollywood has given us myriad examples of men who find themselves in ungodly realms. Robert Rodriguez's latest, Machete, features Cheech Marin as gun-slinging, revenge-seeking Padr. He's just the latest in the canon of priests gone wild.
10. Father Brian Finn (Edward Norton), Keeping the Faith
A lovesick priest, a woman from his past, and a well-stocked liquor cabinet. What could go wrong? As a confused man of the cloth, Norton makes an ill-advised pass at an old friend. She rejects him. He's a priest, for heaven's sake. And so he spends a drunken night staggering around before confronting his romantic rival (Ben Stiller) and socking him in the jaw. He also chokes on incense and sets his alb afire, but that's unintentional.
9. Frank Jr. (Martin Shakar), Saturday Night Fever
Shakar played a small, crucial role in this influential 1977 film, as Tony Manero's older brother, the supposedly saintly Frank Jr. When he sheds the frock, his family is stunned and saddened. But Frank's desanctification offers a ray of hope to his disco-king sibling, who's always felt like the black sheep. "Maybe if you're not so good," says Tony, "then I'm not so bad."
8. Father John Flaherty (Christopher Reeve), Monsignor
This entry not only concerns a very bad priest but also a very bad movie. Among the transgressions committed by Flaherty: machine-gunning Nazis during World War II, seducing a nun, trafficking in black-market cigarettes, and being generally unrepentant. And why shouldn't he be? His superiors at the Vatican seem to care not a whit about any of it.
7. The Pope (Robbie Coltrane), The Pope Must Die
Coltrane stars as a priest who is accidentally named pope. This would be a blessing for him, but the Mafia-infiltrated Vatican is not at all pleased, especially when the new pontiff starts trying to clean up the nefarious financial goings-on at the Holy See. The comedy is irreverent by definition, so naturally the title was changed in the United States to The Pope Must Diet.
6. Reverend Graham Hess (Mel Gibson), Signs
Playing a faith-challenged Episcopal priest, Gibson takes up arms to defend his family from cornfield-vandalizing space aliens. In a climactic scene, suspenseful and silly in equal measure and seemingly lifted directly from The Wizard of Oz, his brother (Joaquin Phoenix) kills the otherworldly menace by tossing — that's right — a half-empty glass of water in its direction.
5. Priest (Paul Bettany), Priest
Looking ahead: in Priest, adapted from a Tokyopop graphic novel by Min-Woo Hyung and set to open in May 2011, Bettany plays a warrior-priest battling to rescue his niece from a gang of vampires. Priests versus vampires! Well, there is that blood connection. The movie's in 3-D, so all those swirling robes and slashing fangs will pack an extra oomph.
4. Crooked Archbishops, The Godfather: Part III
Taking as its jumping-off place the papal banking scandal of the early eighties, the third Godfather film begins with an older, wearier Michael Corleone trying to legitimize his business ventures by throwing $600 million around and entering into a real-estate deal with the Vatican. Big mistake, since the conspiratorial archbishops and crooked cardinals he encounters are as shady as any mob boss.
3. Cardinal Glick (George Carlin), Dogma
Some unorthodox priests aren't wicked or criminal, just a little nutty. The late, great Carlin is one of the many highlights of Kevin Smith's self-described comic fantasia. As Glick, the guiding force behind Catholicism Wow!, Carlin explains that the savior "didn't come to Earth to give us the willies" as he unveils a peppy-looking statue of Buddy Christ.
2. Father Moore (Tom Wilkinson), The Exorcism of Emily Rose
It's a tricky business, driving out demons, and once in a while even an experienced exorcist might go a little overboard. The overzealous fellow in Scott Derrickson's 2005 horror movie (loosely based on the true story of Anneliese Michel) is Moore, who encourages the titular young lady to lay off her seizure meds and wait for a higher power to intervene. Bad move.
1. Euliss "Sonny" Dewey (Robert Duvall), The Apostle
Charismatic, devout, and very, very flawed, the title character in this gripping and believable 1997 drama is a Pentecostal preacher who cheats on his wife, gets booted from his church, yells at God, and then clobbers a fellow with a baseball bat, putting him in a coma. Not cool. But if anyone could make this dude sympathetic, it's Duvall, who wrote, directed, executive produced, and starred in the film. And fear not: justice is served, redemption attained.
Read More