Uncategorized
Rocky Always Wins, But How Would You Rank His Opponents?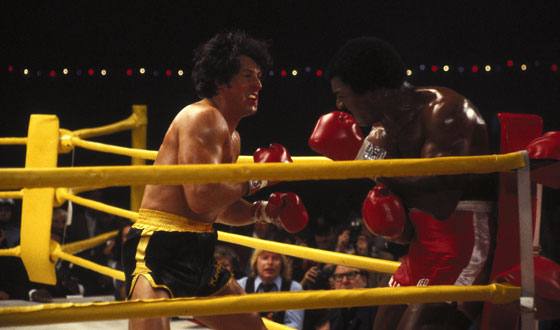 When it comes to movie boxers, there's really no doubt who's the best of the best. With apologies to real-life legends like Muhammad Ali (Ali) and Rubin "Hurricane" Carter (The Hurricane), you just can't get any better than Rocky Balboa. Through six movies spanning four decades, the Italian Stallion fights a variety of fighters (superhuman Russians, pro wrestlers, and a protege), and of course, with one exception, he defeats them all. Once you've established Rocky as the greatest movie boxer of all time, the only real question remaining is who would win if his opponents faced off? We've done the work for you and ranked Rocky's opponents.
6. Tommy Gunn (Tommy Morrison), Rocky V

Everyone hates Rocky V, and Gunn's the reason. A whiny, wannabe Rocky who trains as our hero's protege and then leaves him in the dust (Rocky's broke at this point) for a flashy agent who promises him mink coats and whatnot. Gunn gets what's coming when Rocky beats him in a literal back-alley brawl. Losing to Rocky in an unsanctioned match, where an unscrupulous punk like Gunn would have an advantage over the noble Balboa, drops Gunn near the bottom of the list.
5. Thunderlips (Hulk Hogan), Rocky III


Thunderlips battles the Italian Stallion during a charity wrestling match. While Rocky defeats him, it takes a bit for our champ to figure out how to fight a guy who doesn't wear gloves and who outweighs him by a good 100 pounds. Thunderlips gains points as the largest of Rocky's opponents, for making a hilarious pass at Adrian, and for turning out to be a decent guy. But he can't climb higher than No. 5, as he loses in his own fighting milieu. And, oh, did we mention that wrestling is fake?
4. Mason "The Line" Dixon, (Antonio Tarver), Rocky Balboa


Armed with that pathetic nickname but the physique of a real-life boxer, Dixon is the most forgettable of Rocky's nemeses, and yet he earns a surprisingly high ranking here because, unlike some of the goons whom Rocky fights, Dixon isn't a total jerk. He's the champion, he gets no respect, and he's the only man with a winning record against Rocky. Sure, Rocky is 50 years old at the time of their match, but beating Rocky still counts — even if the guy's in a wheelchair.
3. Apollo Creed (Carl Weathers), Rocky–Rocky IV


Apollo starts as the high-rolling, clever, smooth-talking yin to Rocky's down-to-earth, dumb-as-bricks yang. And we love him for that. Then he becomes Rocky's best bud, trainer, and inspiration. And we love him for that. Then he improbably becomes a patriot and Cold War martyr who just wants to beat that Red SOB Drago. He's so great a fighter, and his battles with Balboa so epic, we can almost forgive his being killed in the ring, since he was practically a senior citizen by that point.
2. Ivan Drago (Dolph Lundgren), Rocky IV


Everyone's favorite Russian boxer clicks in at No. 2. Why Drago? Why here? For starters, he makes the Line, Tommy Gunn, and Rocky (for that matter) look puny by comparison. Plus he's got ice in his veins. ("If he dies, he dies.") That's the good. The bad? We can't condone the heartless killing of Apollo Creed, so that drops him a spot. And in his only fight with Rocky, he loses, despite what seems like a two-foot height advantage. That's not enough to land him any higher.
1. Clubber Lang (Mr. T), Rocky III


Much like Drago, Lang loses points for murdering a close confidant of Rocky — in this case, bringing about the death of Mickey (Burgess Meredith) — but gains a lot of points for beating the living hell out of Rocky prior to that. You do not want to meet Lang in a dark alley. He's mean, he's a great fighter, he does not care what you think of him. He's terrifying. He wants to win, be the best, and hurt people, which, along with Mr. T's hairdo, makes for a pretty badass package.
Check out Wesley Snipes and Ving Rhames as boxers in Undisputed, Wed., Aug. 4, at 10:30PM | 9:30C, and Thu., Aug. 5, at 3:30PM | 2:30C.

Read More