Interviews
Q&A – The Last Exorcism's Eli Roth Thinks Inglourious Basterds Needed a Wet-T-shirt Contest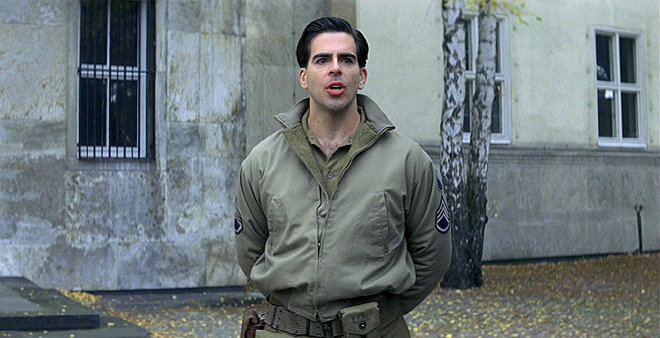 Most know Eli Roth as the Bear Jew from Quentin Tarantino's Inglourious Basterds. But before Roth swung his baseball bat through Nazi Germany, the actor-writer-director spilled buckets of blood across two Hostel films and Cabin Fever, his terrifying indie debut. Roth returns to his roots this week, producing the documentary-style horror film The Last Exorcism for director Daniel Stamm. Roth recently talked with us about tweaking the audience, finding the right actors, and hosing down strippers.
Q: The film has a deliberately slow build. It's not setup, setup, scare. Do you worry that modern horror audiences won't have the patience for Exorcism to unfold?
A: There's a crazy, false notion that audiences are not patient or will not watch a story, that you have to put in a scare every ten minutes. But I always thought that was insane. I remember with Cabin Fever I spent 45 minutes on buildup. And with Hostel it's not scary until minute 40 or 42. But you've got to tell an engaging story. In doing so, two things happen: by the time bad things start happening you really care about the characters and you are worried for them. But also the audience starts to get tense. If you haven't scared the audience, people think that the audience is going to get bored, but the opposite happens. Audiences are smarter than that. If you've engaged them, the audience is thinking, Wait a minute. If these people haven't tried to scare me yet and we're now 30 or 40 minutes into the film, they must be so confident in what's going to happen as a payoff for this movie that I'm now terrified for what that's going to be.
Q: Normally when you produce a film you also direct it. What happened with The Last Exorcism?
A: Well, originally, the project was brought to me by producer Eric
Newman, who had hired the writers — Huck Botko and Andrew Gurland —
and asked them to direct. I loved their film Mail Order Wife. I
am a big fan of those guys. And so Studio Canal said that they would
finance it if I came onboard. My name was enough for them, which is
great, because that allowed them to really cast whomever they wanted and
find the best actors for the parts. But right as we were about to
start, their comedy The Virginity Hit was green-lit. And they were contractually obligated to do it. Oddly enough, it shot in the exact same town as The Last Exorcism,
so these guys actually had two movies going at once. That's a terrific
comedy. It comes out in late September. It's very funny. But we were
suddenly left without a director, and Newman found Daniel's first movie, A Necessary Death,
which had won AFI Fest. Losing our directors wound up being
this wonderful, happy accident, because Daniel brought something so
interesting and smart to what was already a great script.
Q: To me, the film works as well as it does because Patrick Fabian is just excellent as the skeptical exorcist.
A: Right, and we knew that. We had talked about finding differences from Cloverfield or Paranormal Activity.
Daniel always said this movie has to be about the performances. This is
not an effects-driven movie. He didn't even want makeup during any of
the possession scenes. Everything had to feel like this was really
possible and really happening. It was a rigorous casting process. We
knew that it was really up to Patrick and Ashley [Bell] to make or break
this film. And Daniel found them. He actually made Patrick give a
sermon [in his audition]. Then he turned around and said, "I could watch
this guy give a sermon about banana bread, and I'd want to stand up and
cheer." Which is how the banana-bread scene wound up in the movie. So
Daniel really understood what these two were capable of and really gave
them the freedom to go crazy and do what they do best. People come out of the
movie going, "Oh my God, who are those two?"
Q: On a lighter note, how did you prepare to play the wet-T-shirt-contest host in Piranha 3D?
A: Well, you know, preparing to play host to a wet-T-shirt contest is
something that I have been doing in my mind since I was about 9 years
old. Every time I have a hose, I'm really sort of imagining myself
hosting a wet-T-shirt contest. So when Alex Aja called me up and asked
me to come out of acting retirement to hose down strippers, I thought
that for the betterment of cinema I had to do that for him. I'm that
committed to my craft. After the first day of shooting, I called up
Quentin Tarantino and told him that, while I was sorry, I think I'd
found a better director for whom I like working more.
Q: I'm sure he understood.
A: Oh, he totally understood. Who am I to criticize Inglourious Basterds?
I think it's a flawless film. But if there is one criticism I could
make that I think is a fair criticism it's that it could have used a
wet-T-shirt contest.
Read More