Uncategorized
Q&A – Machete's Danny Trejo on Armed Women, Lindsay Lohan, and Christmas With Harold and Kumar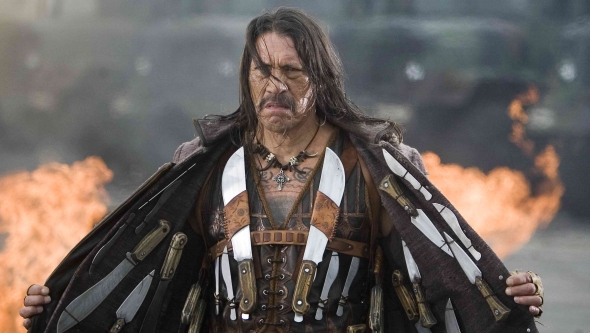 We've seen films based on classic novels, beloved television shows, and popular video games. But Machete might be the first movie born of a bogus trailer created for an experimental grind-house double feature. Tireless character actor Danny Trejo reteams with Robert Rodriguez to tell the story of a former Mexican federale who goes after the killers who betrayed him. We sat down with Trejo and discussed armed women, Harold and Kumar, and a fourth Spy Kids adventure.
Q: Was it always Robert Rodriguez's intention to do a feature-length Machete film?
A: Kind of. We first talked about this movie when we were doing Desperado. That was fifteen years ago. And he said to me, "You are absolutely perfect for this character. You've got to play this part. He's a badass who don't take no steps backwards." We'd talk about it through the years but never really revisited it until he was set to do the Grindhouse movies. That's when he decided to do the Machete trailer. And it just completely blew up.
Q: Which does Machete find sexier: weapons or women?
A: He likes women with weapons! [Laughs] Michelle Rodriguez has
her bunches of weapons. Jessica Alba has her weapons. Even Lindsay
[Lohan] had hers. So I think that's the kind of lady Machete prefers.
Q: Did you ever watch the original Machete trailer with a crowd?
A: Oh, yeah. And everybody stood up and cheered! So with that kind of
great response, we finally buckled down and set about making the movie.
Q: Speaking of the trailer, is it easier or perhaps more fun
filming a three-minute clip because scenes don't have to fit together
and the plot doesn't have to make much sense?
A: Well, you know what it is? It's an innovative marketing idea,
which I'll credit to Robert. You just shoot the trailer, and then you
don't have to bother pitching a treatment or a script. Just watch the
trailer and tell us if you want to be a part of this! And then you hit
them with a script.
Q: What is it about Rodriguez that makes you want to work with him time and again?
A: When you are on a Robert Rodriguez film, it is like an adventure.
Every day is something new. I have shot more scenes in a day with Robert
then I have on any other film. He moves. And any director who has read
his book, Rebel Without a Crew, I find that they've learned how to
utilize time. They know what they want. They don't have to see what they
want. It's bang, bang: shoot it twice, and let's move on.
Q: Because he moves so quickly, does he allow for collaboration or is he married to his script?
A: He allows for a lot of collaboration. But me and Robert, we have
developed this chemistry so that I know what he wants, and he just kind
of tells me "Do this," and it gets done. Sometimes we'll disagree.
He'll explain what he wants or I'll tell him what I want, and we kind
of meet in the middle.
Q: Looking at your IMDb page, you
have eighteen credits for 2010. Do you ever have downtime or are you only
happy when you are working?
A: I need to be busy. Everybody asks me when I'm going to go on a vacation. But I have to say that my life is a vacation.
Q: Would you ever say no to a project Robert brings to you?
A: Never. Because I know his reputation, and I know the kinds of
films he does. It helps that I love the kind of films he does. He has an
automatic yes from me. Just tell me where I have to show up.
Q: Tell me what role you are playing in A Very Harold & Kumar Christmas.
A: [Laughs] I actually play Harold's father-in-law. Oh, man, that film is funny. And then I've got a film called Vengeance coming out in October. My son is producing a movie that I'm going to be in called Skinny Dip.
It's a revenge movie about a girl who sees her boyfriend beaten to
death and seeks revenge on the football team that jumps him. And also
we're about to start Spy Kids 4 in a couple of weeks. That's
going to be awesome. Because we still have 5- and 6-year-old kids coming
up and saying, "I love you in those films." So that's a no-brainer.
Read More