Uncategorized
Q&A – Cairo Time's Patricia Clarkson on Woody Allen, New Orleans, and the 'Criminal' Oil Spill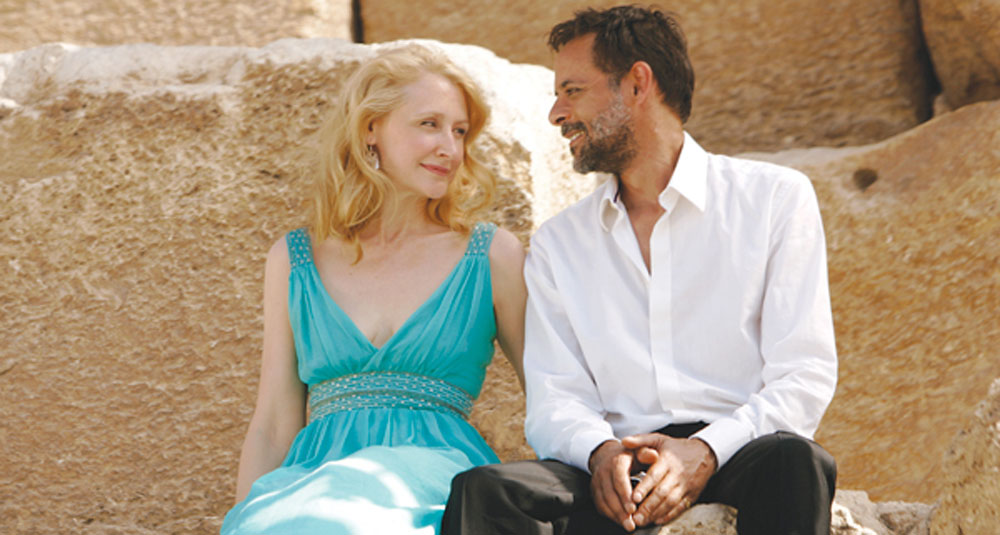 Ruba Nadda's Cairo Time is a dreamy, elegant, and gorgeously photographed drama that casts Patricia Clarkson as a Manhattan-based magazine editor who gets lost in the Egyptian capital, only to discover an unexpected soul mate. We recently spoke with Clarkson about her time spent filming Cairo, which triggered discussions about time zones, the importance of dry heat, and the troubles still facing residents of her native New Orleans.
Q: This was your first time in Cairo, right? Is there an American city you can point to as Cairo's equivalent?
A: I'd never traveled anywhere in the Middle East. I mean, there are
elements of Cairo that felt like New York City to me, definitely. But
as for adjusting, I would say the heat was the least difficult thing for
me to overcome. I was born and raised in New Orleans, so I know hot.
[Laughs] That does come with humidity, though, so I have to tell you that I
kind of welcomed the heat of Cairo. In New Orleans, it literally feels
like you are standing in someone's humidifier.
Q: The fact that you'd never been there before plays so well into the motivations of your character, who is struggling to acclimate to her foreign surroundings. Did it help bringing a set of newcomer's eyes to your role?
A: Oh, yes, we definitely had life and art mixing at times and
usually to my advantage, so I was very lucky. Often there were days
where I was seeing something for the first time, just as my character
was supposed to be seeing something for the first time. It was magical
to be able to bring that experience right to the screen.
Q: Your character, Juliette, has the hardest time adjusting
to both Cairo's extreme heat and the time-zone shift. Was there a
specific element you struggled to overcome during your time in Egypt?
A: Probably the time-zone difference, much like Juliette, as well as
the pace of Cairo. The noise and the density of the city — it's just
brimming with people and noise.
Q: Nadda prefers these exquisite medium-range shots in Cairo Time.
Can you talk about her process for setting up those shots? You literally want to hang them up on your wall.
A: I'm going to tell her you said that, because that will mean so
much to her. Ruba set out to trust an audience's intelligence, to trust
an audience's ability to take this emotional journey. She didn't want to
have to rely on close-up after close-up. She could let the camera sit
and rest. She wanted people to come to the film and not have the film
come to her audience. I think she did a beautiful job. I also think
that's a very difficult thing to do when you are a young filmmaker. She trusted that our bodies would speak as loudly as our faces. Woody Allen is a master at
that. And, like him, Ruba had a lot of trust in the audience.
Q: Her music, also, is crucial to the film's mood. But how is that conveyed on set? Were you able to hear that music?
A: No, no, because this music was written after the fact. Some of the
Egyptian music used in certain scenes we knew of beforehand, and I
listened to a lot of it while I was over there shooting. But there's
this beautiful, spare, gorgeous score now by Niall Byrne — who is an amazing
composer — and we were very lucky to have him.
Q: I read your recent blog post regarding the Gulf oil spill
on OneEarth.org, which was written for the National Resources Defense Council. What can a regular person do to help the cause?

A: First and foremost, we have to put pressure on Congress. The only
way that this will not happen again is if we have tighter regulations
and stricter rules. We have to make sure that people realize that this
can happen anywhere, at any time. We have to rally. We cannot let this
slide. This is criminal activity. As for right now, there are many
charitable organizations you can contribute to, and you can look them
up. But long term? We have to look to cleaner fuel. We have got to start
to shift our world. And it has to start with us.
Read More