Movie-Geek Mania – The Top Five Dos and Don'ts for Surviving Comic-Con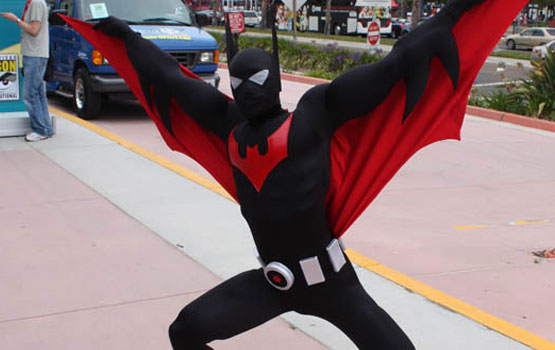 San Diego Comic-Con: it's the largest geek gathering in the world and a launchpad for Hollywood's most anticipated and expensive blockbusters. If you go, you're in for a spectacle beyond comprehension. You're also in for a veritable nerd-alanche, one that can be dangerous if you're not properly prepared. So before you buy tickets for Comic-Con 2011, check out this list of dos and don'ts, culled from this year's convention.
1. DO have patience.
Waiting is the name of the game at Comic-Con. Every year, 125,000 people flock to San Diego for the event. You'd think a convention center that stretches over a mile long could hold that many mouth breathers, but you'd be wrong. (In fact, overcrowding has led to rumors that when Comic-Con's contract with San Diego is up, in 2012, they'll relocate to Los Angeles or Las Vegas.) Comic-Con is packed. Really packed. So packed that to do anything — even roam the exhibit hall — requires standing in line.
For big-ticket events, like Angelina Jolie's appearance for Salt or the TRON panel, the line stretches outside the convention center and average wait times exceed two hours. The lines are in fact so gruesome that many fans will wait in line and then sit through panels they have no interest in to ensure they'll be inside for the main event. (For AMC's Walking Dead panel, three quarters of the attending crowd had endured the previous panel, for CBS's upcoming Hawaii Five-O, in order get their first look at the zombie series.) So sit back, relax, and wait. Because the only time you won't have to wait is when you leave, which, after ten hours of waiting in line, you can't wait to do.
2. DON'T get political.
One of the bigger stories to come out of Comic-Con this year was the unexpected (and unwelcome) presence of the Westboro Baptist Church, better known as the "God hates fags" people. What they didn't count on was that genre fans don't like to have their spirits dampened and were quick to engage in their own counterprotests. Some protest-poster highlights: "Odin Is God," in reference to Marvel's Thor character; "God Loves Gay Robin," as wielded by a woman wearing a classic Robin costume; "The Cylons Destroyed the 12 Colonies for Your Sins," referencing Battlestar Galactica; and "God Hates Jedi." The point here being that, if Comic-Con is a form of idol worship, as the church claims, it's harmless worship — unless threatened by idiots.
3. DO embrace the fangirls.
Fanboys may have had a movie named after them, but it was the girls who ruled San Diego this year, as evidenced by the overwhelming presence of Scott Pilgrim vs. the World — the upcoming adaptation of Bryan Lee O'Malley's kung-fu-laden indie emo anime love epic starring Michael Cera. Sure, the guys are curious to see what Shaun of the Dead director Edgar Wright will do with the material, but it was the gals who ensured that one of the longest lines at the Con wasn't even in the convention center — it was across the street at the "Scott Pilgrim experience," which allowed attendees to design their own T-shirts. And it was the fangirls who squealed with delight when Wright surprised panel attendees with an impromptu screening of the whole film — a tactic that spelled box-office gold for District 9 last year and one that all but guarantees the same this year. The tagline for the movie was "Scott Pilgrim vs. Comic-Con." By Sunday, everyone knew who won that battle.
4. DON'T expect to talk about comic books.
Geeks love to say this about Comic-Con every year: that Hollywood has taken over, that it's lost sight of its original purpose to bring four-panel fans together. But this year they finally may have a point. Marvel and DC (the two biggest comic-book publishers) refrained from making any big announcements. What comic buzz existed mostly had to do with Hollywood adaptations of comics — The Walking Dead, The Green Lantern, The Avengers, Scott Pilgrim vs. the World — and even they had to compete with such patently non-genre fare as The Expendables, Salt (Angelina Jolie claimed during the panel that she was attracted to the project because of how real and grounded it was — sheesh), USA's White Collar, and CBS's Hawaii Five-O. The best comic-book discussions instead happen after the day's events at one of several bars in the area, where true fans can commiserate over the death of Bruce Wayne and the death of San Diego Comic-Con at the same time.
5. DO let your geek flag fly.
As any veteran will tell you (and many are all too eager), Comic-Con is the only place on earth where certain people are able to be themselves. And that means costumes, costumes, costumes. Several attendees remarked this year that costuming was actually down from previous years, but if that's true it certainly didn't show. Tim Burton's Alice in Wonderland had the most impressive turnout this year, inspiring handfuls of Mad Hatters, several Queens of Hearts, and at least one White Queen. But our favorite comic heroes also showed up, from Batman to the Silver Surfer to the Comedian (from Watchmen). Presented without further commentary, a gallery of some of Comic-Con's costumed attendees, who are by far the best reason to make the trip to San Diego.
Read More