Just In Time for Scott Pilgrim, It's the Ultimate Comic-Book Rock Band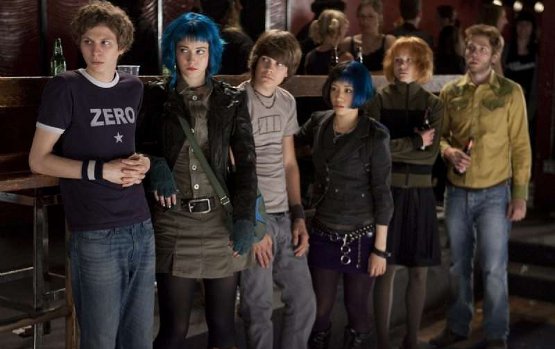 With the release of Scott Pilgrim vs. the World, audiences will experience the first comic-book movie that rocks. In between fighting evil ex-boyfriends, our hero, Scott, plays bass in the band Sex Bob-omb — it's a Super Mario Bros. reference — with pals Kim Pine (Alison Pill) and Stephen Stills (Mark Webber). While Sex Bob-omb is your typical crummy garage band in Bryan Lee O'Malley's graphic novels, the movie version will feature songs penned by music superstar Beck. (The soundtrack also includes contributions from Broken Social Scene, Black Lips, and Frank Black.)
Since the movie is picking up some serious buzz following screenings at Comic-Con, I thought it would be fun to put together the ultimate comic-book rock band. A literal supergroup, my band would be stocked with some of the biggest stars in comics. Take a look below, and tell me your killer comic-book-band lineup in the comments.
Eric Draven (Brandon Lee), The Crow (Guitar, Vocals)
One of the few superheroes with actual musical chops, Eric Draven (the first and best Crow) is a must-have for any superhero band. Before he was murdered, Eric was a dark, charismatic rocker in the vein of Trent Reznor. (Hey, it was the nineties.) Of course, there's the matter of persuading him to take a break from avenging the death of his girlfriend to kick out some jams. Perhaps musician Nick Cave, who is set to pen the upcoming reboot, can get Eric back to his roots and pen some brooding tunes.
Breathless Mahoney (Madonna), Dick Tracy (Vocals)
Seeing
as how Mahoney spends most of her time singing torch songs (penned by
Broadway great Stephen Sondheim) in seedy nightclubs, this one's a
no-brainer. Not to mention that she looks suspiciously like a certain
popular singer with a fondness for outré costumes and lavish stage
shows. (No, not Lady Gaga.) As played by Madonna during her Marilyn
Monroe phase, Mahoney will lend some sex appeal and old-school class to
the group. Just don't turn your back on her, unless you want to be
double-crossed.
Howard T. Duck (Ed Gale and Chip Zien), Howard The Duck (Electric Guitar)
Scoff if you must, but Howard performs a killer solo in the final (and
only watchable) scene of his movie alongside girlfriend Beverly (Lea Thompson) and the other
members of Cherry Bomb. (Fun fact: Howard's theme song was co-written by Thomas "She Blinded Me With Science" Dolby.) What other guitarist can
play with his beak? (Well, maybe Keith Richards.) Having a duck in the
band will up the curiosity factor, and anything that keeps Howard away
from the big screen is definitely a good thing.
Tony Stark (Robert Downey Jr.), Iron Man (D.J.)
For better or worse, Tony knows how to throw a party. His shindigs always
have the best music, the hottest babes, and the coolest D.J.'s. Tony
himself got behind the booth in Iron Man 2, showing off his mad
skills while heavily inebriated. Granted, his behavior did lead to
Rhodey stealing the Iron Man armor, but, hey, nobody's perfect. The band
needs Stark's style, charisma, and deep pockets if they hope to break
past the Comic-Con circuit.

Wolverine (Hugh Jackman), X-Men (Keyboards)
Let's face it: Wolverine has to be in this band. The guy appears in something like 50 comic books a month, and he's soon to star in another X-Men prequel. His name alone will sell out amphitheaters. But what can he play? Since his claws kind of preclude him from playing guitar (no string would be safe), we'll cast him as the surly keyboard player.
Every band needs the mysterious member with the cool hair who lurks in
the background, and Wolverine more than fits the bill. (If he dyes his
hair blond, he could pass for a member of Flock of Seagulls.)
Kim Pine (Alison Pill), Scott Pilgrim vs. The World (Drums)
Scott
Pilgrim's pal Kim is the only member of Sex Bob-omb who actually cares
about playing music, making her perfect for drums. Adding Kim to the
band would provide some much-needed hipster cred, while her snarky
attitude will keep the other members in check. (Someone needs to tell
Wolverine when to show up for band practice.) Sporting a pixieish
bob — the hairstyle favored by everyone under the age of 25 — Kim will
easily be the most crush worthy band member.
Peter Parker (Tobey Maguire), Spider-Man (Background Dancer)
With
his big-screen reboot a couple of years away, perhaps Peter could pass the
time being a background dancer like that random guy in the Mighty
Mighty Bosstones. Granted, no one liked his swing-dance routine in Spider-Man 3,
but the guy can still move. (Perhaps Dazzler could be brought in to
choreograph.) Being in a band could boost Peter's confidence with the
ladies. Plus the guy could use the work: J. Jonah Jameson is pretty stingy with paychecks.


Stan Lee (Cowbell)
Because
it wouldn't be a comic-book movie without a Stan Lee cameo, the Man
could channel his inner Blue Öyster Cult and give the audience more
cowbell. And since Stan has penned lyrics for everything from the Merry
Marvel Marching Society to the Defenders of the Earth cartoon,
he'll be a big help on the songwriting front. Not to mention that his
signature catchphrase ("Excelsior!") would look great on a marquee.
Enough said.
Nick Nadel writes for
places like HBO and Asylum.com and is the "geek" blogger for GuySpeak.com. Follow the "Comic Book
Movies" column on Twitter.

Read More