Hey, Marvel! Here's Your Cast For the Iron Fist Movie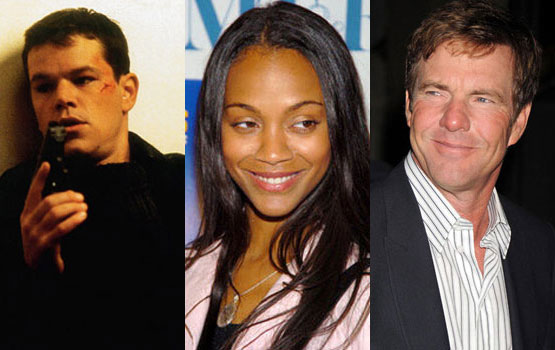 The news that Marvel has hired the screenwriter of xXx to kick-start their Iron Fist movie couldn't have come at a better time. The kung-fu-themed superhero, a staple of the seventies, has enjoyed a comeback of late, thanks to the excellent "Immortal Iron Fist" series. The comic, penned by Marvel superstars Ed Brubaker and Matt Fraction, expanded the previously one-dimensional character (he was basically just a guy with strong hands) with a rich backstory (turns out there have been several Iron Fists throughout history), a strong supporting cast, and plenty of good old-fashioned martial-arts action. It's great fodder for a superhero flick that could perform some much-needed CPR on the dormant kung-fu genre.
Hollywood came calling for Iron Fist back in the early aughts,
when Ray Park (Darth Maul) was cast in the lead role in a proposed
Marvel Studios-Artisan Entertainment collaboration. Fans were
understandably worried that Iron Fist would receive the same low-budget
action-movie treatment that Marvel and Artisan gave to the Punisher.
Thankfully, a terrible movie never materialized, and Iron Fist
languished in development hell. Now that Marvel has claimed full rights
to the character, chances are better that we'll see a movie that uses
elements from the recent acclaimed comic books.
But who should
portray Iron Fist? And what about his diverse supporting cast? Here's a
list of actors who could help make Iron Fist as popular as Marvel's
other Iron movie star.
Matt Damon (Danny Rand/Iron Fist)
The Bourne movies proved that Damon can fend off bad guys
using only his bare fists, so he should look pretty awesome wielding the
power of Fist. Plus his gravitas could go a long way toward
legitimizing the character in the eyes of critics who view him as a lame
Bruce Lee knockoff with a glowing fist. Damon is one of the few major
stars who has never played a superhero on the big screen. Time to change
that. (Memo to nerds: his hair can be dyed blond.)

Mark Strong (Steel Serpent)
With bad-guy roles in Sherlock Holmes and Kick-Ass under his belt, Strong is becoming Hollywood's go-to villain of choice. Plus there's his upcoming role as Sinestro in Green Lantern,
a role that could put the English actor on the level of a Willem Dafoe
or Jack Nicholson. As Iron Fist's chief archrival, Serpent
requires an actor who is both physically and mentally intimidating. So
far, Strong has created some truly creepy baddies. Here's hoping
DC and Warner Brothers would lend out Strong to Marvel between Green Lantern sequels.
Zoe Saldana (Misty Knight)
In
the comics, Misty is Iron Fist's on-again, off-again love interest and
the mother of his child. But she's no stay-at-home type: Misty
does some serious butt kicking of her own as one half of the Daughters
of the Dragon. Therefore the role needs an actor who can stand by the side of Iron Fist as he takes on ninjas, diabolical Hydra agents, and
supernatural samurai. Saldana, a fan-boy favorite following her roles
in Star Trek and Avatar, would be perfect for the role of
the underrated Marvel heroine. Plus she'd look pretty fetching while
sporting Misty's unique hairstyle.
Dennis Quaid (Orson Randall/Iron Fist)
As revealed in the "Immortal Iron Fist"
comics, Randall was Danny Rand's predecessor and part of a long
line of heroes who have defeated the dragon Shou-Lao the Undying in
order to possess its mystical power. ("Iron Fist" is one crazy
comic, folks.) An aging hero in the pulp tradition, Randall should be
played by an actor who can handle action and serious moments. (Randall
was friends with Danny's late father.) Everyone loves Quaid when he's in action mode, and it's surprising that Quaid has yet to sign on for a comic-book role.
Let's make it happen, Marvel.
Grace Park (Colleen Wing)
Like
Misty Knight, Colleen is a regular presence in the "Iron Fist" comics. As
the other half of the deadly Daughters of the Dragon, Colleen lives a
life filled with drama and fast-paced action. As Battlestar Galactica fans would agree, Park would
be perfect for the role. Marvel would be wise to snatch up Park before she becomes too
pricey for a supporting role, and including the Daughters of the Dragon in
the film would help round out the supporting cast and prevent the film
from turning into a total dude-fest. Speaking of actors who've appeared in
testosterone-athons…
Terry Crews (Luke Cage)
No movie about Iron Fist would be complete without an appearance from his pal and fellow Hero for Hire, Cage. Also known as Power Man, Cage has been teaming up with Iron Fist since the days of bell-bottoms
and disco. Jamie Foxx and Tyrese Gibson have both been connected to a Cage solo project, but so far nothing has materialized. (Rumor has
it that the guy from the Old Spice commercials is interested in playing the
role.) So why not jump-start interest in a Cage movie by casting Crews, currently topping the box office as a gun-toting tough guy
in The Expendables? Perhaps Marvel could
pull a Samuel L. Jackson and lock Crews into playing Cage in multiple
flicks. After all, Cage is also a member of the Avengers.
Read More