Press
Mad Men Wins Four Emmys, Breaking Bad Scores Two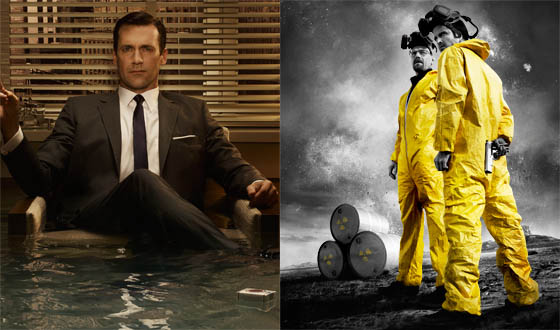 Mad Men and Breaking Bad scored multiple wins at the 62nd Primetime Emmy Awards. Mad Men took the award for Outstanding Drama Series, while creator Matthew Weiner shared a win for Outstanding
Writing for a Drama Series with co-writer Erin Levy for their script for the
episode "Shut the Door. Have a Seat." (Read an interview with Matthew
Weiner from Season 3.) The show also scored wins for Outstanding Hairstyling and Outstanding Casting at last week's Creative Arts Emmy Awards.
Bryan Cranston became a three-time winner in the category of Outstanding Actor in a Drama Series, taking the trophy once again for his work on Breaking Bad. (Check out an interview with Cranston about Breaking Bad Season 3.) Costar Aaron Paul, for his part, snagged the award for Outstanding Supporting Actor in a Drama Series. (Read a Season 3 interview with Aaron Paul here.)
Other winners included Modern Family (Outstanding Comedy Series), Edie Falco (Outstanding Actress in a Comedy Series), the HBO film Temple Grandin (Outstanding Made for Television Movie), and The Daily Show With Jon Stewart (Outstanding Variety, Music or Comedy Series).
Check out the complete list of Emmy winners below or visit Emmys.com for more.
Outstanding Supporting Actress in a Comedy Series: Jane Lynch, Glee
Outstanding Supporting Actor in a Comedy Series: Eric Stonestreet, Modern Family

Outstanding Lead Actor in a Comedy Series: Jim Parsons, The Big Bang Theory
Outstanding Lead Actress in a Comedy Series: Edie Falco, Nurse Jackie
Outstanding Lead Actor in a Drama Series: Bryan Cranston, Breaking Bad
Outstanding Lead Actress in a Drama Series: Kyra Sedgwick, The Closer
Outstanding Supporting Actor in a Drama Series: Aaron Paul, Breaking Bad
Outstanding Supporting Actress in a Drama Series: Archie Panjabi, The Good Wife
Outstanding Lead Actor in a Miniseries or Movie: Al Pacino,
You Don't Know Jack
Outstanding Lead Actress in a Miniseries or Movie: Claire Danes,
Temple Grandin
Outstanding Supporting Actor in a Miniseries or Movie: David Strathairn, Temple Grandin

Outstanding Supporting Actress in a Miniseries or Movie: Julia Ormond, Temple Grandin
Outstanding Writing for a Comedy Series: Steven Levitan, Christopher Lloyd, Modern Family
Outstanding Writing for a Drama Series: Matthew Weiner and Erin Levy, Mad Men
Outstanding Writing for a Miniseries, Movie or a Dramatic Special: Adam Mazer, You Don't Know Jack
Outstanding Writing for a Variety, Music or Comedy Special: 63rd Annual Tony Awards
Outstanding Directing for a Comedy Series: Ryan Murphy, Glee
Outstanding Directing for a Drama Series: Steve Shill, Dexter
Outstanding Directing for a Miniseries, Movie or a Dramatic Special: Mick Jackson, Temple Grandin
Outstanding Directing for a Variety, Music or Comedy Special: Bucky Gunts, Vancouver 2010 Olympic Winter Games Opening Ceremony
Outstanding Reality Competition Program: Top Chef
Outstanding Miniseries: The Pacific

Outstanding Made for Television Movie: Temple Grandin
Outstanding Drama Series: Mad Men
Outstanding Comedy Series: Modern Family
Outstanding Variety, Music Or Comedy Series: The Daily Show with Jon Stewart
Read More