Uncategorized
Flashback Five – The Best Movies of Robert Duvall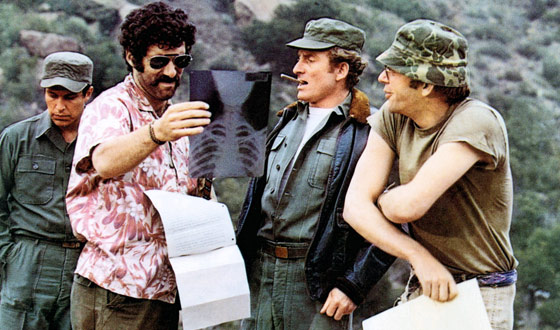 Coming from the school of less is more, Robert Duvall effortlessly cuts to the core of every character — and you can read the results right in his eyes. Tender and sweet, serious or savage, he's one of Hollywood's most compulsively watchable actors, as is apparent in dramas like The Godfather and comedies like MASH, which airs, in celebration of its 40th anniversary, on Fri., Aug. 13, at 8PM | 7C and 10:30PM | 9:30C. And while many guys his age prefer the quiet life, Duvall keeps on delivering top-notch performances. With a career that spans nearly half a century, it's a tough call to pick the best of the lot, but here's a valiant attempt.
1. Tender Mercies (1983)
You know that movie about the washed-out, boozing country singer who finds love? No, not Crazy Heart. Tender Mercies, you fool. This quiet, astute, and underrated film is one of Duvall's best. You can read his character's troubled life story in every line of his face. It's a subtle role that stands the test of time and one that secured Duvall his first Oscar.
2. The Apostle (1997)
If you want something done right, you do it yourself. Perhaps that's why Duvall starred in, wrote, directed, and financed The Apostle. The tale of a Pentecostal preacher who's hardly a saint features a richly textured performance by Duvall. The movie doesn't scoff at religion, but it's never sanctimonious. (Witness the scene where he cracks a youth minister with a baseball bat.) Duvall's preacher walks a fine line in this stellar performance.
3. The Great Santini (1979)
Duvall is at his best as a paternal tyrant in this coming-of-age drama. Playing the bullying Lieutenant Colonel "Bull" Meechum, Duvall is electrifying. He convincingly browbeats his son and treats all those around him like vassals. The clincher is the explosively painful scene in which Duvall goes haywire in the course of refusing to lose to his eldest son (Michael O'Keefe) in basketball. You hate him, but, at the same time, you can't help but admire the bravado and bile.
4. Apocalypse Now (1979)
"I love the smell of napalm in the morning." Sound familiar? As a gung ho, surf-loving lieutenant colonel, Duvall makes for an oddball warmonger. But you don't doubt for a moment that Duvall's fire-breathing Bill Kilgore — a war-loving cowboy-cum-soldier — is every bit the killer and warrior, as well as a good-time surfer who genuinely enjoys his experience in Vietnam.
5. The Godfather: Part II (1974)
Yes, Duvall is great in the original as well, but it's in the sequel where he truly shines. As lawyer Tom Hagan, Duvall's straight-man persona plays perfectly across from Al Pacino, who's Michael Corleone becomes increasingly erratic as he sinks further into the darkness. Duvall provides that last refuge to normalcy, as the Corleone's family business, and personal relations are thrown into turmoil.
Honorable Mentions
1. MASH (1969): Duvall's role in Robert Altman's surgical comedy is as a brilliantly stable straight man to the comic charisma of Hawkeye (Donald Sutherland) and Trapper (Elliott Gould).
2. The Godfather (1972): Duvall doesn't have the flashy roles played by Pacino or Brando, but he's as nuanced as ever as the lawyer with a quiet reserve who fits perfectly into the world of The Godfather.
3. Network (1976): As a slimy network exec and corporate reptile who helps usher in the era of exploitative reality TV, Duvall showcases his own chameleon-like acting capabilities in this forecast of modern entertainment.
4. The Great Northfield Minnesota Raid (1972): Duvall can play the psycho with the best of them, and his role as a sadistic, trigger-happy bank robber in this dark Western proves it.
5. To Kill a Mockingbird (1962): In Duvall's coming-out party, he plays the iconic role of gentle giant "Boo" Radley. The part still resonates all these years later, on par with Gregory Peck's starring role.

Watch MASH today, Fri., Aug. 13, at 8PM | 7C and 10:30PM | 9:30C.
Read More