Uncategorized
Can Jon Hamm's Smile Outshine George Clooney's in a Tournament of Lady-Killers?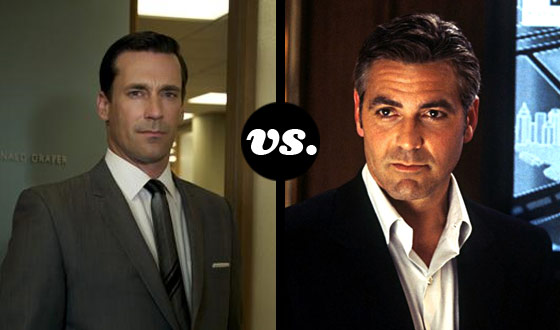 If there's one thing Hollywood has to offer, it's a surplus of handsome male demigods who exist (it sometimes seems) for the sole purpose of driving female moviegoers crazy with their inhuman good looks. Say hello to the lady-killers, guys like Mad Men's Jon Hamm, George Clooney, and Will Smith, who are always on our minds. But do these guys have what it takes to defeat heartthrob competitors like screen hero, father, philanthropist, and ab-workout enthusiast Brad Pitt? Or the so-called sexiest man alive, Hugh Jackman? Do they have what it takes to take out the hottest Bond of all time, Daniel Craig? More to the point: can these two studs beat each other? It's up to you to decide these slayers' fates.

Check out George Clooney in Out of Sight today, Mon., Jul. 5, at 2:45PM | 1:45 C.
Watch Jon Hamm in a Mad Men season-one marathon tonight, Mon., Jul. 5, starting at 8PM | 7C.
Read More