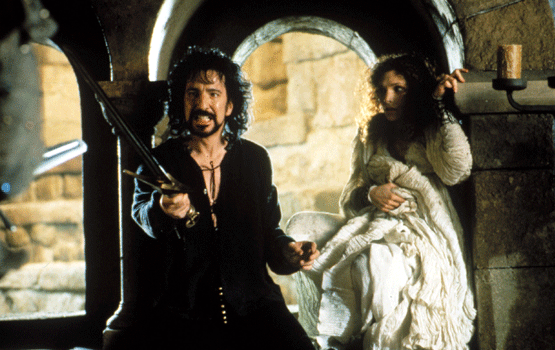 In the spirit of Independence Day, here's a look at some of Hollywood's best British baddies. Not all of the characters are necessarily of British descent, but they, at least, brandish the accent — because (let's face it) some things sound so much more sinister and authoritarian when they roll off the tongue with British flair.
10. Rafe Bentley (Patrick Stewart), Masterminds
How do you know Bentley is a villain? He's bald, has a pencil-thin mustache, and speaks with a British accent. In Hollywood, you can't get more nefarious typecasting than that. As the security guard at a wealthy prep school, Bentley hatches a plot to hold students ransom for $75 million. To typecast even more, his right-hand man (Callum Keith Rennie) is British, too.
9. Dr. Jonas (Patrick Stewart), Conspiracy Theory
Stewart is such a convincing villain that we had to give him a double mention on this list. In Conspiracy Theory, he plays a shady CIA psychiatrist on the hunt for a cabdriver (Mel Gibson) who used to be part of an illegal human-research program headed up by Dr. Jonas. Among the trifecta of big-name stars (Gibson, Julia Roberts), Stewart is the sole Brit — and, hence, the villain.
8. Leigh Teabing (Ian McKellen), The Da Vinci Code
Don't be fooled by the canes and grandfatherly countenance: this cripple is an evil mastermind. Teabing is a brilliant scholar who's devoted his life to studying the Holy Grail. In truth, though, he's actually a cult leader — known as the Teacher — who dispatches minions to help him find the Holy Grail and prove to the world that his studies aren't so futile after all.
7. Ra's al Ghul (Liam Neeson), Batman Begins
Al Ghul is on a mission to obliterate Gotham for being a hopeless cesspool of corruption. He may have a point about Gotham's seediness, but that's no reason to poison the city's water supply. Neeson, who is actually Irish, borrows a British accent to instill al Ghul with believable charisma. He is, after all, the ringleader of an elite group of assassins.
6. Count Dooku (Christopher Lee), Star Wars: Episode II – Attack of the Clones
Star Wars villains and British accents go hand in hand, but Dooku is a class of villain all his own. He betrays his fellow Jedi to help Darth Sidious bring down the Republic. As tempting as it is to imagine a world without Jar Jar Binks, Lee, with his lordly voice, delivers such a smarmy performance you're ready to root for whatever side he's not on.
5. General Zod (Terence Stamp), Superman II
"Kneel before Zod" just doesn't have the same ring when it's uttered with an American accent. Unlike Gene Hackman, who played Lex Luthor with comedic flair, Stamp gave Zod an imperious voice that's just as imposing as his shiny black getup. His sociopathic, calm diction is the perfect counterpoint to Christopher Reeve's chummy delivery.
4. Alex DeLarge (Malcolm McDowell), A Clockwork Orange
As the ringleader of a sadistic gang of hoodlums, Alex is evil incarnate. He leads his team of "droogs" around London, engaging in every act of violence imaginable — murder, rape, assault, home invasion. His brutal spree is put to a halt when he's caught and submitted to a rehab program. It works at first, but the ominous ending implies you can never take the villain out of DeLarge.
3. Colonel William Tavington (Jason Isaacs), The Patriot
The Patriot offered Isaacs (who also plays terrific baddy Lucius Malfoy, in the Harry Potter movies) the British-villain role of a lifetime: a colonel in the American Revolution. With his feathered hat and stuffy uniform, he strides around South Carolina bossing Americans around. When he kills the son of Benjamin Martin (Mel Gibson), he soon finds out he's messed with the wrong Yankee.
2. Longshanks (Patrick McGoohan), Braveheart
King Edward I, better known as Longshanks, ruled over Scotland with an iron fist in the late 1200s. In this fictionalized tale set during his reign, he stirs William Wallace (Mel Gibson) to rebellion when his men kill the Scotsman's wife. You may want to laugh at his name, but there is nothing redeeming about a king who tosses his gay son's lover out the window.
1. Sheriff George of Nottingham (Alan Rickman), Robin Hood: Prince of Thieves
Rickman was born to play villains, and his turn as Nottingham is the best reason to watch this Robin Hood adaptation. Prone to tantrums and rants, the sheriff lords over England with a shriveled witch lady as his personal adviser. For a despot, he has great comedic timing and a creative vocabulary to boot.
Read More