Uncategorized
Q&A – The Extra Man's Kevin Kline on Florida, Frankenstein Dancing, and the Importance of Being Funny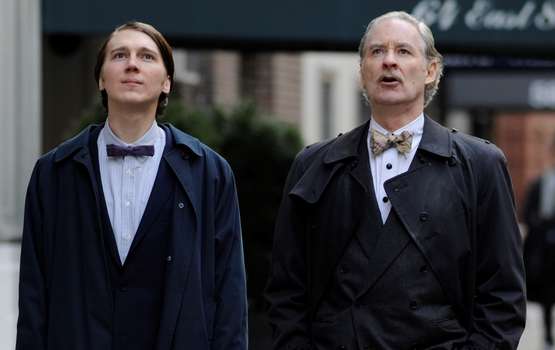 Kevin Kline has established himself as one of the finest actors of his generation, with a much-respected career in both theater and film. He has won two Tony awards, for On the Twentieth Century and The Pirates of Penzance, as well as an Oscar, for A Fish Called Wanda. The latter role illustrates his ability to move between comedy and drama with ease, and, indeed, his performance remains one of the few comedic turns ever to win an Academy Award. In his latest film, The Extra Man, he plays a fallen New York aristocrat who scrapes by providing "companionship" to wealthy older women. He spoke at length about the film during a recent interview with the press.
Q: Would this film be any different if it weren't set in New York?
A: It's very New York, with all it has to offer culturally. My character is literally
feeding on that, on art openings and galleries and museums. All these
social events that are very specific to New York. I don't know if he
cold exist in L.A., for example, though there are extra men in L.A. and
Florida. When we played the Sarasota Film Festival, so many people came
up and said, "You're in an extra-man city!" There are so many wealthy
widows and retirees in Florida, and they all need a male friend.
Q: So what was the attraction of the role for you?

A: I knew on page two that I wanted to play this character. The word
"delight" kept coming up. It just delighted me, and tickled me, and made
me laugh out loud. I found his voice so original, even though you can
compare him to other eccentric characters in literature and film. He was
just so outrageous, and flamboyant, and extravagant, and
contradictory, and complicated, and funny.
Q: Do you know
anyone like him?
A: I'm sure I've met them, but didn't
necessarily know what they did. Working in the theater in New York, one
can meet flamboyant men-about-town. Bons vivants. But I didn't base him
on anyone in particular. I just took him from the novel and from the
screenplay.
Q: Do you miss the camaraderie of the theater when
you do a film? That familial bond of a small group of performers trying
to make it work?
A: Actually, there can be familial
bonding on a film as well, and that phenomenon can get trying in the
long run in theater, especially if you're in a theater company, which I
was, for four years. The family can get dysfunctional as time goes on.
People say that an ensemble takes years to develop, but you
can have an instant ensemble if everyone is — and I hate the expression —
on the same page, in terms of the project you're working on. You're all
in the trenches together, and it can be very intimate.
Q: How
about the dancing you did in the film? How did you develop that?
A:
In the book, he dances in a much more — sort of a fox-trot movement. He
says, "I try to move whatever I think is rotting." We kind of took that
to the next step, where everything is rotting. I'm moving pretty much
everything. A brilliant choreographer and an old friend named Patricia
Birch was brought in, and we tried different things with her. Finally
she said, "Why don't you try that goofy modern dance, that Martha Graham-meets-Frankenstein dance, and just do your own thing?" It was pretty
free-form and much longer. It was about a five-minute dance, and they
just took a little piece of it.
Q: Even at the end, we don't
fully understand this character. Do you have to understand him in order
to play him?
A: That's a very good question, and the answer
is no. He is a mysterious character; he's full of contradictions.
There's a side of him that's very theatrical, as if he's playing a role.
Part of that is wanting a mystique and being mysterious, and part of it
is that there's things he doesn't want to talk about. That's part of
his charm. If you understand the pathology of a character, it's not
necessarily dramatic or funny or interesting. Also, you've explained it
all away.
Q: How do you create that feeling of an age gone by —
this notion of living in an older time, while the rest of the world has
moved on?
A: With the character. I think the character is
quite aware that it's moved on and finds it vulgar. Shameful and common
and without style. His response to that is to live in the past, to
create his own past. He's a guy who lives in his own world. He's Don
Quixote, in a way. They're just windmills, but, to him, they're giants who
need to be conquered. That ability to delude yourself into making the
world a more beautiful place than it is — and to scorn those parts which
aren't up to your standards — is very critical.
Q: Are
there any unique challenges to approaching comedy that you wouldn't find
in a more serious role?
A: I remember Richard Attenborough
said something once. I did a film with him and I went off afterward to
do A Fish Called Wanda. He said, "Comedy is so difficult because
it's so binary." It's either funny or it isn't. With comedy, sort of
funny doesn't work. You've got to thread the needle and get it right.
Read More