New on DVD – July 27, 2010 – Clash of the Titans and Repo Men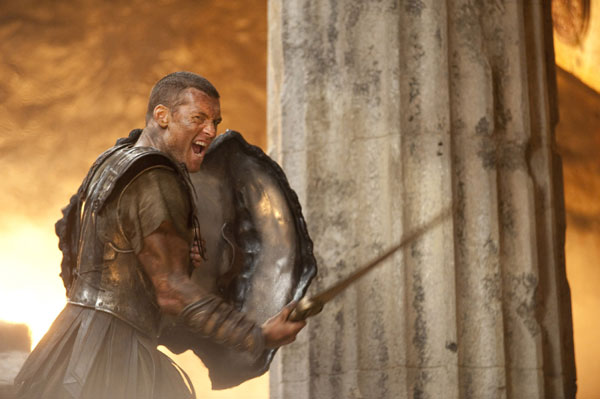 From Greek-mythological-monster mashing in the Clash of the Titans remake to guns-blazing, organ-donor sci-fi action in Repo Men, here's a sideways glance at what's coming out this week on DVD and Blu-ray.
Clash of the Titans

The classically camp eighties mythical adventure film gets a 3-D-era revamp with this CGI-heavy interpretation from Incredible Hulk director Louis Leterrier, in which Perseus (Sam Worthington) wages epic war against Hades (Ralph Fiennes) and many assorted monsters. We weren't taken with the character development — there wasn't any — but thought the film had a bubblegum greatness all its own: "What it lacks in logic it makes up for in astonishing optical wonder."
Repo Men

Even though our critic found the entire plotline of this hyperviolent sci-fi action flick — in which Jude Law and Forest Whitaker play enforcers for an artificial-organ-transplant company who handle the grisly task of collecting organs from clients who can't pay — ripped off from Darren Lynn Bousman's Repo! The Genetic Opera, he still thought it was "thoroughly engaging, with a few surprises along the way."
The Art of the Steal

This film about art thievery has no slickly garbed criminals shimmying into a museum late at night to nick a van Gogh. It's a documentary about one of America's strangest and most sublime museums, Philadelphia's Barnes Foundation, whose incredible art collection (valued at around $25 billion) is caught in a tug-of-war between two camps: one side wanting to preserve its late founder's desires to keep it in a small, specially designed building away from downtown and local boosters who want to move it all to the urban tourist corridor. Our critic enjoyed the subject, but thought it was "hardly the crime of the century."
Vincere

The incredible Filippo Timi plays Benito Mussolini in Marco Bellocchio's operatic drama about the dictator's rise to power and the woman (Ida Dalser) and son he abandoned along the way. Our critic was impressed not only by Timi's "snarling intensity" but also Bellocchio's "deft cinematic manner" and the film's "roaring emotional undercurrents."
Crouching Tiger, Hidden Dragon

In 2001, Sense and Sensibility director Ang Lee astounded audiences worldwide with this blockbuster marital-arts epic starring Yun-Fat Chow, Michelle Yeoh, and Zhang Ziyi. We thought that the overstuffed story line could have used more clarity but were thoroughly entranced by the gravity-defying fight scenes and its grand romance: "If you can't find something in this movie to set your heart aflutter, call the doctor." Now available on Blu-ray.


Read More