Uncategorized
Flashback Five – The Best War Movies of John Wayne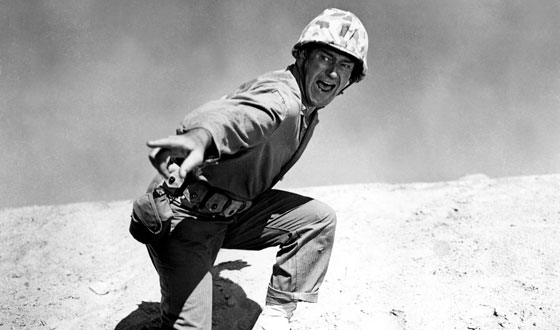 Serving in nearly every branch of the military and nearly all the armed conflicts of the late-20th century, John Wayne is Hollywood's true super-soldier. And although he never served in combat, his work during WWII is an important contribution to that war effort. Before arguing, consider just how much Wayne's tough soldiers repeatedly inspired and paid tribute to the sacrifices of soldiers abroad. Need proof? See below.
1. They Were Expendable (1945)
Wayne's best war film, They Were Expendable reunites him with a director who knew him well: John Ford. While far from antiwar, this one doesn't hesitate from showing the difficult side of being an enlisted man. As the title suggests, the movie is about the cruel truth that comes with sacrificing everything for a greater cause. As such, there's no happy ending. Instead, you're left with a sense of patriotism and loss. In short, the perfect Wayne war movie.
2. Sands of Iwo Jima (1949)
Wayne turns legions of green recruits into rugged marines. Yes, you've seen The Duke's tough love before, but here he's perfected it, as a tough-talking sergeant. Brimming over with heroism, Sands of Iwo Jima is a feel-good Full Metal Jacket. By movie's end, you'll find heartbreak aplenty. Hey, that's what happens when everyone's headed toward one of history's most deadly battles — of which the film features actual footage.
3. In Harm's Way (1965)
Alongside a boozehound played by Kirk Douglas, Wayne matches wits with Navy brass in this WWII flick from Otto Preminger. Interestingly, In Harm's Way is more about military institutions than the war itself: Wayne plays a Navy officer who, after enduring a humiliating demotion, is given the opportunity to redeem himself. The actor's age and authority are used to good effect; this performance is among his most nuanced.
4. The Longest Day (1962)
An epic in every sense, The Longest Day chronicles the invasion of Normandy with journalistic scrupulousness and a sense of bigness that would make Michael Bay blush. Filmed by two directors and featuring a cast of thousands, including Wayne, Sean Connery, Robert Mitchum, Henry Fonda, and Robert Wagner, this movie paints its images of war on a large canvas, and no one towers over Wayne.
5. The Green Berets (1968)
This is Wayne at his most audacious. The flick is also the most controversial of Wayne's career. What's the big deal? Well, you know the gung ho black-and-white morality of the Duke's WWII movies? Imagine applying that formula to the polarizing war in Vietnam. In his review of The Green Berets, Roger Ebert states that the movie is "depicting Vietnam in terms of cowboys and Indians." That's likely just what Wayne intended, since he directed the movie himself.
Honorable Mentions
1. The Sea Chase (1955) – Against type, he plays a German officer serving the Third Reich. Typically, he's an anti-Nazi, Führer-hating German submarine commander. Good stuff.
2. The Fighting Seabees (1944) – The movie's propaganda about WWII construction workers — they built those bases — is great, and, by the end, Wayne will have you grabbing your red, white, and blue hankie.
3. Flying Leathernecks (1951) – Wayne stars as a pugnacious marine whipping a crew of fighter pilots into shape for battle, and the tension between him and a hotshot kid is palpable.
4. Operation Pacific (1951) – A romantic subplot heightens the action in this WWII flick, in which Wayne's sub commander gets his ship into fighting condition while trying to win back his ex-wife.
5. Back to Bataan (1945) – Wayne wears a Che Guevara beret (presumably, not a homage) while playing a colonel aiding Filipino resistance to the Japanese.
Watch Operation Pacific, part of a John Wayne All-American Weekend from Thu., Jul. 1, through Sun., Jul. 4.

Read More