Uncategorized
Flashback Five – The Oscar-Nominated Roles of Jack Nicholson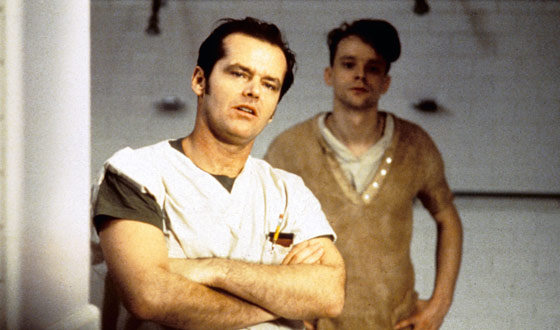 That Smilin' Jack has three Academy Awards puts him in rarefied air: that's three more than most actors ever see, let alone take home and use as doorstops. (Because if you're fabulous enough to have one, you're fabulous enough to pretend you don't care.) Nicholson's name has appeared on a total of twelve Oscar ballets. Oscar voters aren't infallible, but they know a great actor when they see one. This Sunday night, at 8PM | 7C and 10:45 | 9:45C, commemorate the 35th anniversary of Nicholson's greatest role with AMC Celebrates: One Flew Over the Cuckoo's Nest. Then consider the nine nearly-as-great Oscar-nominated roles ranking below it.
1. One Flew Over the Cuckoo's Nest (1975)
Nicholson's fifth nomination in seven years delivered his first win, for Best Actor, and if an actor were ever better cast it's hard to think when. As knee-jerk authority hater McMurphy, Jack's infuriating, charming, intimidating, volatile, and too damned charismatic for whatever room he's in. In other words, this is the role where Nicholson being his bad old self was not lazy. It was the achievement of acting perfection.
2. Easy Rider (1969)
After ten years of big roles in exploitation movies and tiny, unnoticed roles in mainstream movies, Nicholson reportedly thought about giving up. And then his brief supporting turn as a naïve small-town lawyer who gets his mind blown by hippie philosophizing and righteous dope turned it all around. Nicholson didn't take home an Oscar his first time out, but the nomination put him on the map, and, to this day, his performance remains iconic.
3. Chinatown (1974)
As thirties detective Jake Gittes, Nicholson uncovers a nest of corruption, betrayal, and family sins made all the darker by the relentless SoCal sun. Nicholson's genius lies in making Gittes both cynical and naïve: he thinks he knows all there is to know about how vile people can be, only to learn that he doesn't know anything. Art Carney took home the Best Actor award, but more than 35 years later people are still quoting lines from Chinatown, complete with Nicholson's weary sneer.
4. A Few Good Men (1992)
Yeah, Nicholson's turn as Colonel Jessep verges on being a bit much, but it's flat-out electrifying nonetheless. Without Nicholson, A Few Good Men is nothing but pretty actors (Tom Cruise and Demi Moore) in spiffy uniforms. With him, it's a masterpiece. It's tough to argue that Gene Hackman didn't deserve his Supporting Actor win for Unforgiven, but Nicholson's scorching performance takes the paint off the walls. Put it this way: when was the last time you went a month without hearing someone yell, "You can't handle the truth"?
5. The Last Detail (1973)
As Navy signalman Buddusky, Nicholson pulls off a treacherous balancing act with such offhand ease that you don't even realize how impressive his performance is until after it's over. Consider how tough it is to play a good-natured blowhard audiences want to hate but can't, in a comedy that makes you want to cry. Actors have gone home with Best Actor trophies for less. In fact, Jack Lemmon did, winning over Nicholson for Save the Tiger in a classic case of a great older actor being recognized for a middling movie.
Honorable Mentions
1. Five Easy Pieces (1970)
Was Nicholson's Best Actor nomination just for his scathing scene with the snooty diner waitress? Probably not, but every man in American can do the last line word for frustrated word.
2. About Schmidt (2002)
Three decades after hitting the road in Easy Rider, Nicholson earned yet another Best Actor nomination for playing a retiree trying to outrun a belated midlife crisis in this bittersweet comedy.
3. Prizzi's Honor (1985)
"I don't know if you want me in a picture I don't understand," Nicholson told John Huston when pitched this black comedy about assassins in love. Cut to Jack's fifth Best Actor nomination. Didn't matter one bit.
4. As Good As It Gets (1997)
Jack won his second Best Actor Oscar for playing a misanthropic writer who throws a cute little doggy down a garbage chute. The man's a bona fide force of nature.
5. Terms of Endearment (1983)
Out of his element, it's strange to see Jack waltzing about as randy retired astronaut Garrett Breedlove, but the effect is mightily entertaining.

Watch Nicholson in One Flew Over the Cuckoo's Nest this Sat., Jul. 24, at 8PM | 7C and 10:45PM | 9:45C.
Read More