Press
AMC Garners Most Emmy Nominations for Basic Cable Network Three Years in a Row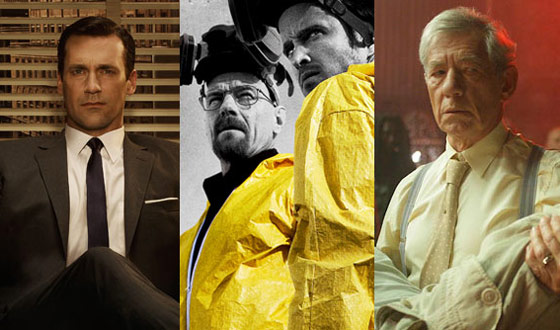 The Academy of Television Arts & Sciences announced this morning the 62nd Annual Emmy Award nominations, recognizing AMC with 26 nominations, the most for any basic cable network for the third year in a row. AMC's Emmy and Golden Globe-winning original drama Mad Men, which made history last year as the only basic cable series ever to win back-to-back Emmys for Outstanding Drama, received 17 nominations and stands as the most Emmy nominated drama on television. AMC's original series Breaking Bad, which garnered two Emmy wins in 2009, received seven nominations, including Outstanding Drama Series, Outstanding Lead Actor and Outstanding Supporting Actor.
The following is a statement from AMC President and General Manager Charlie Collier:
"We thank the Academy of Television Arts and Sciences for once again recognizing the network's original series. This acknowledgment makes AMC the most nominated network in basic cable, reinforcing our promise to be the home of premium television on basic cable.
We congratulate all of our Mad Men, Breaking Bad and The Prisoner nominees and their talented production teams and spectacular casts, on these well-deserved nominations."
Following is the complete list of nominations for AMC:
Outstanding Drama Series
Breaking Bad • AMC • Sony Pictures Television
Mad Men • AMC • Lionsgate Television
Outstanding Lead Actor In A Drama Series
Breaking Bad • AMC • Sony Pictures Television
Bryan Cranston as Walter White
Mad Men • AMC • Lionsgate Television
Jon Hamm as Don Draper
Outstanding Lead Actor In A Miniseries Or A Movie
The Prisoner • AMC • AMC, ITV Productions and Granada
Ian McKellen as Two
Outstanding Lead Actress In A Drama Series
Mad Men • AMC • Lionsgate Television
January Jones as Betty Draper
Outstanding Supporting Actor In A Drama Series
Breaking Bad • AMC • Sony Pictures Television
Aaron Paul as Jesse Pinkman
Mad Men • AMC • Lionsgate Television
John Slattery as Roger Sterling
Outstanding Supporting Actress In A Drama Series
Mad Men • AMC • Lionsgate Television
Christina Hendricks as Joan Harris
Mad Men • AMC • Lionsgate Television
Elisabeth Moss as Peggy Olson
Outstanding Guest Actor In A Drama Series
Mad Men • Shut The Door. Have A Seat. • AMC • Lionsgate Television
Robert Morse as Bertram Cooper
Outstanding Directing For A Drama Series
Breaking Bad • One Minute • AMC • Sony Pictures Television
Michelle MacLaren, Director
Mad Men • Guy Walks Into An Advertising Agency • AMC • Lionsgate Television
Lesli Linka Glatter, Director
Outstanding Writing for a Drama Series
Mad Men • Guy Walks Into An Advertising Agency • AMC • Lionsgate Television
Robin Veith, Writer
Matthew Weiner, Writer
Mad Men • Shut The Door. Have A Seat. • AMC • Lionsgate Television
Matthew Weiner, Writer
Erin Levy, Writer
Outstanding Casting For A Drama Series
Mad Men • AMC • Lionsgate Television
Laura Schiff, CSA, Casting by
Carrie Audino, CSA, Casting by
Outstanding Cinematography For A One Hour Series
Breaking Bad • No Mas • AMC • Sony Pictures Television
Michael Slovis, Director of Photography
Mad Men • Shut The Door. Have A Seat. • AMC • Lionsgate Television
Christopher Manley, Director of Photography
Outstanding Cinematography For A Miniseries Or Movie
The Prisoner • Checkmate • AMC • AMC, ITV Productions and Granada
Florian Hoffmeister, Director of Photography
Outstanding Costumes For A Series
Mad Men • Souvenir • AMC • Lionsgate Television
Janie Bryant, Costume Designer
Le Dawson, Costume Supervisor
Outstanding Single-Camera Picture Editing For A Drama Series
Breaking Bad • No Mas • AMC • Sony Pictures Television
Skip MacDonald, Edited by
Mad Men • The Gypsy And The Hobo • AMC • Lionsgate Television
Pattye Rogers, Edited by
Christopher Nelson, Edited by
Mad Men • Guy Walks Into An Advertising Agency • AMC • Lionsgate Television
Tom Wilson, Edited by
Outstanding Hairstyling For A Single-Camera Series
Mad Men • Souvenir • AMC • Lionsgate Television
Lucia Mace, Department Head Hairstylist
Anthony Wilson, Key Hairstylist
Mary Guerrero, Additional Hairstylist
Peggy Semtob, Additional Hairstylist
Outstanding Makeup For A Single-Camera Series (Non-Prosthetic)
Mad Men • Souvenir • AMC • Lionsgate Television
Lana Horochowski, Department Head Makeup Artist
Ron Pipes, Key Makeup Artist
Maggie Fung, Makeup Artist
Kate Shorter, Additional Makeup Artist
Bonita Dehaven, Additional Makeup Artist
Angie Wells, Additional Makeup Artist
Outstanding Sound Editing For A Series
Breaking Bad • One Minute • AMC • Sony Pictures Television
Nick Forshager, Supervising Sound Editor
Kathryn Madsen, Supervising ADR Editor
Mark Cookson, Sound Effects Editor
Cormac Funge, Sound Effects Editor
Jane Boegel, Dialogue Editor
Jason Newman, Music Editor
Gregg Barbanell, Foley Artist
Dominique Decaudain-Tabach, Foley Artist
Read More