Uncategorized
Flashback Five – The Best Movies of Brendan Fraser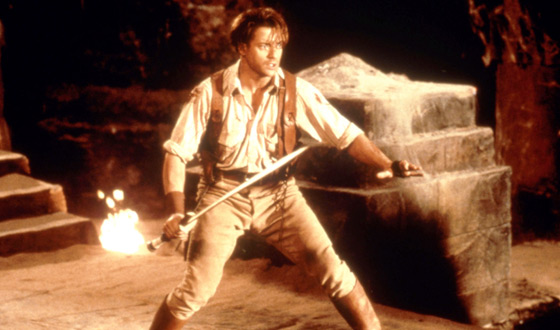 Brendan Fraser's not your typical leading man because despite his good looks and serious acting chops, he's made a career largely by not taking himself too seriously on either front. Yet even with all that self-deprecation, he's still emerged a bona fide star. This Sunday night at 8PM | 7 C and 10:45PM | 9:45C, check out the action movie that made him a household name: The Mummy. Then consider the four other movies that justify his big screen fame.
1. Gods and Monsters (1998)
Ian McKellen got the Oscar nomination but Fraser is every bit as good, playing the straight man befriending his eldery gay neighbor. The performance deftly balances sweetness and psychosexual paranoia. Given the movie's truly tragic ending, Fraser's lack of award nominations is somewhat unexplainable here. Too understated?
2. School Ties (1992)
Starring Fraser as a top-notch Jewish athlete admitted to a fifties private school, School Ties delves into after-school-special subject matter (bigotry at a blue-blooded boarding school) without becoming a two-hour cliché. Fraser leads a strong cast of youngsters, including Matt Damon, Ben Affleck, and Chris O'Donnell, then brings the movie to its stirring emotional peak when the cheating scandal comes to a climax.
3. Airheads (1994)
No, Airheads isn't exactly The Godfather, but the movie is one of the most underrated comedies of the '90s. Centerstage? None other than Fraser himself as the leader of a band who take a radio station hostage by using water guns. In a cast with some comedic heavyweights (Adam Sandler, Chris Farley, Michael Richards), Fraser is the most hilarious of the bunch.
4. The Mummy (1999)
Brendan Fraser, action hero? After excelling in comedy and drama, Fraser made The Mummy a megablockbuster, franchise-spawning action flick. He stars as an adventurer battling an evil Egyptian mummy, and flirting with buxom Rachel Weisz. The role was first offered to all sorts of megastars, but producers probably lucked out with Fraser, whose swaggering, devil-may-care attitude turns out to be perfect for this kind of flick.
5. The Quiet American (2002)
Like Gods and Monsters, The Quiet American is a good flick co-starring Fraser and an older British guy (in this case, Michael Caine). Once again, the old Brit gets nominated for an Oscar and Fraser's subtle performance is completely overlooked. But Fraser's quasi-villainous turn as a CIA operative and hardened cold warrior who steals the Vietnamese love of Caine's journalist is stellar.
Honorable Mentions
1. Encino Man (1992) – Fraser as an unfrozen caveman adapting to early-nineties high school? What's not to love?
2. With Honors (1994) – A less depressing version of Scent of a Woman, the flick is heartwarming, tragic, and relevant all at once.
3. The Mummy Returns (2002) – The sequel to The Mummy actually out-grossed the original in theaters.
4. Blast From the Past (1999) – Despite a ridiculous premise — a family re-enters society after living in a bomb shelter for decades — Fraser and co-stars Christopher Walken, Alicia Silverstone, and Sissy Spacek make comic diamonds out of plot coal.
5. George of the Jungle (1997) – You'd probably forgotten, but in the summer of 1997 every child wanted to be Fraser's lovable George of the Jungle goof.

Watch Fraser in The Mummy this Sun., Jul. 18, at 8PM | 7C and 10:45PM | 9:45C.
Read More