Top Ten Tricked-Out Movie Vans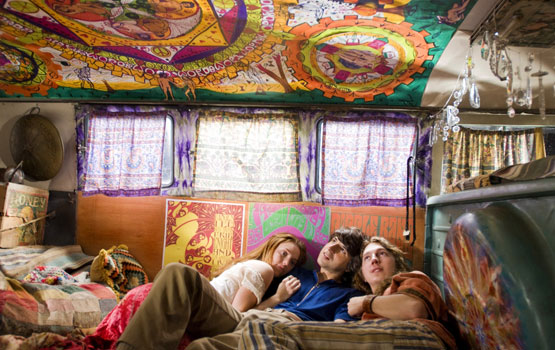 From iconic shots of Michael J. Fox in Teen Wolf, barreling down the street and dancing on top of his unglamorous ride, to brand-new pop-culture entries, like the vehicle used in the new A-Team movie, the trusty van has had its share of memorable cinematic moments. But it goes without saying that not all movie vans are created alike. Which flicks showcase the classic American ride in its most decked-out retro glory? Read on!
10. Hippie Van, The Texas Chain Saw Massacre
In the opening scene of this classic slasher flick, a gang of hippies traveling around in their trusty van unwisely decide to pick up a hillbilly hitchhiker, and things go downhill — rapidly — from there. While the vehicle itself may not be the most impressively pimped-out entry on this list (thus the tenth-place ranking), for sheer memorability it's hard to beat the moment when the dude pulls out a straight razor on the unsuspecting stoners trapped inside.
9. Psychedelic Van, Taking Woodstock
If psychedelic supremacy were the only factor in this competition, the van in this Demetri Martin coming-of-age flick could well take number one, with its trippy tapestries, flower-power paint job, wood-paneled doors, and crystals hanging from the ceiling. Alas, the van itself is merely a venue for the carousing that goes on inside. For true van worship, one must look to other movies, such as…
8. Shaggin' Wagon, Dumb & Dumber
Remember this one? Harry Dunne (Jeff Daniels) pours his savings into converting his Ford Econoline into the Shaggin' Wagon, complete with ears, a nose, and a big red sheepdog tongue. The van's true purpose doesn't come until later in the movie, though, after Harry gets himself and Lloyd (Jim Carrey) lost and is forced to trade the van in for a pathetic motorized scooter. Tragedy.
7. Millennium Falcon, Fanboys
The vehicle employed by the Star Wars fans on their road trip to see The Phantom Menace in this bizarre George Lucas-approved indie comedy is a thing of obsessive beauty: it boasts a Luke-and-Leia mural on the side, an R2-D2 unit on its roof, a Slave II license plate, and a host of other insider-y add-ons. Who says a fat guy who dresses like Han Solo (Dan Fogler) can't travel in class?
6. Disco Van, 24 Hour Party People
Apparently, seventies van worship wasn't strictly an American phenomenon. The model that pops up in this ode to the Manchester music scene is decked out like the interior of a disco — think deep-purple upholstery and shag-adelic details — and it boasts the ultimate add-on: a groovy naked lass willing to take care of all of the manly needs of Tony Wilson (Steve Coogan).
5. Mystery Machine, Scooby-Doo
Say what you want about this middling adaptation of the beloved gang-and-their-dog crime-caper TV show, there's no messing with the Mystery Machine, that candy-colored van employed by Fred, Velma, Daphne, Shaggy, and Scooby, in their pursuit of kooky justice. Needless to say, when masked villains see this beauty barreling their way, they know things are about to get serious.
4. Tradesman 300 Santana, Napoleon Dynamite
The orange 1975 Tradesman 300 Santana camper: it's hard to imagine a vehicle that could better establish the time, place, and psychic setting of a movie as succinctly as the ever-present van in this indie hit. Faded football star Uncle Rico (Jon Gries) lives in the van, so, naturally, it comes complete with a sink, stove, fridge, and (yes) CB radio. Things could be worse, couldn't they?
3. Spicoli's Van, Fast Times at Ridgemont High
The coveted third-place slot in this ranking goes to an incomparably deserving candidate: Jeff Spicoli (Sean Penn) and the smoke-filled ride that carries him to ragers, the beach, and (once in a while) class. Eighties-tastic orange on the outside and complete with plush cushiony seating and a disco ball inside, this stoner ride puts most other vans to shame.
2. Straight-Arrow Van, The Van
When Bobby (Stuart Getz) first lays eyes on the van of his dreams in this overlooked seventies gem, you can practically see the seduction-scene fantasies playing out in his adolescent brain. Bright yellow with a comically unslick straight-arrow design festooning its side, the interior boasts ornate black-and-white curtains, a mirrored ceiling, and (yup) a water bed. Who needs his life's savings when teenage lust calls?
1. Fiber-Weed Van, Up in Smoke
With all due respect to adolescent fantasies and pimped-out fanboy rides, was there ever a question as to which movie would take first place on this list? This adventure featuring Cheech and Chong would be nothing without the van made of "fiber weed" that the dudes pick up in Tijuana, in an effort to get back to the States. The ride catches on fire in the end, and, well, you can imagine what happens next.
Read More