Top Ten Raciest Movies to Squeak by With an R Rating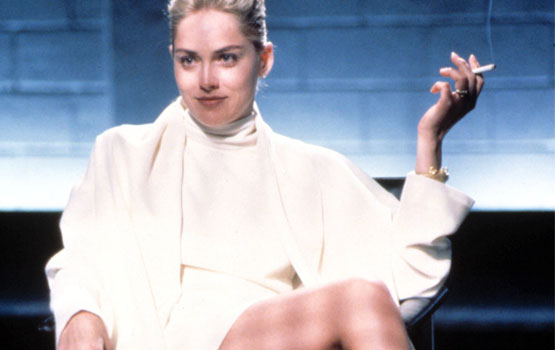 When it comes to movie ratings, there's a fine line that separates an R from an NC-17. Michael Winterbottom's Killer Inside Me is a sexually graphic gore-fest, but rarely does it have to do with violence, as the Motion Picture Association of America — the controversial board that hands down ratings — historically has shown it would rather see bloodied bodies than naked ones. With that in mind, we selected the ten raciest films that made the cut — and, sometimes, administered crucial cuts, so they could titillate audiences seeking R-rated thrills.
10. Risky Business
People remember the Ray-Ban sunglasses, the infamous underwear slide, and Bob Seger's "Old Time Rock and Roll." But Tom Cruise's Risky Business earned its name with a lonely teenager's fantasies about romancing the babysitter, Rebecca De Mornay's windy entrance, and a passionate late-night lovemaking session aboard a vacant train. Sometimes, you just have to say what the heck.
9. Chloe
Canadian director Atom Egoyan must have friends in high places at the MPAA, because his latest exploration of forbidden passions, Chloe, scored an audience-friendly R rating, despite a graphic scene between Julianne Moore and the voluptuous Amanda Seyfried. Perhaps, after the steamy sex scenes in his Where the Truth Lies, Chloe seemed tame.
8. Wild Things
The Wild Thing threesome is actually pretty taboo. A mainstream thriller with a racy romp between a guidance counselor (Matt Dillon) and two promiscuous high-school students is going to get pulses racing. But when the girls in the scene are smoking-hot Denise Richards, fresh off Starship Troopers, and prime-time television star Neve Campbell (Party of Five), the risqué factor increases by 100.
7. Killing Me Softly
Roller girl trades in her skates for ropes and other kinky tools when Heather Graham is seduced by dangerous stranger Joseph Fiennes, in Softly. It's surprising that Kaige Chen's erotic thriller earned an R rating, given that the leads spend the bulk of the film in the buff. Equally surprising? That a film that dabbles in the potentially lethal practice of auto-asphyxiation could be called Killing Me Softly.
6. Basic Instinct
To recap: Sharon Stone crosses and uncrosses her legs, flashing her unclothed nether region to an interrogation room of flummoxed cops, and Paul Verhoeven's deliciously sleazy Basic Instinct still walks away with an R rating? That takes cojones! Check that. It takes exactly the opposite of cojones, which is why it lands on this particular list.
5. Nine 1/2 Weeks
The godfather of erotic thrillers, Adrian Lyne's Weeks was the film that young movie geeks flipped to late at night when their parents had gone to bed. The drama feeds off the sexual tension created by Kim Basinger and Mickey Rourke, whose culinary explorations manage to make ice cubes hot. Lyne's tortured adaptation of Lolita would also fit right in on this list, as would a certain other movie that clocks in at number three. But before that one, there's…
4. Y tu mamá también
Sometimes, the dreams of sex-obsessed teenagers really do come true. In Alfonso Cuarón's road-trip movie, two boys persuade a sexy older woman to accompany them on a trip to a secluded beach. Granted, Maribel Verdú's playful temptress is gravely ill. But at least she's able to have one last fling, before checking out, to the delight of her teenage travel buddies (and the audience members who went along for the ride).
3. Unfaithful
Adultery never looked so sexy. Diane Lane cheats on Richard Gere with hunky French-book salesman Olivier Martinez, and the Academy is so convinced of Lane's infidelity that they reward the hussy her first Oscar nomination. Which scene cemented their respect? Our money is on Lane's trampy train ride, where she writhes and pants as she thinks about her younger lover. All aboard!
2. Crash
Not Paul Haggis's divisive L.A. soap opera that stole a Best Picture Oscar from films like Brokeback Mountain and Capote. Instead, it's the edited version of David Cronenberg's perverse study in automotive aphrodisiacs. The R-rated version of Crash, released in the States, diced away its steamiest parts to avoid an NC-17 rating. And it still ended up being racier than eight other films on this list.
1. Bound
Forget The Matrix. The best — and hands down hottest — film from innovative directors Andy and Larry Wachowski is Bound, which had passionate lovers Jennifer Tilly and Gina Gershon falling head over (high) heels as they plotted to steal millions from the mob. Things may get ugly, but the lovely ladies of Bound always look fantastic, particularly in their erotically charged — yet still R rated — sex scene.
Read More