Top Ten Most Memorable Hollywood Hookers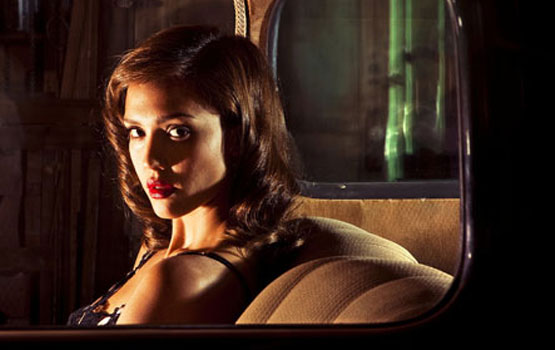 The world's oldest profession is also one of Hollywood's oldest roles. Some movie prostitutes are trying to get out of the biz; others are trying to get in. With Jessica Alba in theaters now as a sultry small-town seductress in The Killer Inside Me and Helen Mirren's Love Ranch hot on her heels, we figured it's high time to toast our favorite Hollywood hookers of all time.
10. Randy Bodek (Patrick Dempsey), Loverboy
Long before he was McDreamy, Dempsey was seducing older women in this eighties flick, co-starring Kate Jackson and Kirstie Alley. Hot off the success of Can't Buy Me Love, Dempsey plays a college student who parlays his pizza-delivery job into a gigolo service for unhappy housewives. It's as cheesy as eighties movies come, but Dempsey's fun gigolo turn deserves a shout-out.
9. Linda Ash (Mira Sorvino), Mighty Aphrodite
Woody Allen loves to write prostitutes into his stories, and Ash is among his most memorable. With her squeaky voice and statuesque figure, Sorvino stole the show as a garrulous hooker looking to get out of the life with the help of a nebbishy sportswriter (Allen). Her wide-open demeanor won over audiences and critics, and, ultimately, earned Sorvino an Oscar.
8. Marion Silver (Jennifer Connelly), Requiem for a Dream
Marion starts out as a garden-variety drug addict, but when her boyfriend (Jared Leto) blows all of their savings to bail himself out of jail, she resorts to sex in exchange for drug money. The downward spiral sounds ugly on paper, and it's even uglier on the screen. Marion's first client is her psychiatrist (shame on him!), then her pimp, then who knows who else in the orgy scene. Sad.
7. Julian (Richard Gere), American Gigolo
Unlike Marion, Julian is perfectly happy being a hooker. A seasoned pro, he basks in the success of his work by dropping money, left and right, on cars and clothes. Life is good, until his evil pimp frames him for murder. As movie hookers are wont to do, Julian also falls in love with one of his clients (Lauren Hutton), who loves him back — but not enough to tell police she was with him the night of the murder.
6. Aileen Wuornos (Charlize Theron), Monster
Prostitutes aren't usually the happiest lot in movies, but few are as visibly miserable as Wuornos, who murders and robs her johns in cold blood. Most of her clients seem like sleazeballs, but a simple kick in the private parts is a much more sympathetic solution than serial killing, no? The fact that Wuornos was a real-life murderer makes Theron's performance all the more chilling.
5. Alabama (Patricia Arquette), True Romance
When Clarence Worley (Christian Slater) falls in love with call girl Alabama, he's visited by Elvis Presley (Val Kilmer) with a directive to kill her pimp — which he promptly does, after the pimp threatens him and the missus. Alabama doesn't spend much screen time as a prostitute, but her husband's pimp-slaying scene is one for the ages. His valor, as Alabama puts it, is "so romantic!"
4. Satine (Nicole Kidman), Moulin Rouge!
Working girls come in all shapes and sizes, but in movies they often come packaged in tacky short skirts and stilettos. Which is why Satine is a welcome addition to the Hollywood hooker landscape. More courtesan than street tramp, Satine's work attire is tasteful and her air classy. She also has mad theater skills, which go a long way when she has to feign interest in unsavory customers.
3. Iris (Jodie Foster), Taxi Driver
Foster scored an Oscar nomination for her precocious performance as a curly-locked 12-year-old hooker who catches the eye of the mentally unstable Travis Bickle (Robert De Niro). (Unfortunately, Foster also caught the eye of real-life nut John Hinckley, Jr.) Bickle makes it his mission to deliver Iris from her sordid life by killing her pimp (Harvey Keitel) and giving her money to go home. It works!
2. Joe Buck (Jon Voight), Midnight Cowboy
Poor Buck. Decked out in his cowboy hat, boots, and fringed jacket, he leaves his idyllic life in Texas to become a big-time street hustler in New York City. Instead, he ends up as the penniless roommate of a dying man named Ratso (Dustin Hoffman). No offense to Ratso, who turns out to be a great pal, but the shattering of Joe's great (albeit seedy) American dream is heartbreaking.
1. Vivian Ward (Julia Roberts), Pretty Woman
Everyone loves a makeover story, and Roberts's transformation from a streetwalker to a stylish dame is as satisfying as they come. Sure, she may be the most predictable hooker on this list, but there's a reason for that. Roberts memorialized her role as the sassy, leggy Ward. Whether she's wearing a tawdry miniskirt or a dainty polka-dot dress, there's no question that this prostitute owns her body, from head to toe.
Read More