Top Ten Actors Who Do Their Own Stunts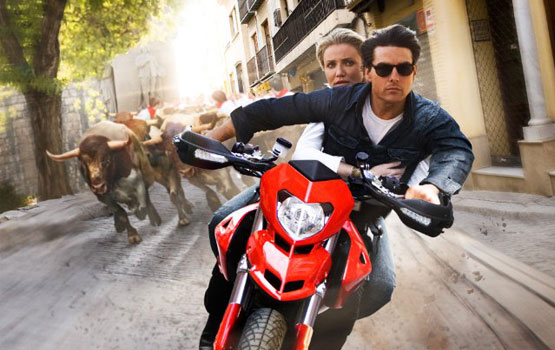 Not everything we see onscreen is an illusion. Sometimes, that actor leaping from a burning building or rolling a motorcycle across a highway is actually executing the maneuver. Danger be damned! Although CGI and stunt doubles usually provide enough verisimilitude for an audience, some actors still prefer to truly inhabit their roles, right down to the crunch of body on pavement. Below, ten actors with madness in their method.
10. Jason Statham
Guy Ritchie cast Statham in the former Olympic diver's first feature, Lock, Stock and Two Smoking Barrels. The actor later starred in Paul W.S. Anderson's remake of Death Race 2000, in which the onetime French Connection model got to drive like, well, Gene Hackman in The French Connection. "The adrenaline is a great rush," he said in one interview. "I love it, but it is quite stupid." No argument here.
9. Burt Reynolds
The grizzled heartthrob's screen work has involved many feats of derring-do. In Deliverance, he rolled out of a canoe into a raging river. In Sharky's Machine, he leapt out of the Atlanta Hyatt Regency. In fact, one of Reynolds's first features was Navajo's Land; he was cast partly for his stunt-liness and partly because he looked a bit like Marlon Brando (the director's first choice).
8. Zoe Bell
Her range as an actress has not yet been fully established, since Bell — who's worked as a stunt double for Lucy Lawless and Sharon Stone — made her film debut, in Quentin Tarantino's Death Proof, playing a stuntwoman named Zoe Bell. Not much of a stretch, though it's unlikely that Bell spends much of her off-screen time clinging to the hood of a speeding Dodge Charger.
7. Burt Lancaster
The late Lancaster was a professional acrobat before he took up acting, so it's no surprise that he was able to swashbuckle with the best of them in The Flame and the Arrow. Warner Brothers even sent him on a publicity tour during which he perched on poles and re-created his feats from the film. The Oscar winner displayed his athletic prowess in later films as well, like Trapeze and The Train.
6. Harrison Ford
Ford was in his mid-sixties when he filmed Indiana Jones and the Kingdom of the Crystal Skull, but he didn't let a few creaky joints stop him from doing his own stunts. "I have picked up plenty of bumps, bruises, and cuts over the years," he's confessed.
5. Angelina Jolie
Often, parents take extra precautions to keep themselves safe on behalf of their kids. Not Jolie. She likes to impress her impressive brood, and, if doing her own stunts is what it takes, by golly, she will, whether it's jumping from a moving car or hanging off a building. As a bonus, the stringent exercise regimen required for stuntwork helps her get back into shape after a pregnancy. Just like your mom, huh?
4. Arnold Schwarzenegger
The Governator couldn't be expected to carry out all the mayhem his characters cause. But Schwarzenegger says he did his own stuntwork in many of his films — notably the Conan movies and Commando — partly because it was so difficult to find a double who resembled him. So he's wrestled a wolf, fallen from a 40-foot tower, and jumped off a plane. Which may be almost as difficult as balancing California's budget.
3. Tom Cruise
Cruise's career spans just about every genre, but he's really made his mark as an action star. For the last two installments of Mission: Impossible, Cruise insisted — against the wishes of studio executives — on performing his own stunts. He continued his shenanigans for his latest film, Knight and Day, greatly impressing co-star Cameron Diaz, who called him phenomenal. Also crazy.
2. Buster Keaton
In that long-ago time when FX consisted mostly of camera tricks and the substitution of dummies for actors, Keaton kept it real. He pulled off the most dangerous stunts of his era — and he even stood in for other actors in his films, performing their stunts. Keaton's most famous OMG moment appears in Steamboat Bill, Jr., when the façade of a building, which weighed in at two tons, drops down over him.
1. Jackie Chan
That he does all his own stunts (and has the broken bones to prove it) is part of Hong Kong native Chan's lore. Although Chan's early training was geared toward a career in the Peking Opera, he gravitated toward work as a stuntman. Now he's one of the world's top martial-arts film actors. His Rush Hour 3 co-star, Chris Tucker, notes that Chan got hit hard with a table during shooting — but returned to the set the next day. For the win.
Read More