It's Not Just Alec! What Ever Happened to Those Other Baldwin Brothers?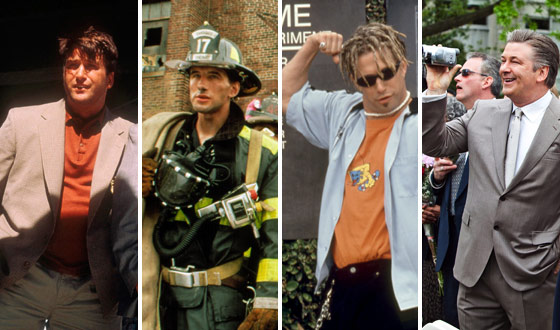 Alec Baldwin, fresh off of hosting Saturday Night Live for the 200th time, is as big a star as ever. He's won the Emmy for Outstanding Lead Actor two years running and starred in last year's romcom hit It's Complicated, across from Meryl Streep. As for the rest of the Baldwin clan, where are Daniel, William, and Stephen these days? Here's the latest.
Daniel Baldwin
It's been a mixed bag for the second oldest Baldwin who's been arrested a slew of times and admitted to cocaine addiction. His career seemed promising once — he starred in Homicide: Life on the Streets before dithering in straight-to-DVD muck, then bottoming out with Celebrity Rehab with Dr.Drew. More recently, he's made a bit of a comeback, landing a prominent role in the award-winning Grey Gardens and repeated appearances in Cold Case.
William Baldwin
If Alec is the Cadillac of the Baldwins, then William is the Honda: respectable, reliable,and underrated. He's had big roles in many good movies (Flatliners, Backdraft, The Squid and the Whale) and popped up on popular shows like Gossip Girl and Dirty Sexy Money. He's also married to one of the women from Wilson Phillips, which is pretty cool. At the moment, he's finishing up a documentary on breast cancer, thereby suggesting he's also a nice guy besides being the most stable of the Baldwin clan.
Stephen Baldwin
Where to begin? While many have a soft spot in their hearts for Stephen — and it's hard to blame them, after his electrifying performance in Bio-Dome; a key role in The Usual Suspects; and his cameo as the "MacGyver smoker" in Half Baked, Stephen's done nothing to repay that love. His least ridiculous screen credit in the past decade is probably The Flinstones in Viva Rock Vegas. After 9/11, he became a born-again Christian which didn't stop him from challenging Barack Obama to a boxing match. He was last seen quoting Bible verses to outraged housemates on Celebrity Big Brother. Reality TV, like reality, isn't always kind to the Baldwin brothers.
Check out William Baldwin in Virus, playing tonight, Saturday, June 5, at 8PM | 7C, and tomorrow, Sunday, June 6, at 5PM | 4C.
Read More