Uncategorized
Flashback Five – Steve McQueen's Coolest Movies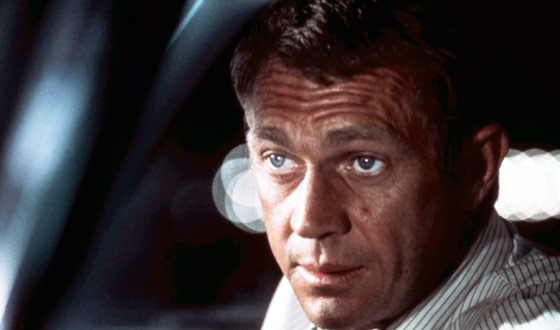 For twenty years, Steve McQueen was the King of Cool, a natural-born anti-hero and one of Hollywood's hottest stars. He dropped out of high school, spent time in juvenile detention, drifted through a series of transient jobs — lumberjack, deckhand, oil rigger — enlisted in the marines, then studied acting. Weekend motorcycle races helped pay the bills while he waited for his career to take off. And take off it did: women wanted him, and men wanted to be him. (The ladies stood a better chance.) McQueen lived hard and died young but made some terrific movies before his untimely death. So which parts of his legacy are most impressive?
1. The Blob (1958)
McQueen's breakout wasn't exactly preordained as a classic: the 27-year-old was way too old to play a teenager, he and onscreen girlfriend Aneta Corsaut hated each other, and the only cast catered to on set was a quivering heap of red silicone. And yet The Blob showcased all the qualities that made McQueen a star: he's sexy as hell, convincingly rebellious, and just vulnerable enough to melt hearts. Hence, we're still talking about The Blob, half a century later.
2. The Magnificent Seven (1960)
McQueen faked a car accident to get time off from hit TV series Wanted: Dead or Alive so he could appear in this Hollywood remake of Akira Kurosawa's 1954 Seven Samurai, relocated to the American West. Then he set about doing what must have seemed impossible at the time: stealing scene after scene from Yul Brynner, the brightest light in a high-wattage cast, including Charles Bronson and Eli Wallach. How? Part natural charisma and part attention to detail. McQueen did all the little things — fiddling with his hat, a fancy bit of gun holstering — to ensure all eyes were on him.
3. The Great Escape (1963)
McQueen didn't have to dig too deep to play a defiant POW nicknamed the Cooler King, thanks to all the time he spent in solitary confinement: three years in the Marine Corps left him well acquainted with the brig. Based on a real-life mass getaway from a Nazi POW camp, this testosterone-fueled war movie gave McQueen the opportunity to show off the machismo and motorcycle skills that made him a legend. Of course, McQueen never failed to credit stuntman Bud Ekins for the movie's spectacular jump over six feet of barbed-wire fence.
4. Bullitt (1968)
Contrary to popular belief, there is a plot (and it's a good one): McQueen, a cop, is tasked with protecting a mobster who's about to testify against his own brother and gets embroiled in dirty politics, racketeering, and corruption. Nobody remembers the plot, because Bullitt is about high-speed car chases through San Francisco's narrow, twisting, hilly streets. McQueen did the bulk of his own driving, and, if any co-star ever came close to upstaging him, it was that sexy Mustang GT.
5. The Getaway (1972)
Between director Sam Peckinpah, screenwriter Walter Hill, and McQueen, the macho factor was off the charts in this tale of a couple on the run. But the real volatility came from McQueen and co-star Ali MacGraw's electric chemistry, which wasn't confined to the screen. Their affair sparked a gossip orgy of Brangelina proportions, complete with jilted spouses. The Getaway was McQueen's biggest hit in years, so perhaps there really is no such thing as bad publicity.
Honorable Mentions
1. The Thomas Crown Affair (1968)
Given a rare opportunity to play sophisticated, McQueen shines as a wealthy playboy who steals for kicks, and his battle of wits with insurance investigator Faye Dunaway is too sexy for words.
2. The Cincinnati Kid (1965)
Think The Hustler, with cards: McQueen is a cocky young poker player who tests his game against veteran Edward G. Robinson.
3. Junior Bonner (1972)
It tanked at the box office, but McQueen gives a subtle, bittersweet performance in Sam Peckinpah's uncharacteristically gentle movie about an aging rodeo rider.
4. Papillon (1973)
As a petty crook unjustly condemned to life imprisonment in a hellish penitentiary on the aptly named Devil's Island, McQueen pulls off another great escape.
5. Love With the Proper Stranger (1963)
The pluck of a good woman (Natalie Wood) reforms the heel (McQueen, at his most casually caddish) who knocked her up in this then-daring romantic comedy.

Read More