Uncategorized
Flashback Five – The Best Movies of Quentin Tarantino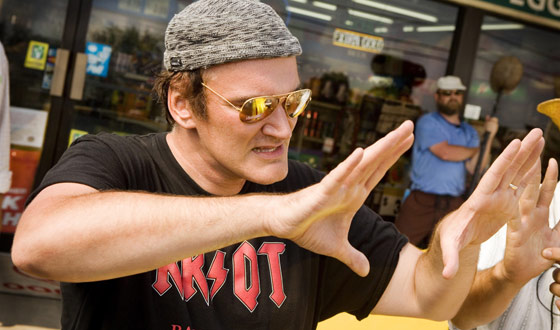 Quentin Tarantino is the rare director whose irrepressible love for his craft pours through every frame. Love him or hate him, there's no denying that he loves movies and loves what he does. When the former video-store clerk burst onto the scene, in the early nineties, his catchy, quotable dialogue and frenetic violence spawned countless imitations. So much so that his name practically became a genre in itself. In the decades since, he hasn't been the most prolific filmmaker, but remember: it's quality, not quantity, that counts. Here are five favorites.
1. Pulp Fiction (1994)
Tarantino's sophomore effort was an adrenaline shot to the heart of American cinema — and not only because it resurrected the career of John Travolta. Cool, pithy dialogue and gunshots lace the intertwining tales of introspective hit men, drug-addled gang molls, petty criminals, and a down-on-his-luck boxer. Pulp Fiction is simply a hilarious — and hilariously violent — modern-day classic. Bet you still remember what they call a Quarter Pounder in France.
2. Kill Bill: Vol. 1 (2003) and Kill Bill: Vol. 2 (2004)
Then there was the time Quentin made a two-part martial-arts revenge fantasy that defies all conventions of filmmaking and storytelling. As the Bride, Uma Thurman wakes from a coma hellbent on revenge. She cuts a swath — literally — through the Deadly Viper Assassination Squad on her way to find Bill, thereby taking audiences on a gorgeous comic-book-style ride of pure energy.
3. Inglourious Basterds (2009)
Sure, it's revisionist history as the Basterds scalp as many Nazis as they can in the waning days of World War II. However, this is much more than a satisfying war film. From its title (taken from a 1978 Italian B-movie) to its theater-bound climax, Inglourious Basterds is a stylishly bloody love letter to cinema. Even squeamish, play-it-safe Oscar voters couldn't deny the quality of this vivid masterpiece. (They awarded him his second Best Director nomination.)
4. Reservoir Dogs (1992)
In his first film, Tarantino reveals all his hallmark cards: the larger-than-life characters, the clever pop-culture references, the over-the-top violence, the memorable soundtrack, and the kinetic storytelling. Plus, the cast is pitch-perfect — most notably old-school tough guy Lawrence Tierney as Joe Cabot, the man behind a heist that goes horribly wrong.
5. Jackie Brown (1997)
Though Jackie Brown (based on Elmore Leonard's novel Rum Punch) didn't garner the buzz of his first two flicks, it my be Tarantino's most rounded effort. The story of a stewardess-smuggler caught between a gun dealer and the law is a thrilling seventies throwback. Once again, the director proves he's a master caster: blaxploitation icon Pam Grier and character actor Robert Forster turn in the performances of a lifetime.
Honorable Mentions:
1. Death Proof (2007) – Tarantino's half of Grindhouse is gloriously gory, features Kurt Russell's best performance in decades and sweet cars. What's not to love?
2. Sin City (2005) – Even though he only directed one scene, Frank Miller's graphic-novel-meets-noir flick bears the fingerprints of Tarantino.
3. Four Rooms (1995) – This comedy features four interlocking tales in a hotel on New Year's Eve. Quentin goes off the beaten path with his take on a Roald Dahl story: The Man From Hollywood.
Check out Kill Bill: Vol. 2 on Sunday, June 6, at 7PM | 6C, and on Monday, June 7, at 2AM | 1C.

Read More