Uncategorized
Q&A – Toy Story 3's Michael Keaton on How Barbie's Ken Is Like Elvis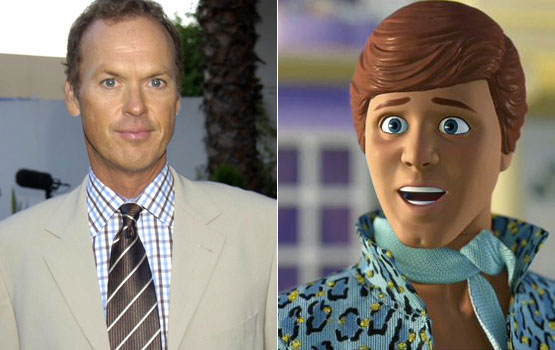 Michael Keaton has played multiple icons over the years, from Batman and Beetlejuice to the harried Mr. Mom. On June 18, Keaton will play a character of somewhat diminished stature, when he lends his voice to the manicured man-doll Ken, for Toy Story 3. The actor met with FilmCritic.com at Pixar Animation Studios, in California, to discuss Ken's legacy, his insecurities, and his infatuation with stylish clothing.
Q: The Ken doll is so famous. How do you get into the psychology of Ken? Where do you start?
A: Well, I didn't know much about a lot of these animated films that already had become popular. I was late seeing Toy Story and things like The Incredibles. But it was The Incredibles that really pushed it over the top for me, where I went, "Holy moly, these guys [at Pixar] are great, and this truly is great filmmaking." When I did a little piece in Cars, with John Lasseter, that kind of introduced me to how you are supposed to go about doing this. And when it came to Ken, Lee [Unkrich], the director, was a really huge help. He saw this guy as kind of a — do you know how there were different stages of Elvis? Well, apparently, there are different stages of Ken. I don't know a lot of Ken history, you know? [Laughs]
Q: So did they send you a bunch of dolls?
A: They did actually have a bunch of dolls on the set, and, at first, we were laughing, but then it became really helpful. We'd go, "See how he's wearing this?" or "Look at the expression on his face." So that actually ended up being a good idea.
Q: It's also interesting that Ken is sort of a girl's toy.
A: Hey, hey — he takes umbrage at the idea. He gets very defensive. And I don't know if he cares about being a girl's toy, but he doesn't want to be only a girl's toy. I think that's probably at the core of being Ken.
Q: So what is it about this third Toy Story movie that is going to draw people in?
A: I think that it's the same thing these guys do with all of their movies, which is to own a heart that works seamlessly, you know? Their stories are always so strong, and anyone will always tell you that you have to have a story. The story is the thing. But the thing that separates this one from the other Toy Story films is how soulful and how emotional it is. And it's really funny, with two great action sequences. But from where I stand, I think that what's really going to separate it is the heart.
Q: You have played other action-figure characters, from Beetlejuice to Batman. Are you going to build a shelf in the house with all of the action figures?
A: [Laughs] There's not a lot of show business going on at my house. But I've got it stashed away. I think I'm going to just go out and buy my own Ken doll, in addition to the other collection that I have.
Q: What was it like to work at Pixar's headquarters?
A: You feel it when you first come into the building. There's just creativity going on everywhere. First of all, the building, architecturally, is really beautiful and cool. You know, this whole center section [of the building] has been designed for interaction. And that is the best screening room I have ever been to in my life. I saw Cars there. You'll never see a film on a screen that clean anywhere.
Q: Back to Ken. You and he have a lot of nice clothes.
A: Ken is on a whole other level. [Laughs] I saw Jeff Garland, who is a very funny man, and he looked at me as I was heading out somewhere and said, "You are a bowlful of dapper." Which is a great expression! But Ken is obsessed with his wardrobe, and it's a big part of Ken's life.
Q: Did you see any of yourself in Ken, once you saw the movie?
A: You know, they always do that. The animators at Pixar kind of see what you are doing, and then… To Lee's credit, when I came in and had this very instinctual approach [to Ken], he kind of moved me around. As you probably know, you come back over a period of years and you refine [your voice] as they animate, and he said, "You know, I think we're going to go back to a little bit more of what you did originally." So he threw his ego out the window. He's so meticulous, as is Lasseter. They see what you are doing and what you improvise, and, if it works, they are more than willing to use it.
Read More