New on DVD – June 22, 2010 – Green Zone and Remember Me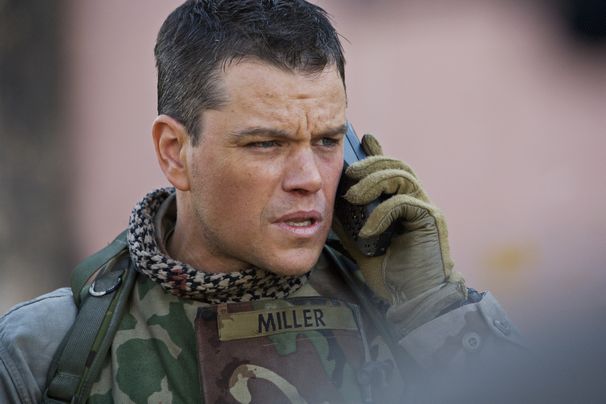 From Matt Damon's Iraq thriller, Green Zone, to the romantic drama Remember Me — starring Twilight's Robert Pattinson as a spoiled rich kid dating a girl to get revenge on her father — here's a look at the big, the bold, and the beautiful films coming out this week on DVD and Blu-ray.
The Green Zone

In this fictional thriller — from writer Brian Helgeland (Robin Hood) and Bourne Supremacy director Paul Greengrass — Matt Damon plays a soldier hunting WMD in post-invasion Baghdad who gets wrapped up in a conspiracy that ultimately illuminates the same deluded beliefs and horrible mistakes that characterized the real thing. Our critic found that the "director's trademark imagery and in-your-face visuals intentionally keep us off guard," though noted that it also called to mind action films of the eighties in which a "lone hero — usually Sylvester Stallone or Arnold Schwarzenegger — could single-handedly decide the outcome of an international conflict simply by choosing to do what was right."
Remember Me

In this pungently sad romance, Robert Pattinson (the best brooder in the
Twilight bunch) plays a rich depressed kid slumming it in New York who takes out his frustrations on the
cop who arrests him in a street brawl by dating his daughter (Emilie de
Ravin, Lost). While our critic appreciated the film's moody
setting and strong performances, he wasn't crazy about the
self-conscious dialogue. Overall, we thought the film was "too
manipulative to set itself apart as truly original but too emotionally
invested to be completely dismissed."

The Last
Station

Most
people who have lugged Anna Karenina or War and Peace
around might appreciate Leo Tolstoy's magnificently epic writing style
but not know much about him as a man. Michael Hoffman's factual drama
about the Russian master's final years — where we see him being followed
by a cultlike group of followers enamored by the strict Christianity
he embraced late in life — reveals plenty. Christopher Plummer plays Leo
himself, while Helen Mirren is his combative wife and Paul Giamatti a
scheming courtier. We thought it was pretty to behold but that the
"sappy, overbearing" direction ultimately detracted from
Plummer and Mirren's "excellent chemistry."
She's
Out of My League

Playing to
type, Jay Baruchel stars in this comedy as a dorky guy who works in
airport security and somehow manages to finagle a date with cute blonde
Alice Evans. This, of course, changes his whole worldview, at least until
the problem encapsulated in the film's title becomes an issue. We were
unimpressed, saying that it "has neither the comedy nor the romance nor
the insight to deepen its central gimmick."
Bluebeard


French
provocateur Catherine Breillat (Fat Girl, The Last Mistress)
reimagines the seventeenth-century Charles Perrault fairy tale
about an ogreish lord with a fetish for acquiring and then decapitating
wives. While our critic thought that Breillat wasn't as deliberately
controversial as in some of her past films, he found the stark final
image a "vision as haunting and polarizing as the film itself."
A Star Is
Born

This
middle version of the old doomed-celebrity classic — first
filmed in 1937 and then in 1970 — was made in 1954, by George Cukor, and
starred Judy Garland as the ingenue who falls in love with a movie star
(James Mason), only to see his career crash and hers take off. Our critic
found this to be Garland's greatest work and thought Mason gave an
"excruciatingly believable, gut-wrenching" performance. Now available in
a two-disc deluxe DVD rerelease and on Blu-ray.
Le combat dans l'île

Romy
Schneider and Jean-Louis Trintignant star in this recently rediscovered
French classic of 1962, from director Alain Cavalier, about an
underground Fascist conspiracy and an assassination plot. Our critic
thought the film's rerelease long overdue, calling this "metamorphosing tale of obsession and repression" a "lost masterpiece."
Read More