New on DVD – June 15, 2010 – The Book of Eli and When in Rome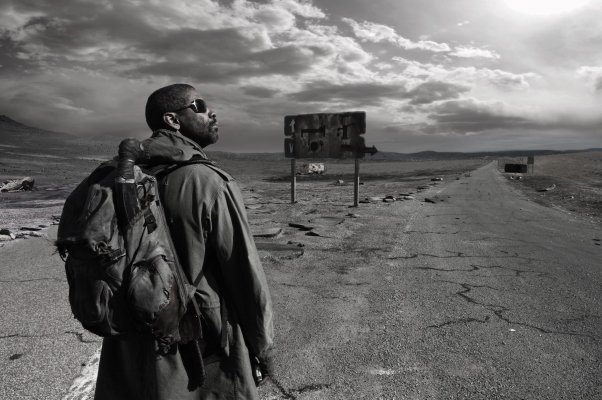 From Denzel Washington's postapocalyptic action flick, The Book of Eli, to the cutesy romantic comedy When in Rome and a rerelease of Jim Jarmusch's bluesy classic Mystery Train, here's a look at what's new and worthwhile (or not) this week on DVD and Blu-ray.
The Book of Eli

Denzel Washington stars as Eli, a kung-fu-fighting survivor of the post-apocalypse, in this gritty graphic-novel adaptation by the Hughes brothers (From Hell, Menace II Society). Gary Oldman co-stars as a power-mad warlord who is obsessed with getting a copy of the book that Eli hauls around with him and will fight to the death to protect. We thought that, despite the "rather rote story and some generally pedestrian acting," the many interesting small touches make it worth checking out.
When in Rome

Overworked, lonely museum-gallery curator Kristen Bell seemingly misses her last chance for love when she blows it with the cute best man (Josh Duhamel) at a wedding in Rome. So she does the obvious next thing: jumps into a fountain and swears "to take back all of love's unfulfilled promises" — or something. In the manner of all good nonsensical comedies, she's then magically cursed to have everybody who threw coins into the fountain fall in love with her. Our critic didn't care for how the film feels "compelled to spell everything out for its audience at ten-minute intervals….This isn't rocket science, it's comedy."
Burma VJ: Reporting From a Closed Country

When the Burmese military junta bloodily cracked down on the monks leading the so-called Saffron Revolution, in 2007, they would have preferred nobody had been watching. However, director Anders Østergaard took the surreptitiously captured footage of many activists and turned it into a dramatic documentary about a battle for democracy that might never have been seen by the outside world. We said that a "film can't do much at the best of times but give witness, but this is what Østergaard does in diligent and dramatic fashion."
Collapse

As has happened to his mentor Errol Morris, documentarian Chris Smith (American Movie) meant to film ex-cop Michael Ruppert as part of a larger film. But, in the end, Smith ended up just interviewing Ruppert and turning that doom-laden conversation about the many ways in which our way of life is coming to an end into a film itself. Our critic thought that what separated Collapse from so many other alarmist documentaries was that Ruppert doesn't offer any easy fixes: "He swears that there is nothing you can do to prevent the collapse; you can only ride it out."
Mary and Max

In Adam Elliot's little-seen, adventurously animated film, Mary (voiced by Toni Collette), a young girl in Australia, randomly picks a name out of the phone book to start writing to in America. She ends up carrying on a years-long correspondence with Max (Philip Seymour Hoffman), a man with Asperger's syndrome who isn't exactly thronged with friends. We had some quibbles about the film, but overall found it "one of the more brilliant and emotionally affecting animated films" of the year.
Mystery Train

In Jim Jarmusch's 1989 film — his first in color — a number of curious characters converge over the course of one strange night in Memphis. Screamin' Jay Hawkins and the Clash's Joe Strummer head up a cavalcade of international stars in this oddball musical comedy that has just been rereleased, in a special edition, by Criterion.
Read More