John Scalzi – Your Pre-Canada Day Appreciation of Canadians in Science Fiction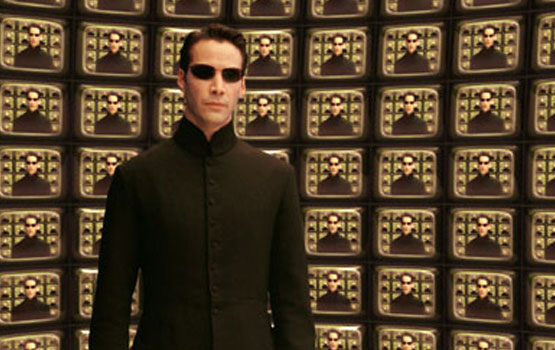 July is tomorrow, and that means there's a great big national birthday coming up. That's right: Canada Day. Yes, I know you Americans are saying "Hey, we have a national birthday coming up, too," but you know what? July isn't just about you, Americans. Surely you can get over yourself long enough to give a little love to the other resident of the Great North American Duplex — as I like to call it — the nice neighbor, the one who doesn't play its music until 3 a.m. every morning or leave junk lying around on your mutual lawn. Show a little appreciation, man.
This is particularly the case in science-fiction film: there are a lot of topflight sci-fi directors, stars, and other filmmakers that many of you may have just simply assumed were Americans, because, well, that's how we are, isn't it? But, in fact, the Great White North is a hotbed of science-fiction filmmaking — and not just because it's cheaper to film in Vancouver than in L.A. So, as a show of our appreciation on this Canada Day Eve, here's a little list of Canadians who have made the science fiction you know and love.
David
Cronenberg
The masterful director of some of the most
squick-inducing science-fiction films ever (Scanners, The Fly,
eXistenZ) is not only Canadian — he hails from Toronto, Ontario —
but got his start in movies thanks to a Canadian-government tax scheme
in the seventies and eighties, designed to promote Canadian filmmaking. His earliest
commercial films were produced by fellow Canadian Ivan Reitman, who
would go on to direct Ghost Busters, Junior, and Evolution and to produce Heavy Metal, Spacehunter: Adventures in the Forbidden Zone, and Space Jam.
James Cameron
You may have heard of this fellow, best known for directing Piranha Part Two: The Spawning — oh, and Aliens, The
Abyss, Avatar, and a couple of those Terminator
films. He's easily the most famous person to come out of
Kapuskasing, Ontario, where he was born, in 1954, arriving in the U.S. in
1971.

Reeves
Dude! Keanu totally grew up in the most excellent city
of Toronto, where he was known as a most bodacious hockey goalie and
even dreamed of playing hockey for Canada in the Olympics, until a most
heinous injury ended that possible career. Bogus. So, instead, he starred
in the Bill & Ted films and became the savior of humanity in
the Matrix series. Which totally isn't bad, either. Wyld
Stallyns!
Michael Ironside
This balding, heavy-browed character has livened up
any number of science-fiction films, from Cronenberg's Scanners (where he, memorably, made someone's head blow up by thinking at him) to last
year's Terminator Salvation, playing the doomed commander of the
human resistance. All that glowering menace has to be made in America,
right? Wrong: Ironside was born in Toronto, in 1950.
Michael J. Fox
Fox portrayed all-American Marty McFly in the Back
to the Future films (the first of which hit theaters 25 years ago,
and now everyone who saw it back then suddenly feels old), but Edmonton is
where Fox is originally from, and that's in Alberta, Canada. Amusing
fact: Fox's middle name is actually Andrew, but when the Screen
Actors Guild made him choose a different name than Michael Fox (then
being used by another actor), he used "j" as his middle initial, to avoid
being Michael "Eh" Fox. It's a Canadian thing.
Nathan Fillion
Science-fiction fans everywhere swooned to Fillion's
portrayal of Malcolm Reynolds, a rebel turned slightly shady
space captain in the film Serenity and its lead-in television
series, Firefly. But, although some people see some parallels
between the Browncoats of the TV show and film and the U.S. Confederacy
(minus, you know, that whole slavery thing), Fillion learned
Canadian, not U.S., history in his Edmonton high school. Also Canadian and
starring in Serenity: Jewel Staite, a native of White Rock,
British Columbia, who played engineer Kaylee Frye.
William
Shatner
Captain James T. Kirk may be have been born and bred
in Iowa, but the Shat hails from Montreal, Quebec (that's right, the
French-speaking part) and cut his acting teeth at the Stratford
Festival of Canada, mostly on Shakespeare. Fun fact: at one time, Shatner
was an understudy for fellow Canadian Christopher Plummer, who would go
on to be the Klingon villain in Star Trek VI: The Undiscovered
Country.
Sorry about that last one. I don't know what came
over me.
Read More