The Two Coreys Were Always Best Together, But Is One Better Than the Other?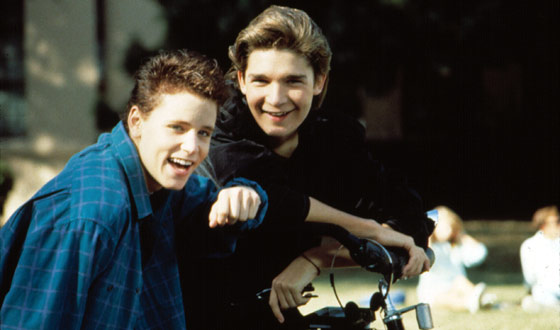 When Corey Haim tragically died, early this year, it marked the end of an era. Since the early eighties, the Two Coreys (Haim and Feldman) had been a fixture of pop culture — for good and bad reasons. Say what you will, but they were never far from the front, or back, page, despite their respective careers peaking twenty years ago. What's amazing is the special, and only sometimes ironic, place the Coreys have as one entity in many people's hearts to this day. Today's as good a time as any to ask which Corey is tops. Hereafter is a breakdown of the Coreys in all the important ways — and a verdict.
Breakout Role
For Feldman, it's the lead in the apocryphally titled Friday the 13th: The Final Chapter. For Haim, it was also horror — Stephen King's Silver Bullet. While Feldman latched onto a successful franchise, Haim's breakout was in a movie that somebody might actually still want to watch. If you see two movies on TV, one an unidentifiable Friday the 13th flick, the other starring Haim as a paraplegic teen whose town is invaded by werewolves, which are you stopping to watch? You're going with Silver Bullet, every time.
Winner: Haim
Defining Role
Haim nabbed a lead in the The Lost Boys, which is no small feat, since the movie was a veritable breeding ground for stardom (Feldman, Jason Patric, Kiefer Sutherland). Haim is hilarious, nerdy, and a bit heroic in the campy vampire flick, stealing the show from Patric (ostensibly the lead). Feldman also peaked in a flick full of teen stars: Stand by Me. Feldman excels as an oddball boy with a dark past. While Haim's performance is good, Feldman's is better, and Stand By Me is the better movie.
Winner: Feldman
Drama
Haim had Lucas. Feldman Stand By Me. So who's the go-to Corey for drama? It's got to be the guy who starred in Lucas, which, despite its considerable handicaps (eighties cheesiness, Jeremy Piven), is a good movie. That's all thanks to Haim, who perfectly captures teenage heartbreak as a kid whose dream girl dates his best friend. Stand by Me, despite being awesome, doesn't showcase Feldman to that degree — he's buried in a tertiary role.
Winner: Haim
Comedy
With Haim taking drama, who do you want in your Corey-based comedy? To be clear, both guys are hilarious — relatively — in License to Drive and Dream a Little Dream. So who's got the comedy chops to secure the victory in this category? One word for you: Goonies. Feldman's in the hilarious cult classic, and Haim isn't. End of story. No amount of cringe-inducing quasi laughs from The Lost Boys makes up for that.
Winner: Feldman
Randomly Awesome Role
Did you know Feldman's the voice of Donatello in 1990's Teenage Mutant Ninja Turtles? Pretty cool, right? In fact, it probably ranks — after The Goonies, The Lost Boys, and Gremlins — on the list of reasons people who grew up in the eighties love Feldman. Haim simply doesn't have a randomly spectacular role like that.
Winner: Feldman
Cultural Relevance
Both Corey's came to symbolize dazzling heights, unfulfilled promise, and getting too much too soon. They even starred in a sad reality show together, where they tried to get their boyhood careers back on track as middle-aged men. As inseparable as they were onscreen, they were even more inseparable in the cultural Zeitgeist. They are the Two Coreys, after all.
Winner: Tie
Head-to-Head
Despite linked careers, the Corey's appeared in only four movies together while their careers were relevant: The Lost Boys, License to Drive, Dream a Little Dream, and Blown Away. Who came out looking better? Haim takes the cake in The Lost Boys, by virtue of having a bigger role. Feldman probably takes it by a hair in Dream a Little Dream, but Haim is a little bit funnier in License to Drive. As for Blown Away, just pretend it never happened.
Winner: Haim
The Final Verdict: Tie
It should come as no surprise that the Two Coreys, inevitably, tied. You should have known there can't be a better Corey and a worse Corey. Just two of them.
Watch Feldman in The Goonies tonight, Thursday, June 3, at 8PM | 7C and 10:30PM | 9:30C.
Read More