Uncategorized
Flashback Five – Chevy Chase's Funniest Movies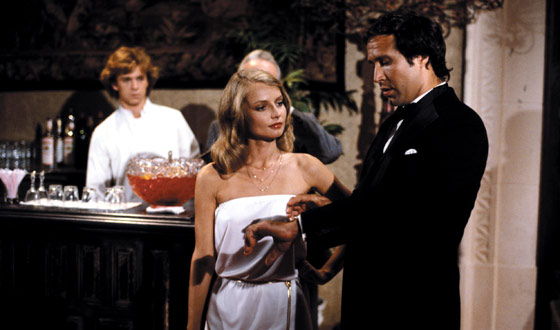 There's no denying Chevy Chase is one funny fellow. Thirty-five years after changing the face of comedy with his pratfalls and dumb glances on Saturday Night Live, he's still going strong, in Community. But to see where Chevy really excels, you have to look to the silver screen. So which movies get the most laughs? These!
1. ¡Three Amigos! (1986)
In one of the best comedies ever, Chase stars — alongside Martin Short and Steve Martin — as the dumb-as-nails actor Dusty Bottoms. Chase's trademark half-witted persona is never better applied, channeling a sweetness that other comedians can't match. Whether crying upon realizing he and his amigos aren't shooting a movie (but facing actual Mexican bandits) or accidentally killing the invisible swordsman — every single line and facial expression is classic Chase.
2. Vacation (1983)
Lacing his standard screwball character with a hilarious selfishness, Chase plays Clark Griswold, a father so hell-bent on getting his family to their vacation at Wally World that he doesn't even notice the rest of the family isn't interested in going. Griswold takes a Walt Disney stand-in hostage, props up his dead aunt in the rain outside her son's house, and makes his wife and kids nuts on their comically inept road trip. He's the perfect a-hole dad.
3. Caddyshack (1980)
It's surprising to find Chase playing the straight man in a comedy, but he does so in Caddyshack, as golfer Ty Webb. Despite playing it straight (sort of), allowing Bill Murray and Rodney Dangerfield to run amok, Chase still has a bevy of classic moments and killer lines. This is Caddyshack, after all. "Be the ball" is as memorable a line as any, and Chase still includes trademark bits of physical comedy — particularly in a date-gone-wrong scene with the voluptuous Lacey Underall.
4. Fletch (1985)
Chase considers this his favorite role, and it's easy to see why. As the fast-talking, wisecracking investigative reporter Irwin "Fletch" Fletcher, Chase makes solving mysteries cool — and really funny. A neo-noir flick in an eighties kind of way, Fletch didn't catch on like wildfire at the time, but it's gained cult status over the years and for good reason: Chase's detective is the perfect combination of hilarious comedy and genuinely intriguing plot.
5. Spies Like Us (1985)
Again in wisecracking, just-dumb-enough mode, Chase plays a pencil pusher in over his head, sucked into a terrifying and terrifyingly bungled nuclear standoff between the Soviets and the U.S. With SNL alum Dan Aykroyd, Chase perfectly channels Cold War paranoia through a comedic lens to create a unique comedy that's had a lasting effect on pop culture, having been referenced in everything from TV's Chuck to Stargate SG-1.
Honorable Mentions
1. Funny Farm (1988) – Chase is a writer moving to a small town who ends up finding out that small-town living is, shall we say, not all it's cracked up to be. One of the better late-eighties Chase movies.
2. Christmas Vacation (1989) – Some people consider this even better than the original Vacation, and at the very least it's one of the best Christmas movies ever made.
3. Dirty Work (1998) – An underrated comedy about a revenge-for-hire business. Chase appears as an unscrupulous doctor who gets the plot and the laughs going. If you've never seen it, check it out.
4. Orange County (2002) – Another underrated movie. Chase's role as Principal Harbert is brief, memorable, and sets the stage for his current older TV character.
5. Hot Tub Time Machine (2010) – What would a tribute to ridiculous eighties comedies be without Chevy Chase as the hot-tub repairman? Crummy — that's what. Thankfully, Chase doesn't disappoint, stealing his brief screen time.
Check out Caddyshack tonight, Friday, June 18, at 8PM | 7C.

Read More