Uncategorized
The Best Director's Cuts (Apocalypse Now, Blade Runner, Superman II) Give You What You Want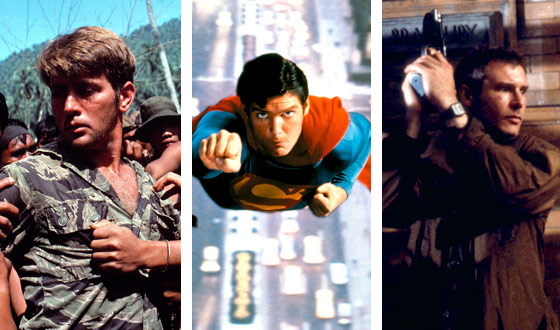 Richard Donner may not command the same respect as Steven Spielberg, but you have to feel for the guy. Back in the day, Warner Brothers asked him to shoot Superman and Superman II simultaneously, and then, after he'd completed Superman, gave him the heave-ho. Ouch. Donner got a raw deal, and anyone who has any idea how hard it is to make a movie cheered when, in 2006, Donner finally made his version of Superman II. Is it the most important director's cut ever? Not exactly. Then what is? Consider the following as your contenders.
Apocalypse Now Redux
There's a school of thinking that Apocalypse Now is already too long. Much of the 49 minutes added by Francis Ford Coppola comes in two sequences: the crew's stopover at a ghostly plantation and the discovery of the helicopter that airlifted the Playmates from the jungle to safety. Me, I'm a Redux fan. Apocalypse Now is supposed to be a slow-motion descent into the maelstrom. The plantation sequence alone justifies the extra running time: it's beautifully acted and underscores Martin Sheen's increasing doubts about the mission. All that said, even I haven't watched the 289-minute bootleg. I have it, but I haven't watched it.
Donnie Darko
Richard Kelly's hallucinatory tale about growing up alienated in 1988 suburbia tanked in its original theatrical release but found a passionate following on video and DVD. It was rereleased in 2004, with twenty minutes of restored footage, most of it involving cutie-pie English teacher Drew Barrymore. Kelly used the chance to touch up his ode to misanthropic angst, beefing up the special effects and adding songs to the eighties soundtrack. Overall, the director's cut dramatically improves on the original: it's both more vivid and more elusive, and, at 133 minutes, it doesn't feel longer — just deeper and more richly textured.
Blade Runner
There are a bunch of versions of Blade Runner, and they're all great. But the best of the bunch is Ridley Scott's 2007 Blade Runner: The Final Cut. Scott hated Harrison Ford's voice-over and the movie's happy ending, both ordered by a nervous studio looking to spoon-feed audiences the heady subject matter. In 1992, several unofficial showings of a work print lacking both prompted the studio to order a director's cut, but Scott was too busy to supervise. Eventually, he got around to it and removed the happy ending and voice-over and added a few more tweaks for a better all-around movie.
Das Boot
Wolfgang Petersen's submarine classic started as a five-hour mini-series and was cut to 149 minutes for theaters. Petersen's own cut clocked in at 209 minutes, and virtually all of the additional footage is character oriented. Which is great, since Das Boot's dirty little secret is that it's not an action movie. It's about sailors living rib cage to rib cage at the bottom of the sea, bored and desperate for something — anything — to happen, and then flat-out terrified when it does. There's also a 293-minute uncut version of Das Boot that even die-hard fans admit is only for die-hard fans.
Touch of Evil
It's no Citizen Kane, but Orson Welles's Touch of Evil is perverse, complex, and arresting. Alas, studio execs wanted something less arty and locked him out of his own editing room. Thirty years later, Walter Murch headed a restoration of Welles's cut, guided by a memo the director wrote after seeing the studio version. It's shorter than the standard version — the studio added footage to idiotproof the story — and the biggest difference is in the opening sequence, which follows a Cadillac through crowded Mexican streets until it blows up at the border. Murch removed much of the score, in favor of street sounds, which plunge the viewer into a world of chaos and confusion — bringing the movie in line with Welles's vision.
Metropolis
Everything about Fritz Lang's sci-fi allegory was big: the sets, the cast, the effects, and the running time. The studio wouldn't gamble their investment on a flick nearly twice the length of its contemporary movies and cut about an hour. After several interim restorations, Metropolis opened in 2010 just six minutes shy of Lang's original cut. (Twenty-five minutes of footage showed up two years earlier, in a small Argentine museum.) The cut restores subplots, clarifies relationships, punches up the religion-versus-science theme, and actually seems to move faster. Too bad Lang didn't live to see it.
Watch Superman II: The Richard Donner Cut today, Thursday, June 17, at 1PM | noon.

Read More