Top Ten Sexiest Cinematic Secretaries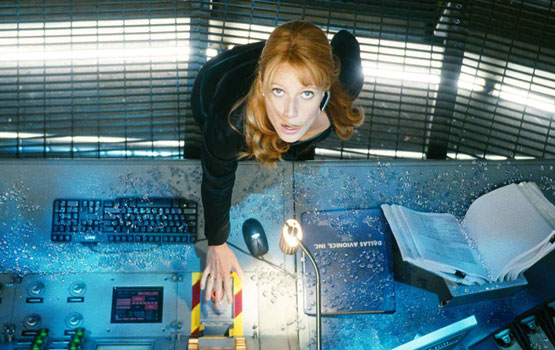 Good help is hard to find. Gorgeous help is even harder to find. Billionaire playboy Tony Stark (Robert Downey Jr.) understands. He hired stunning Scarlett Johansson, alongside pretty Gwyneth Paltrow, for Iron Man 2 because one beautiful assistant isn't enough. Stark's math makes sense, which is why we've compiled a pool of the ten sexiest secretaries to grace the silver screen over the years. Dive right in.
10. Page Connors (Jennifer Love Hewitt), Heartbreakers
Technically, Hewitt plays a con artist posing as a secretary. But precious few guys will be paying attention to plot points once the curvy star of Ghost Whisperer, in a successful attempt to distract sleazy Ray Liotta, leans over a desk and lets her, ahem, lovely Hewitts do the talking. Can you blame the former Goodfella for being bad and planting his hands all over this secretarial temptress?
9. Ulla (Uma Thurman), The Producers
When you got it, flaunt it. Well, Thurman most certainly had it when she played beautiful receptionist Ulla in this 2005 musical upgrade. And because the statuesque actress was so good at flaunting it for Nathan Lane and Matthew Broderick, she earns a spot on the list. Classic cinema junkies also can substitute Thurman for the original Ulla, Lee Meredith, without missing a beat.
8. Lisa (Ali Larter), Obsessed
It feels so wrong championing Larter's trampy temp from Obsessed, especially after she sets her slutty sights on someone else's husband. And Beyoncé's husband, to boot. But you have to admire the girl's tenacity, her revealing outfits, her conniving mind, and her ability to take a punch when the mother of all catfights breaks out, in the final act.
7. Emily Charlton (Emily Blunt), The Devil Wears Prada
Cruel magazine editor Miranda Priestly is so bitchy she needs two around-the-clock assistants catering to her every need. One could easily pluck Anne Hathaway's fashion-challenged secretary for this list, if mousy, neurotic brunettes are your thing. But it was Blunt's catty and cold-as-ice Charlton that had us grasping this devil by its horns.
6. Doralee Rhodes (Dolly Parton), Nine to Five
With all due respect to Lily Tomlin and Jane Fonda, it was Parton's sassy and curvaceous Doralee whose cups of ambition ran over in Nine to Five. Sure, the country sensation turned Hollywood starlet was plotting to murder her misogynic boss. But the Tennessee twang in Dolly's voice made those death threats sound sweet, and the movie's theme song — which Parton sings — will have you tapping your toes until the quittin' bell rings.
5. Andrew Paxton (Ryan Reynolds), The Proposal
One for the ladies reading this list. Critics fawned all over Sandra Bullock for playing against type as boss-from-hell Margaret Tate. But her performance would ring false without Reynolds's subtle contributions as her subservient secretary. The dude is impossibly handsome and funny, to boot. And he gets bonus points for somehow keeping his iPod on during the couple's memorable Full Monty-esque collision.
4. Bridget Jones (Renée Zellweger), Bridget Jones's Diary
For the boss who appreciates real women with curves, we offer Jones. Zellweger's sarcastic secretary chain-smokes, drinks like a fish, owns granny panties, swears, puts up with Hugh Grant's smug editor-in-chief, and butchers already bad songs in horrific karaoke. But it's Bridget's uncanny ability to turn a witty phrase in that diary of hers that makes her immeasurably sexy in our book.
3. Marion Crane (Janet Leigh), Psycho
Crane is a terrible employee: she sneaks to the Phoenix Hotel on her extended lunch break for a "noon-er." She steals $40,000 from her boss and flees the city. But she looks so good lounging around in her lacy unmentionables that it's understandable why supervisors keep her on the payroll. Too bad Norman Bates comes along and screws everything up. Once he's finished with Marion, all of her potential is flushed right down the drain.
2. Selina Kyle (Michelle Pfeiffer), Batman Returns
The skintight black-leather catsuit is fine. But Pfeiffer's lusty-librarian look, the one Kyle rocked right before she cashed in eight of her nine lives by taking a catastrophic plunge, was far sexier. Pfeiffer nailed both the secretary and teacher fantasies of comic-book fanboys and gave them something to drool over when Burton's Batman returned.
1. Lee Holloway (Maggie Gyllenhaal), Secretary
Could anyone else top this list? Gyllenhaal's unbalanced assistant was better at bondage and spanking than typing and dictation. But her transformation from meek, self-abusing mental patient to slinky, submissive secretary was perversely liberating. Secretary is remembered as the film that introduced the young Gyllenhaal, who was 24 at the time, as a force to be reckoned with in the film industry. Now that's sexy.
Read More