Top Ten Most Memorable Trips to Vegas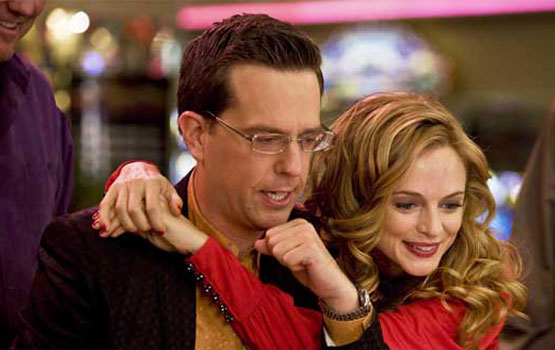 Like any good gambler, Las Vegas plays to its strengths. After a brief flirtation with family-friendly pursuits in the nineties, Sin City returned to its comfort zone: the land of bachelor parties and lost weekends. And that's just the way we like it. When Get Him to the Greek opens, on June 4, we'll have yet another opportunity to see the entertainment capital of the world in all its spangled glory. Until then, here's our list of the top ten voyages to Vegas.
10. Viva Las Vegas
Elvis Presley, playing a race-car driver named Lucky Jackson, does some of his best acting work (not a high bar, admittedly) in this candy-colored romp. It doesn't hurt that Presley's songs take up nearly half the running time, nor that he and co-star Ann-Margret were an item offscreen. The two throw sparks during their musical numbers that rival the glow of the casino marquees.
9. Indecent Proposal
Adrian Lyne, director of baubles like Flashdance, was a fine fit for this love triangle that shows the gloom beneath the gloss in the City of Second Chances. David and Diana (Woody Harrelson and Demi Moore) chase their dreams to Vegas, but find only moral dilemmas and financial woes. The film's no masterpiece, but Moore's black cocktail dress is worth the price of admission.
8. Bugsy
He built it, and they came: mobster Benjamin Siegel saw a treasure trove in a dusty desert town and spent $6 million on a glitzy gaming palace to draw the high rollers out of Beverly Hills. This Barry Levinson-helmed film was criticized for playing fast and loose with history — the Flamingo was actually founded by magazine publisher William Wilkerson — but playing fast and loose is a Vegas tradition.
7. Ocean's Eleven
While plenty of folks come to Vegas to make money the old-fashioned way, by spinning roulette wheels and hurling dice, others seek a surer thing: robbing casinos. Danny Ocean (Frank Sinatra) and his Rat Pack of Hollywood A-listers put their military training into action and pull off a complicated and dangerous heist that's as fun to watch as any real trip to the town.
6. The Hangover
What do you get when you put a tiger, a baby, and several men with short-term memory loss in a Vegas hotel room? A morning after that can end only in tears. And panic. The well-meaning friends who take their soon-to-be-wed pal for a night he'll never forget wind up forgetting an awful lot, including where they last saw the groom and how they pissed off Mike Tyson.
5. Honeymoon in Vegas
Vegas is a city of broken promises, which is why Jack Singer (Nicolas Cage) must rethink the vow he made to his dying mother — that he never marry. That's not his only challenge. He's also got to win back his feisty fiancée (a pre-Sex and the City Sarah Jessica Parker) and pay back a hefty gambling debt. And who better to assist him than the Utah chapter of the Flying Elvi?
4. Fear and Loathing in Las Vegas
For most people, Vegas looks weird enough as is. Not for Raoul Duke (Johnny Depp), the Hunter S. Thompson character in Terry Gilliam's adaptation of the gonzo journalist's 1971 novel. In town to cover a motorcycle race, Duke (Johnny Depp) spends his downtime trashing hotel rooms — with his lawyer — and ingesting enough hallucinogens to fill the Bellagio's breakfast buffet.
3. Showgirls
Armed with little but a can-do attitude, an ability to dance in stilettos, and a willingness to shed her clothes, Nomi Malone (Elizabeth Berkley) rolls into town to fulfill her destiny — performing in a high-class topless revue and learning to pronounce "Versace." Like the
city in which it's set, Paul Verhoeven's trashy, silly spectacle is perversely appealing, like a (very) low-rent All About Eve.
2. Swingers
Doug Liman's ode to male friendship — released a decade before the current spate of bromances — introduced moviegoers to hipper-than-thou Vince Vaughn, playing a lounge lizard who is so money that he doesn't even know how money he is. Jon Favreau wrote the screenplay and played the lead, a morose fellow who could stand a few lessons on how to leave an answering-machine message.
1. Leaving Las Vegas
Not everyone arrives in Vegas with plans of tearing up the Strip; some make the Neon Babylon their final destination. John O'Brien, who wrote the semi-autobiographical novel from which this tragic tale of a suicidal alcoholic was adapted, killed himself just before preproduction began. The film, a cinematic tour de force for Nicolas Cage, was completed as a tribute to him.
Read More