Uncategorized
Flashback Five – The Best Movies of Sean Connery (Not Including 007 Flicks)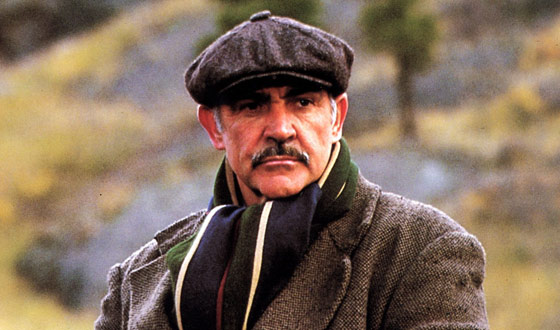 There was a time when, to many people, Sean Connery was just some handsome fellow playing James Bond. Well, that's no longer the case! Over the last half-century, Connery's career has been as storied as it has been unpredictable; he's worked with Hitchcock, De Palma, Spielberg, and even Michael Bay. Surely, by now, you must know there's far more to the man than one (admittedly awesome) spy. For starters, these ten flicks.
1. The Untouchables (1987)
De Palma's thriller is so good that it transcended its genre and won Connery his one and only Academy Award. As a doomed Irish police officer teaming up with Eliot Ness (Kevin Costner) to take down Al Capone (Robert De Niro), Connery gives the performance of his career: sweet, sad, fatherly, tragic, and tough.
2. The Hunt for Red October (1990)
Connery's Scottish-gentleman persona doesn't exactly scream "Cast me as a Soviet-submarine captain," but this complex Commie made for one of the most sympathetic anti-heroes of the big screen. Matching wits with Alec Baldwin's Jack Ryan, Connery raises both the tension and the movie itself to a higher level.
3. Indiana Jones and the Last Crusade (1989)
Connery defies expectations as the bespectacled father of Harrison Ford's archaeologist-adventurer. Though in many ways he's along for the ride, no other actor could credibly intimidate Ford the way Connery does. For that matter, no actor could create that trademark growl.

4. The Rock (1996)
The Rock is the best Michael Bay movie. Some might call that faint praise, but Connery fans know that this is one damn good movie. As the only man to ever escape Alcatraz, the actor gets to be funny and kick a ton of butt. Why he and Bay didn't reunite again afterward is a mystery.
5. The Name of the Rose (1986)
Unjustly ignored in America, The Name of the Rose is proof that the U.S. isn't always right at the box office. Connery won a BAFTA — the European equivalent of an Oscar — for playing a Franciscan monk investigating a murder. Credit the Hitchcockian intrigue and menace he brings to the pic. (He may have gotten that from working with Hitch earlier; more on that later.)
Honorable Mentions
1. Murder on the Orient Express (1974) – As one of many Agatha Christie suspects, Connery steals the show from Lauren Bacall, Albert Finney, Vanessa Redgrave, and John Gielgud.
2. The Man Who Would Be King (1975) – Connery as God? The natives of Kafiristan think so, in this adaptation of Rudyard Kipling's parable.
3. Marnie (1964) – In this Hitchcock thriller, Connery goes dark as a rapist. Here's proof that he isn't always coasting on his charm.
4. Highlander (1986) – Connery perfects the wizened old warrior character in this cult classic.
5. Time Bandits (1981) – The part of Agamemnon was written for Connery. It shows.
To see Connery in action, check out The Untouchables today, Friday, May 21, at 5:30 PM | 4:30C.

Read More