Interviews
Q&A – The Space Between's Melissa Leo on Bad 9/11 Movies and Having a "Truck Driver Mouth"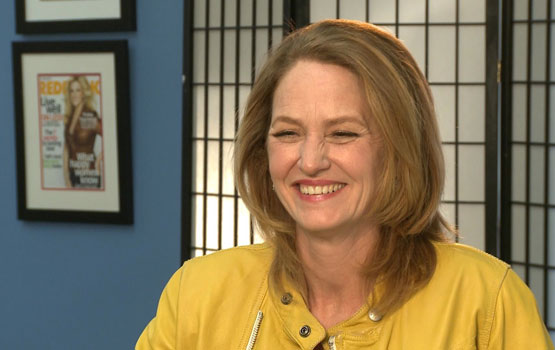 Oscar-nominated actress Melissa Leo (Frozen River) checked into this year's Tribeca Film Festival in support of her new film The Space Between. Leo stars in the indie drama as a flight attendant who's assigned to watch a minor (Anthony Caybon) on a flight that ends up grounded due to Sep. 11. Leo talked to Filmcritic.com about the difficulties of portraying that day on film, the challenges of working with child actors, and the funny circumstances that forced her to bring her cat on set.
Q: What are your hopes for this film?
A: I hope first and foremost people see beautiful Anthony Cayvon and
that he gets more work. He's a very gifted young actor, and he's got a
lot of range in him. So if nothing else comes of it, then somebody sees
it, they can give Anthony a job. That would be terrific.
Q: Everything's being shot in 3-d these days. What is
your opinion of them and do they have a place at a festival like
Tribeca?
A: I've never seen one.
First of all the notion of having to put on spectacles to watch the
thing, I just — I'm just an old-fashioned girl. So I'm not sure. Who
knows. Filmmaking, it's such a funny thing because there's as many
varieties as there are fruits and vegetables. I think there's room for
everything. There's room for the documentaries, there's room for the
film with depth and meaning and a message. And there's room for films
that are simply entertainment. Whether 3D will ever feel like
entertainment to me, I don't know. I like the affect of black and
white. That's my kind of affect.
Q: There aren't many narrative films about 9/11. Why did the director choose to use that as the backdrop?
A: As the story goes, he's up at 36,000 feet beginning to take notes
on this story that's formulating in his head. He's having a little back and forth
with the plane's captain, and you know, the captain had in fact
been flying on 9/11. I think it was in fact something that Travis
knew about because he had been an airline pilot, and it's best, especially in
one's first project, to tap into something they know. In fact, as you
point out, there just haven't been a lot of 9/11 films. I have read some plays and scripts and done some staged
readings of plays on 9/11 and honestly none of it's all that good. It's
too raw, and sometimes an
actor is better off using an ancient memory to draw emotion on. A new
injury, it's a dangerous thing.
Q: Did you have any fun shooting the movie?
A: Oh there was all of nutty kooky things that went on. I have a
foul, foul truck driver mouth. So I'd sort of be using my general vernacular and
then go "Oh! Anthony! Oops!" His mother and father were very good to
me about it. Really all of it was extraordinary. I was in the midst of moving
out of a rental in Los Angeles and into my rental in New Orleans, and I
have a cat. And a lot of shooting was done outside of L.A. but then I
didn't have the house anymore, so the cat ended up coming with
me, and she was in the trailer–which was more of a honey wagon, a tiny
little closet of a room. So I was sharing a honey wagon with a cat.
Q: Was it hard for you to revisit 9/11, as someone who grew up in New York City?

A: My experience of 9/11 is probably very different than everyone
else's. I grew up in the city when they were building those buildings.
Hated those fucking buildings. We didn't like them. We didn't think
they matched our skyline. They were vastly empty, thank god. They
couldn't rent all the space in them. I can remember back in the
seventies when they were going up and it wasn't even a good idea then.
So it was no loss of that, but the loss of life was extraordinary to
me. The loss of life is what touches me the most. Then and now and
still.
Q: What's next for you?
A: Well I'm still in New Orleans finishing up the season of Treme, which has begun to air on HBO. And I also have several films that will be released in the fall. First and foremost The Fighter,
a David Oreslow's film. Christian Bale and Mark Wahlberg, whose mother
I play — and if that wasn't enough I've got seven girls, too. I can't
wait to get to see that one. I'm also appearing with James Gandolfini
and Kristen Stewart in Welcome to the Riley's this fall. So there's a lot of upcoming this year, and, don't you know it, I'm still looking for work!
Read More