Interviews
Q&A – Mother and Child's Kerry Washington on the Wayanses, Anthony Mackie, and How Good She Looks in an Afro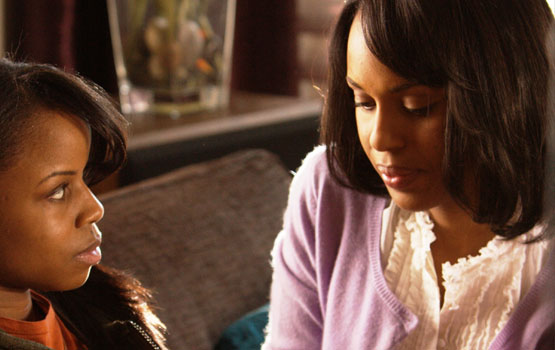 Just in time for Mother's Day, the film Mother and Child debuts with a powerhouse trio of actresses — Annette Bening, Naomi Watts, and Kerry Washington — navigating a tangled web of maternal circumstances. Karen (Benning) regrets having given a child up for adoption; Elizabeth (Watts) is that child, now a grown-up; and Lucy (Washington), who can't have kids, is desperately trying to adopt. Washington talks about her own interesting life choices — at least when it comes to choosing film roles.
Q: What appealed to you about this story? What it said about motherhood, adoption, families?
A: Actually, what appealed to me was the character and the challenge of playing this woman who goes through this incredible journey and evolution. These three women do that, and often in film you don't get that as a woman — we usually get to be the person who holds hands with the person who has a journey.
Q: Your character, Lucy, is a bit of a control freak when we first meet her.
A: Yeah, when she's talking to Cherry Jones's character? We meet her at a time in her life where, up until now, pretty much everything has gone her way. She's got the perfect little husband and the bakery and the pearls, and suddenly she's faced with a situation she can't control. So a lot of what I think the film is about is watching a person learn how to let go of control. We watch her surrender not by choice but because the rug gets pulled out from her. And the person we see at the end of the film has really learned to live life on life's terms, in a wholly different way.
Q: Do you have control-freak tendencies in real life?
A: I think I have tendencies at different times. Not so much anymore. It's probably a life journey for all of us, and part of being a human being, that we fall prey to thinking we're in control. A lot of life is showing up and trying to participate and trying to live life proactively. But, at times, you do have to let go.
Q: If you chose this project because of the character, how do you choose your other films?
A: It depends — what mood I'm in, what's going on, what's available. I remember when I was doing The Last King of Scotland, and it was so emotionally draining, that I said I really, really want to do a a silly, fun comedy next. And that's what led me to do [the Wayans brothers'] Little Man, which is the most fun I've ever had on a film set.
Q: How about Night Catches Us, which showed at Sundance this year?
A: Well, that has sexy Anthony Mackie from The Hurt Locker, so that was hard work! [Laughs] It's about two people who were Black Panthers together, and the movie catches up with them ten years later. I love history, so I did that because I was really curious about different movements for change in this country. And I do look good in an Afro! [Laughs]
Q: What about The Details, which hasn't come out yet?
A: That's because it's a director I really love, Jacob Estes, who did Mean Creek. Jacob is brilliant and wonderful, but I just came in and did a couple of scenes. It's a really modern story about marriage, with Tobey Maguire and Elizabeth Banks, and I play a friend of Tobey. I did that right before we went into rehearsals for the play Race.
Q: Has doing the play changed how you approach film roles in any way?
A: I feel like my acting is in a different place now. There's an athleticism to doing theater, where you have to show up consistently in a different kind of way, so I feel like I'm in really good shape as an artist right now. I'm excited to see how working on film feels like now, with this experience under my belt.
Q: You've directed music videos — what about directing films?
A: I'd love to keep directing. I was offered a music video to direct last month, but, with the play being extended until June 13, it's too much of a time commitment. Directing a film is something I'd love to do down the line — I'm really open — but I don't think I have that clear of a career path in that section of my life. Not in any section of my life, right now. I think I've had periods of my life where I was more like Lucy, and now is not one of those times.
Read More