Uncategorized
Movie History – Product Placement Is Nothing New – Just Ask James Bond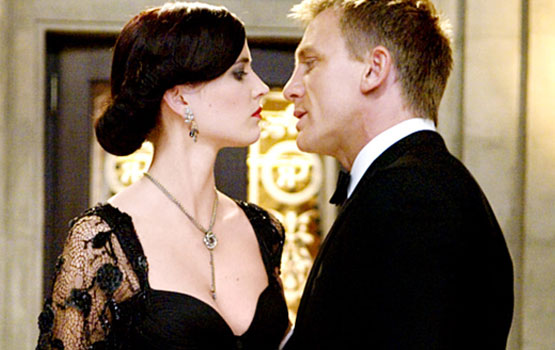 The line between advertising and entertainment has become increasingly blurred of late. Sure, most moviegoers are savvy to the lucrative practice of placing products (as paid advertisements) in films, but it remains advantageous for producers to have their characters consuming their wares in the context of a real-world situation, because the products are seen as more relevant without the hard sell of a pitchman in a standard commercial.
In 2010, product placement in movies is valued at billions of dollars annually, but, although most people think of product placement as a recent phenomenon that came out of nowhere in the '80s, it has existed since the dawn of film itself. (And so has its inverse: When Clark Gable appeared bare chested in It Happened One Night (1934), sales of men's undershirts fell 40 percent.) Read on for some memorable examples.
Early Known Instances of Product Placement Through the Mid-Twentieth Century
Product placement dates back to the earliest days of cinema. Just like today's critics who condemn the practice as hidden exploitation, widespread commercialism was deemed objectionable by the New York City-based weekly motion-picture trade publication Harrison's Reports, which regularly chided films for putting brand-name products on the screen.
• Lever Brothers' Sunlight Soap in the Lumière brothers' short Washing Day in Switzerland (1896)
• Red Crown Gasoline and Zerolene Oils & Greases in the Fatty Arbuckle short The Garage (1919)
• Hershey's bar with almonds in the first Best Picture-winning film, Wings (1927)
• Life Savers candy in Horse Feathers (1932)
• Macy's department store in Miracle on 34th Street (1947)
• Harpo's Times Square-rooftop chase among mechanical signs (for Baby Ruth candy bars, General Electric, Fisk Tires, Bulova watches, Kool cigarettes, Wheaties, and Mobilgas's logo of a flying red horse) in the last Marx brothers film, Love Happy (1949)
• The Armour meatpacking plant in the film noir Gun Crazy (1949)
• Gordon's Dry Gin (tossed overboard by Katharine Hepburn) in The African Queen (1951)
Milestone Deals in Product Placement in the Nineties
Following the pivotal instance of Reese's Pieces making an unpaid appearance in Spielberg's E.T.: The Extra-Terrestrial (1982), driving up sales in the first three months by 65 percent, Business Week selected the most famous examples of Hollywood films changing the fate of real-life products in the nineties.
• Budget Truck Rental and Pepsi in Home Alone (1990)
• Pizza Hut and Nuprin in Wayne's World (1992)
• Jamaican-brewed Red Stripe beer in The Firm (1993) (which caused U.S. sales within a month to rise by more than 50 percent)
• Reebok in Jerry Maguire (1996)
• Ray-Ban Wayfarer sunglasses in Risky Business (1983)
• Ray-Ban Predator 2 sunglasses in Men in Black (1997) (which helped to triple sales, to almost $5 million)
• Chanel perfume in Anastasia (1997)
• Hasbro action toys in Small Soldiers (1998)
Case Study: Product Placement in James Bond Films
The placement of automobiles in films was pioneered by the American Motors Corporation for the ninth Bond film, The Man With the Golden Gun (1974). The largest product-placement deal in history (over $100 million) occurred in the eighteenth Bond film, Tomorrow Never Dies (1997), with successful tie-ins with eight major corporate partners, covering its entire production budget: Avis rental cars, BMW cars and motorcycles, Ericsson mobile phones, Heineken beer, L'Oréal makeup, Omega watches, Smirnoff vodka, and Visa credit cards. By the twentieth Bond film, Die Another Day (2002), product placement became more pervasive and aggressive, and the film was nicknamed "Buy Another Day." More than twenty marketing partners reportedly contributed $70 million or more to promote their products in the popular franchise. Bond (Pierce Brosnan) sported an Omega Seamaster watch, carried Samsonite luggage, flew first-class on British Airways (and read the airline's in-flight magazine), sipped Finlandia vodka (not Smirnoff), shaved with a Norelco Spectra, took pictures with a Kodak camera, and talked on a Sony Ericsson mobile phone. American spy Jinx (Halle Berry) wore Revlon makeup and drove a red Thunderbird. It was reported that BMW sponsorship was replaced by Ford Motor Company, which paid $35 million to have Bond speed away in a custom-made $230,000 silver Aston Martin V12 Vanquish.
In Casino Royale (2006), the first Bond film with Daniel Craig and the first after Sony acquired MGM and the Bond franchise, Sony's electronic products were very much on display: Sony Vaio laptops, Sony Ericsson cell phones, Bravia televisions, and a Cyber-shot camera.
What does all this say about the future of cinema's relationship with the deep-pocketed corporations eager to have their products appear on-screen? Hard to say, but judging by the way history has unfolded thus far, E.T.'s Reese Pieces, Tom Cruise's Ray-Bans, and James Bond's hi-tech, name-brand toys are just the beginning.
Read More