New on DVD – May 18, 2010 – Invictus, Valentine's Day, and The Messenger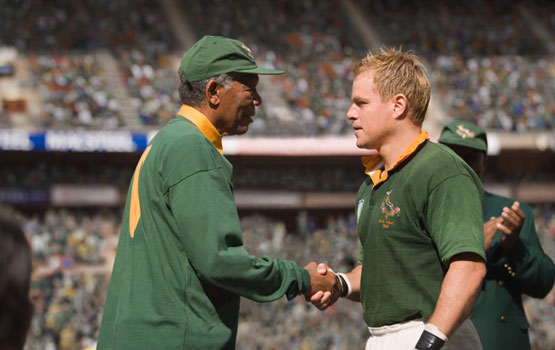 From Invictus — Clint Eastwood's story of how Nelson Mandela (played by Morgan Freeman) united South Africa under the banner of rugby — to Garry Marshall's celebrity-packed romantic-comedy buffet Valentine's Day and the acclaimed war-at-home drama The Messenger, here's a glance at the good, terrible, and in-between films coming out this week on DVD and Blu-ray.
Invictus

Morgan Freeman plays Nelson Mandela in Clint Eastwood's stirring drama about how the newly elected leader of South Africa used the national rugby team's drive to win the World Cup to bring a divided nation together. (The team's followers had been a bastion of pro-apartheid sentiment.) Matt Damon co-stars as rugby star François Pienaar, who formed a special bond with Mandela. We were impressed with the film, in which nothing "feels diluted, falsely amplified, or one-note," as well as its director, who "remains, at 79, a brave and unpredictable director of sincere and beautifully made Hollywood pictures."
Valentine's Day

In the newest romantic comedy from Pretty Woman director Garry Marshall, a number of story lines are tangled together around no more complicated a premise than it being Valentine's Day. According to our distressed and annoyed critic, the star-heavy cast — which "boasts enough A-listers to make US Weekly seize with pleasure" — serves only as a "cautionary tale of what happens when assembled talent is matched by an indifferent production team." In short, there's nothing here that Julia Roberts, Anne Hathaway, or Jamie Foxx can come close to salvaging.

The Messenger

Ben Foster plays a soldier just back from overseas who's been given a new duty because of his injuries: partnering with Woody Harrelson, whose job it is to inform next of kin when a soldier has been killed in action. Samantha Morton co-stars as a widow whom Foster becomes interested in, against the orders of Harrelson's cracking-under-the-pressure captain. While we found some of the film's elements predictable, our reviewer was drawn to the performances, particularly Harrelson, who "evokes the experience of The Messenger as sturdily as a freshly pinned Medal of Valor."
Extraordinary Measures

In this adaptation of Geeta Anand's novel The Cure, Harrison Ford plays an ornery but brilliant doctor who helps a couple (Brendan Fraser and Keri Russell) fighting to save their children, who suffer from a rare genetic disorder. Our critic appreciated Ford's dedicated performance but was unimpressed with an overly familiar film that's "about as tailored-for-television as a movie can get without containing actual commercial breaks."
The Spy Next Door

The downward spiral of Jackie Chan's mainstream film roles seems only to speed up with this kid-oriented spy comedy. We ran out of words to describe the film, but here are some: "forced," "dumbed down," "combination anemic action film and creaky, cloying comedy," and "awful."
The Girl on the Train

Based on a true story wherein a French girl pretended to have been the victim of a hate crime, this drama, from André Téchiné, stars Émilie Dequenne as the flighty girl herself and Catherine Deneuve as her commonsense mother. Our critic was divided about the film, disappointed that it never dug far enough below the surface, but liking its storytelling "verve" and the "diamondlike preciseness" of the performances.
Waiting for Armageddon

In this documentary, filmmakers Kate Davis, Franco Sacchi, and David Heilbroner study the phenomenon of born-again Christians who are so fervently impatient for the Rapture that they are practically eager for the end of the world to get started. Though, we thought, the film could have explored some aspects of its topic more thoroughly, it nevertheless deserves points for tackling such a thorny, fascinating subject at all.
When You're Strange

Tom DiCillo's documentary about the Doors is strange in that, unlike most films of the kind, it doesn't include any talking-head interviews, only original footage of the band itself, including film shot by Jim Morrison. We thought that the amount of rarely-seen concert footage was a "godsend for fans and undeniably arresting for others," even if the overall package could seem "curiously detached."
Read More