Uncategorized
Flashback Five – The Best Movies of Gene Hackman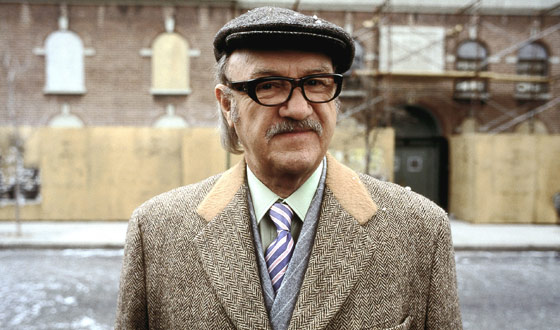 For an actor of his stature, there are quite a few mysteries surrounding him. Shockingly, Hackman first became a star at 37. What took him so long? Who knows, but he's more than made up for lost time — pumping out classics annually for decades. Then there's the question as to why he's never been as highly regarded as De Niro, Pacino, or Eastwood, despite a résumé so loaded with outstanding flicks that choosing a top ten proves near impossible. Think Hackman doesn't have the movies to stack up with those guys? See for yourself.
1. Unforgiven (1992)
Hackman is the unforgettable villain of Clint Eastwood's masterpiece — but like everything else in
Unforgiven, his true nature isn't black-and-white. Hackman needs to be charming enough for the townsfolk to like him but evil enough to draw Eastwood's reluctant gunslinger out of retirement — and he walks that line to perfection.
2. The Conversation (1974)
A sad, lonely turn by Hackman as a surveillance expert led The Conversation to glory at Cannes and cemented Hackman's reputation as the go-to actor for Joe types. As he slowly becomes obsessed with the titular conversation, Hackman's voyeur is at once depressing, creepy, and a bit sympathetic. A true classic.
3. The French Connection (1971)
If the Academy Award nominated actor (twice at the time) weren't already a star by the time he portrayed detective James Doyle, then The French Connection sealed the deal. His riveting turn as a cop investigating a narcotics ring nabbed him the Oscar for Best Actor and secured him an extra-special place in history: participant in the most thrilling cinematic car chase of all time.
4. The Royal Tenenbaums (2001)
As the patriarch of the sad but gifted Tenenbaum family, Hackman is the center of Wes Anderson's best movie. The role of cranky, manipulative, and, ultimately, sad father was tailor-made for the older Hackman, who deservedly won a Golden Globe for Best Actor, despite playing a character very similar to his public persona.
5. Bonnie and Clyde (1967)
It's surprising to think anyone but the title characters were noticed, but Gene Hackman's portrayal of Clyde's sad-sack older brother was so memorable he was nominated for an Academy Award — and made his name as an actor. To have wrested the spotlight, even temporarily, away from magnetic stars Warren Beatty and Faye Dunaway is among Hackman's greatest achievements.
Honorable Mentions
1. Mississippi Burning (1988) – En route to earning another Best Actor nom, Hackman courted controversy as a southern FBI agent investigating a sixties KKK murder. Sensitive subject or not, Hackman, as always, didn't disappoint.
2. Hoosiers (1986) – In one of the best sports movies ever, Hackman's inspirational turn as the coach of an Indiana high-school basketball team, raises the flick above familiar sports clichés.
3. Reds (1981) – Despite a small, but crucial, cameo in Warren Beatty's epic, Hackman's scene took exactly 100 takes to shoot — and was worth every one of them.
4. Superman II (1980) – It's the best Superman flick — yeah, that's right — mostly owing to the fun and menace Hackman brought back to the role of the Man of Steel's archenemy, Lex Luthor.
5. The Poseidon Adventure (1972) – It may be a cheese-ball classic, but that still makes it a classic. As a priest unsure of his faith, Hackman is a delight in the original blockbuster disaster flick.

Read More