Uncategorized
Tribeca Film Fest Q&A – Ed Burns Defends Staying True to His Indie Roots with Nice Guy Johnny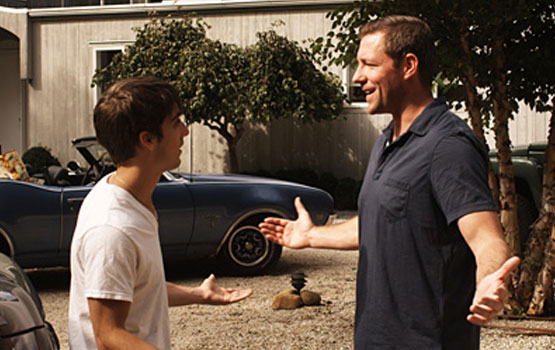 Ever since his well-received debut with The Brothers McMullen fifteen years ago, New York filmmaker Ed Burns has continued to make the kinds of intimate, indie movies that helped him make his name. At this week's Tribeca Film Fest, he debuts his new dramedy Nice Guy Johnny, which follows a young would-be sportscaster as he struggles to hold onto the dream. Burns talked to AMC News correspondent Jacob Soboroff about the inspiration for the movie, his promising young cast, and the own pressures he's faced over the course of his own long career.
Q: Your wife [Christy Turlington] has a documentary in the festival as well, right?
A: It's called No Woman No Cry, and it's a look at maternal mortality. Which goes back to our first child — there was a complication with hemorrhaging, and she later discovered that had we not been in New York, if she was in a third-world country, she would have absolutely died. So she went to a birthing center down in Ecuador and met some people who had had similar experiences, some of whom had actually lost the mother of their child. And that got her started.
Q: And you're showing your new film Nice Guy Johnny. Where did the idea for the movie come from?
A: It's funny, after Purple Violets came out on iTunes about two years ago, my agent saw that as a big success and said maybe I should put myself up for an open directing assignment — that's where the studios have all these scripts on their slate for the upcoming year, and they're just looking for the right director to come in for the job. I said 'I got two kids, two mortgages — a nice big paycheck would be welcome, so, you know what, why not?' And I got pretty close to saying yes. But at the end of the day I said, 'You know, I've only wanted to do one thing with my career, and that's to be a writer and director who tells these small, personal films that represent a little slice of the New York experience that I don't see represented in other films.' So the thought of giving up the dream to go into directing someone else's script and collaborating with the studio made me feel like a failure. So I finally said no. And then I sat down with my producing partner and said 'Why don't we make a film about what we just went through over the last few months?' Because it was very tough decision. Stick with your dream, or take the more financially responsible gig.
Q: So this guy Nice Guy Johnny, he works at a radio station and he is
presented with this opportunity from his fiancée….
A: Yeah. This kid, he dreams of being a sportscaster. You know he's on the
right path, but it's a long road; and his fiancée has convinced him that
he has to go to New York for this big job where he would work in a
warehouse as an executive. Triple the salary and he'll get benefits. So
he comes to New York, and like I said, he's about to to take this job to
appease a woman he shouldn't be marrying. Fortunately he stops and goes
into his uncle's bar. I play the uncle, and it's the story of he and I
and how through very bad advice I somehow help him change his mind.
Q: You've got a small cast, but it's a great one.
A: Fortunately my financier wasn't hell-bent on filling it with a bunch of
names. I wanted to find those
young actors that keep losing out to the name actors. And I know from
the past, when I'm casting films, you see these kids who are great, you
want to cast them, but the studio and the financier say we need a name.
Somebody on a TV show. But we decided to discover some new faces, and we
got three great finds. There's a young woman, Carrie Bachet, who's
blowing everybody away; and then the kid who plays Johnny, Matt Bush —
great young actor. He's almost in every scene and he nails it.
Q: Did anyone ever say to you, you know, 'Stay on the right path. Do
what you want to do?' Or was that in your own head?
A: My dad did. I had just finished Brothers McMullen. I sent it out to
every distribution company, agent, producer, and all I got back was a
stack of rejection letters. And we went out for a beer at the White
Horse and I was pissed and moaning about Hollywood and he said, when you
made the film, I thought you said that those were the fifteen best days
of your life. I said yeah. He said well what are you complaining about
— do it again. Any time anyone is in this business the career is such a
roller-coaster highs and lows. And when I'm at the lows, I remember, you
know what, it doesn't matter what happens with the film. The
experiences are so rich and so alive when you're making them, that there
is no alternative. You just have to keep making them.
Read More