It's Time to Salute the Movie Villains Who Drive Tom Cruise Crazy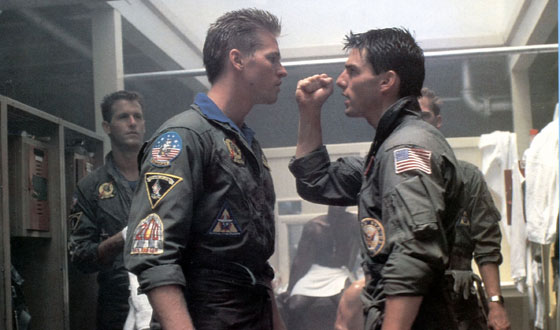 It's not just anyone who can face off with a larger-than-life persona like Tom Cruise. When you're talking about an actor like him, the adversaries need to posses equal gravitas just to stand a chance. Whether it's a ridiculous fantasy like Legend or the "Let's all kill Hitler!" flick Valkyrie, Cruise's enemies, nemeses, and rivals are a nasty bunch. Take a look at our salute to the jerks, cads, demons, terrorists, and giant aliens who drive Cruise batty.
Darkness (Tim Curry), Legend


Cruise's sole stab at fantasy heroics finds him battling a demonic Tim Curry in Ridley Scott's visually stunning 1985 unicorns-and-fairies epic. The Lord of Darkness — all cloven hooves and twisty horns — is basically one haughty devil. Yet despite the menacing appearance and presumed immortality, a unicorn horn is all it takes to defeat him. He may look like Satan, but Satan doesn't fold that easily. As a bonus, Cruise gets to spend time with dwarves and fairies.
Iceman (Val Kilmer), Top Gun

If you're archrival to cocky flight-jockey Maverick, you better talk a good game. And there are fewer bigger '80s hotshots than Kilmer's Iceman. Whether in the air or on the volleyball court, this guy delights in nothing more than making Maverick look the fool. While the duo's recklessness leads to Goose (Anthony Edwards) getting killed during training maneuvers, the two eventually team up to save their comrades and make their country proud. In the end, Iceman may be the best frosted-eighties-hair villain ever.
Doug Coughlin (Bryan Brown), Cocktail


Veteran bartender Coughlin teaches Brian Flanagan (Cruise) the fine art of bottle spinning and martini pouring, while dispensing corny witticisms as the pair work their way through late-eighties NYC. Naturally, the competition gets personal, yet Doug and Brian's competition — be it professional or between the sheets — makes for one serious serving of cheese — which goes good with cocktails. Of course, Brian prevails, opens his dream bar and leaves poor Doug in his dust.
Colonel Jessup (Jack Nicholson), A Few Good Men


Nicholson is arguably Cruise's greatest foil outside of Oprah. Jessup's famous courtroom face-off against Cruise's JAG culminates in one of Nicholson's best blowups: "You want the truth? You can't handle the truth!" The gruff Nicholson makes for a fantastic nemesis in what is still one of the his most iconic roles (and one of his most quoted characters). All these years later, Cruise still can't handle the truth — that Jack, in his seventies, could totally kick his ass when it came to hamming it up.
Bob Sugar (Jay Mohr), Jerry Maguire


Besides himself, Jerry Maguire's biggest obstacle is his conniving former protégé, Bob Sugar, a grade-A scumbag played to perfection by Jay Mohr. When Sugar fires his mentor, Jerry starts his own agency only to find that Sugar's there to spit in his eye at every turn — stealing clients left and right. Luckily, Jerry's loyalty (and "Show me the money!" declaration) keeps Sugar from stealing Rod Tidwell (Cuba Gooding Jr.). This guy is such a slimeball, it's a wonder he didn't hit on Renée Zellweger or kidnap that cute kid.
Alice Harford (Nicole Kidman), Eyes Wide Shut


Cruise's then-real-life wife proved a worthy adversary in Stanley Kubrick's twisted battle of the sexes. Before the movie takes a turn to costumed naughtiness, Cruise and Kidman go at it in a memorably stoned bedroom argument that sends him reeling toward a night of depraved sex orgies. To this day, the pot-fueled argument remains more than a bit unnerving; Kidman's performance is one of the few aspects of Kubrick's uneven swan song that still holds up. (Seriously, those orgy scenes were more than a little silly.)
Lamar Burgess (Max von Sydow), Minority Report


When Max von Sydow shows up, you know you're in for a slimy villain of the highest order. As the head of a unit pursuing framed Detective Anderton (Cruise), Burgess is a true believer in a program that predicts murders before they occur. As it turns out, Burgess is the real murderer, leading him and Anderton to debate the nature of good, evil, and predestination. That would be heady stuff for a movie with flying cars were it not based on a Philip K. Dick story who's also responsible for Blade Runner and Total Recall.
Alien Tripods, War of the Worlds


Few adversaries are as destructive as these alien tripods ravaging New Jersey. Too bad the diabolical extraterrestrials didn't factor in Cruise's driven character, a father of two out to prove his cred. (Despite their vast technological brilliance, they also didn't take into account how the Earth's atmosphere would affect their alien physiology.) While Cruise succeeds in keeping his family safe, the tripods are among the actor's deadliest onscreen foes –.even scarier than Cruise's makeup in Vanilla Sky.
Owen Davian (Philip Seymour Hoffman), Mission: Impossible III


When you have the need for an Über-intense baddie, you can't go wrong with Hoffman. In the third Mission outing, Cruise faces off against none other playing a maniacal arms dealer who threatens to track down Hunt's ladylove then kill him in front of her. (Yikes!) Hoffman relishes his bad-guy turn, making Davian the most memorable villain in the Mission franchise. Sorry, Jon Voight and whoever played the villain in M:I-2: you can't top Hoffman's crazed antics.
Adolf Hitler (David Bamber), Valkyrie


Cruise really met his match when he played Claus von Stauffenberg, a German colonel who was integral to the plot of assassinate Hitler. Unfortunately, Hitler proved harder to kill than Wile E. Coyote by surviving a bunker explosion and eventually rounding up the members of Operation Valkyrie. Bamber's gaunt, sickly Hitler casts a frighteningly pall over every scene. Though von Stauffenberg and his conspirators eventually face the firing line, they also come very close to ending the war and changing the course of history.

Read More