Uncategorized
The Movie List – Top Five Eighties Spoofs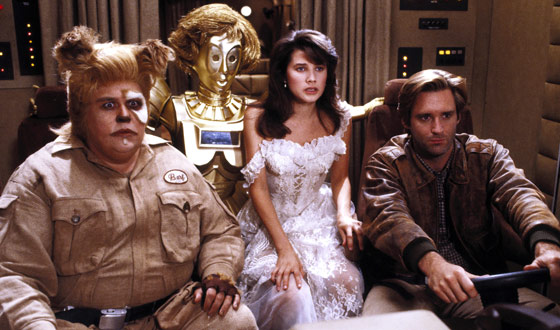 If you went to the movies a lot during the eighties, chances are you saw plenty of misfit teens, time-traveling cyborgs, and unlikely buddy cops. Odds are you also saw at least one movie making fun of them. The eighties were, if nothing else, a time when Hollywood really learned it could laugh at itself for fun and for profit. So which eighties spoof has kept you laughing hardest?

5. I'm Gonna Git You Sucka! – Keenen Ivory Wayans enlisted Jim Brown and Isaac Hayes in this affectionate parody of seventies blaxploitation films.
4. Spaceballs – Mel Brooks received George Lucas's blessing for this Star Wars send-up, featuring Bill Pullman (Lone Starr) and John Candy (Barf).
3. The Princess Bride – A princess named Buttercup? A prince named Humperdinck? An insidious six-fingered man? Rob Reiner puts a seriously funny twist on fairy-tale conventions.
2. This Is Spinal Tap – Christopher Guest spawned a whole new genre of spoofs with this oft-quoted and imitated mockumentary satirizing heavy-metal bands.
1. Airplane! – Leslie Nielsen got a major career boost from this spoof of airplane-disaster movies, including Airport and Zero Hour.

Read More