Uncategorized
Flashback Five – The Best Movies of Sylvester Stallone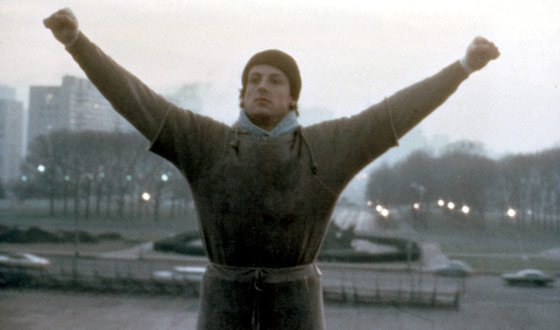 Sylvester Stallone, that Italian stallion, is best known for kicking butt. But Sly's done so much more than that: he's a versatile actor who's written and directed a classic, won Oscars, and created franchises so memorable that they're still going strong decades later. So with a career dating back to the seventies, which Stallone flicks are the best of the bunch? Here's our take.
1. Rocky (1976)
Not just Stallone's best but also one of Hollywood's best, Rocky has an endless number of unforgettable moments packed into its two hours: Stallone sprinting up the steps of the Philadelphia Museum of Art, Rocky finally breaking down in tears, Rocky shouting "Adrian!" This movie gives moviegoers a reason to stand up and cheer.
2. Rambo (2008)
No. We're not talking about the original — that's First Blood. We're not even talking about Rambo: First Blood II, the sequel. While we love those both, this bare-bones, bloody action film ranks as one of the best flicks in years. Featuring a world-weary Rambo going back on the attack one last time, this portrayal of the Vietnam vet is evidence that Stallone is always invested in his sequels.
3. Cop Land (1997)
Spiraling downward in a series of ridiculously bad action movies, Stallone turned his career around with this serious (and underappreciated) drama, co-starring Harvey Keitel, Ray Liotta, and Robert De Niro. Sly gained 40 pounds to play the hearing-impaired New Jersey sheriff. His performance is tragic, his subsequent weight loss impressive.
4. Cliffhanger (1993)
Die Hard on a mountain, Cliffhanger is as cool as it sounds. In this one, Sly is a mountain-climbing guide sucked into helping a gang of thieves get back some stolen money. Playing straight against John Lithgow's over-the-top villain, Stallone reminds us why he's one of the best action stars ever. He radiates intensity.
5. Demolition Man (1993)
And then there's Demolition Man. Nothing about this movie should work — dated jokes about Taco Bell, a ridiculous time-travel setup — but it work it does, from start to finish. Credit Stallone's amusing fish-out-of-water performance, which provides the outrageous plot with a sense of humor. The shtick about the three seashells is priceless.
Honorable Mentions
1. Rambo: First Blood Part II (1985) – A sequel so good most people didn't know there was an original, this flick catapulted Sly to superstardom and gave voice to lingering resentment over Vietnam.
2. Over the Top (1987) – The greatest arm-wrestling movie of all time? Absolutely.
3. Rocky Balboa (2006) – Though not as successful the Rambo reboot, this similarly excellent retread captures a good deal of that old Rocky magic.
4. Antz (1998) – If you thought Sly playing opposite Woody Allen as an animated ant was a bad idea, you'd be wrong. Even as voices, Stallone and Allen have chemistry to spare.
5. Rocky II (1979) – The sequel picks up where Rocky left off: a little dark, a little funny, and entirely inspirational.

Read More